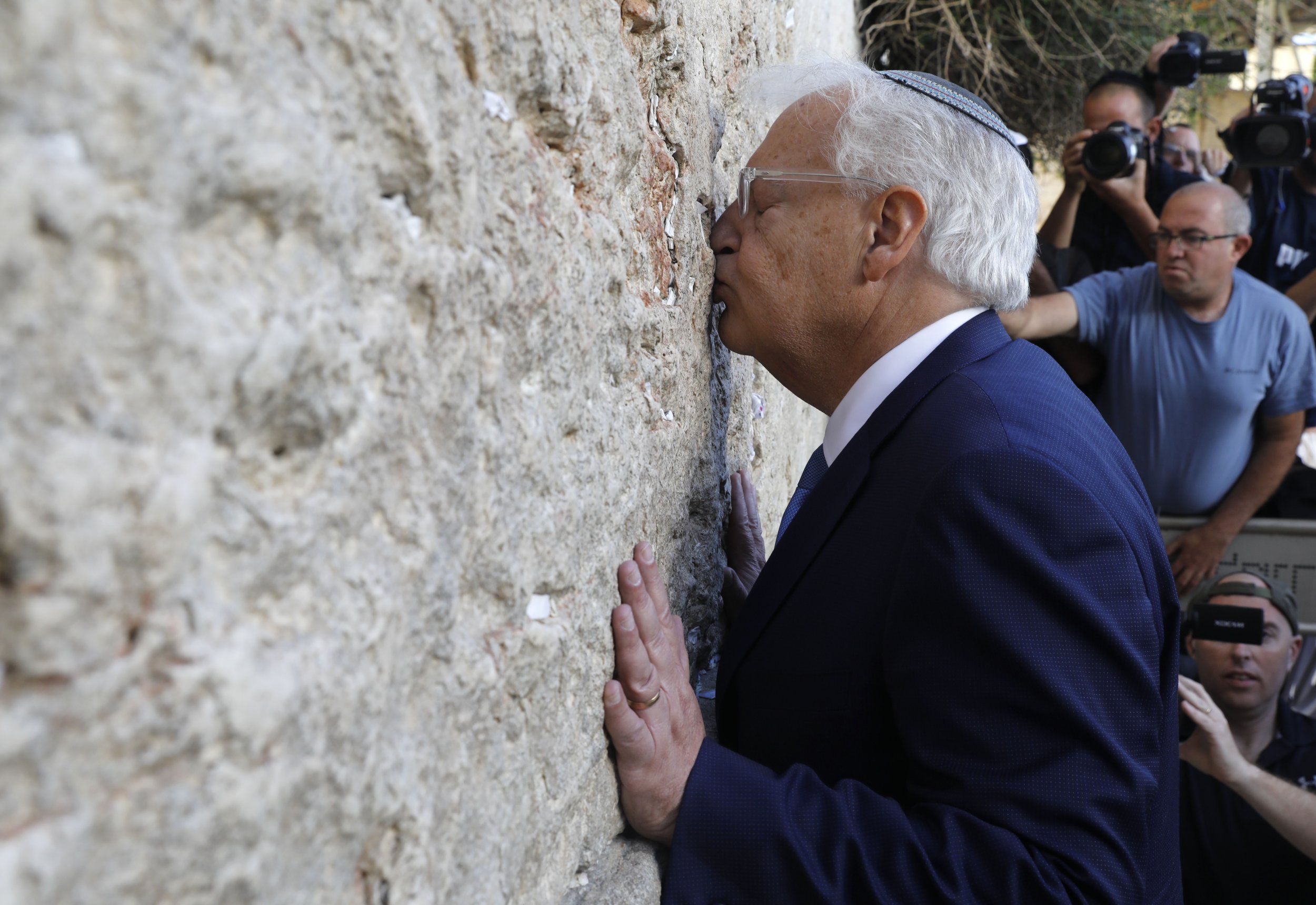 Updated | U.S. ambassador to Israel David Friedman requested that the State Department no longer refer to the West Bank as "occupied" by Israel, according to reports, despite much of the international community deeming Israel's presence in the territory to be illegal under international law.
But the State Department allegedly refused the request, according to a report by Kan, Israel Broadcasting Authority's news division, on Tuesday.
The Kan report said that pressure "from above" delayed a decision on the issue and that any final outcome will be decided by President Donald Trump.
However, the department said the Israeli report was incorrect and attempting to divert from the Trump administration's efforts to broker peace in the region.
"This is a misleading, twisted report," a State Department official said on condition of anonymity. "The president is committed to facilitating a comprehensive peace agreement that will benefit both the Israelis and Palestinians, and we remain hard at work on those efforts."
Friedman, an Orthodox Jew who once served as Trump's bankruptcy lawyer, is believed to have been key to shaping much of Trump's Israel policy, alongside the rest of his Middle East team, including his adviser and son-in-law Jared Kushner and envoy Jason Greenblatt.
On December 6, Trump went ahead with one of Friedman's key stated goals as ambassador and announced the relocation of the U.S. Embassy from Tel Aviv to Jerusalem.
The decision upended decades of U.S. policy and left Arab leaders up in arms about the move that they said could inflame the Arab world. The decision was met with protests across the Muslim world, and fierce clashes between Palestinian protesters and Israeli soldiers in the West Bank and Jerusalem itself.
Israel captured East Jerusalem and the West Bank from Jordan in the 1967 Six-Day War. The territories are home to hundreds of thousands of Palestinians, who seek a sovereign state there.
Since that year, Jewish settlers have founded and moved to dozens of outposts. Many religious Jews consider the West Bank to be the homeland of the Jews, and term the territory by the biblical names Judea and Samaria.
Friedman has close ties with the settlement movement. Before he became Trump's ambassador to Israel, he served as the president of American Friends of Beit El Institutions, an organization that supports one of the most hard-line Jewish settlements in the West Bank near the city of Ramallah.
He has also been quoted as calling liberal Jews who oppose the settlements kapos, a derogatory term used to describe Jews who collaborated with the Nazis during the Holocaust.
This story has been updated with a comment from the State Department.