Trump's Job Approval Rating Rises After Election Despite COVID Surge: Poll
President Donald Trump's approval rating rose from October to November although cases of COVID-19 in the U.S. have seen an increase in frequency, according to information from the Harvard-Harris poll.
Recent data shows a total of 12,589,229 positive cases of the coronavirus in the U.S. with 259,880 fatalities attributable to the virus, according to Johns Hopkins University. Critics have pointed to the Trump administration's perceived failure to contain COVID-19. Despite the high number of cases, polling information shows that Americans believe Trump is doing an acceptable job as president.
In November, 51 percent of the respondents to the Harvard-Harris poll said they approved of Trump's over job performance as president. Out of those polled, 49 percent disapproved. By comparison, when the same question was asked by the same polling group in October, 46 percent of those asked approved of Trump's performance while 46 percent disapproved.
How Americans view Trump's handling of the coronavirus pandemic has also improved. Before the presidential election in October, 41 percent of those polled indicated they either "somewhat" or "strongly" approved of Trump's coronavirus response. In November, 45 percent approved of Trump's pandemic plan.
Newsweek reached out to the Trump campaign for comment.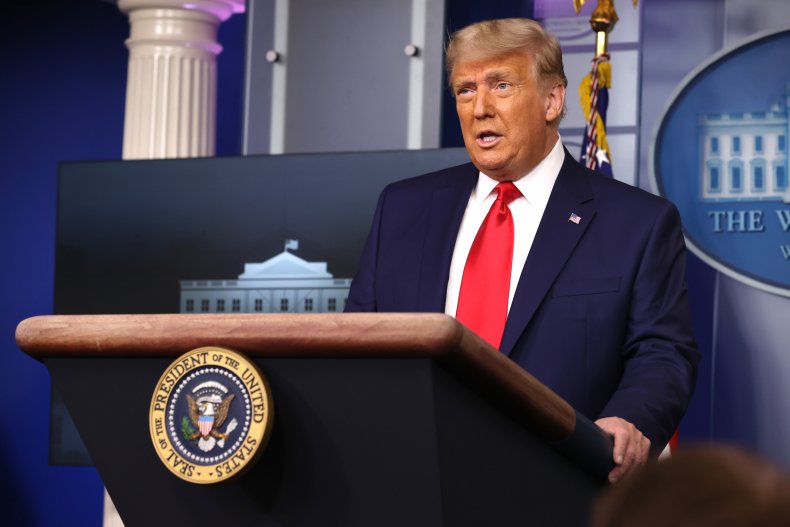 The November poll was conducted online from a pool of 2,205 registered voters. October's poll was garnered from a collection of 2,093 registered voters. Poll results were weighted for factors such as age, gender, geographical region and political party.
During the traditional pardoning of the Thanksgiving turkey at the White House on Tuesday, Trump said coronavirus vaccines could be available by December.
"We give thanks for the vaccines and therapies that will soon end the pandemic," Trump said. "It's just—just such a tremendous feeling to know that they're coming, and they'll be coming probably starting next week, or shortly thereafter."
According to officials, 6.4 million doses of a COVID-19 vaccine manufactured by Pfizer are expected to be cleared for U.S. distribution once the vaccine receives an emergency use authorization (EUA) from the Food and Drug Administration (FDA). Front line health care workers and other high-risk groups are expected to receive the vaccine first. The Vaccines and Related Biological Products Advisory Committee is slated to meet in December to discuss Pfizer's request to grant a EUA to its vaccine.
"While we cannot predict how long the FDA's review will take," FDA Commissioner Stephen Hahn said in a Friday statement, "the FDA will review the request as expeditiously as possible, while still doing so in a thorough and science-based manner, so that we can help make available a vaccine that the American people deserve as soon as possible."
Future U.S. response to the coronavirus may depend on the administration of President-elect Joe Biden. Trump's refusal to concede the election delayed access to Biden's transition teams to important coronavirus response information. That changed after the General Services Administration recognized Biden as the probable winner of the election on Monday and allowed the transition to move forward.
In an interview with NBC News on Tuesday, Biden said his members of his transition staff were "already working out meeting with the COVID team in the White House. And how to not only distribute, but get from a vaccine being distributed to a person being able to get vaccinated. So I think we're going to not be so far behind the curve, as we thought we might be in the past."