President Donald Trump's approval rating went up one percentage point between the last week in November and the very start of December. The slight increase occurred as he took credit for the development of a COVID-19 vaccine and continued to claim that he lost the election due to widespread voter fraud.
A Rasmussen poll conducted from November 24 to 30 showed Trump's job approval rating at 49 percent. A second Rasmussen poll conducted from November 29 to December 1 showed Trump's job approval rating had risen to 50 percent.
During the time between the two polls, Trump gave his first televised interview since the election. It was on Sunday, November 29 with Fox News anchor Maria Bartiromo on Sunday Morning Futures. In it, Trump repeated his unproven claims of election fraud and said of the quickly developing COVID-19 vaccine, "I came up with vaccines that people didn't think we'd have for five years."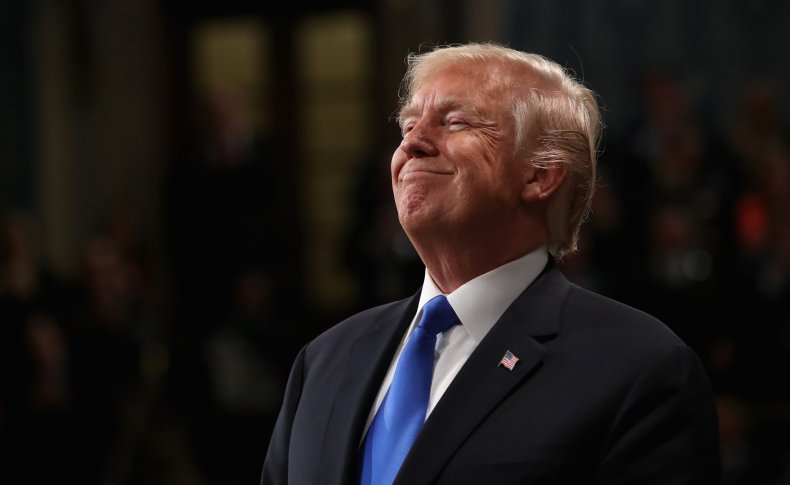 Trump's self-credit for the vaccine came as the Federal Aviation Administration (FAA) announced that the first "mass air shipments" of Pfizer's COVID-19 vaccine had traveled from Belgium to the U.S. as coronavirus cases in the U.S. continued surging in a third wave.
The federal government is now making preparations to widely distribute the vaccine, which the Food and Drug Administration is expected to authorize before 2021.
While the Trump Administration's "Operation Warp Speed" program has helped several drug companies quickly develop a vaccine, Trump has been eager to take credit for its development to counter criticisms about his handling of a virus that has since killed over 273,000 Americans as of December 2.
During his interview with Bartiromo, Trump also claimed that voting machine glitches switched Trump votes to President-elect Joe Biden; that dead people had applied to get mail-in ballots; and suggested that the FBI and Department of Justice, government agencies led by officials he appointed, may have helped perpetuate widespread voting fraud against him.
Though Trump's re-election campaign has filed about 40 lawsuits alleging fraud, 39 of them have been thrown out, dismissed or withdrawn, largely for lack of evidence.
Nevertheless, in the time between the two Rasmussen polls, Trump has used his Twitter account to share numerous videos from One America News Network, a political channel considered more right-leaning than Fox News, in its coverage of the Arizona Republican legislative hearings on voter fraud allegations.
A mid-November poll showed that 75 percent of Republicans think that voter fraud benefitted Biden in the election.
Newsweek contacted the Trump campaign for comment.