Donald Trump Advisor Kellyanne Conway Uses Flashcards to Explain 'Collusion Delusion' to Americans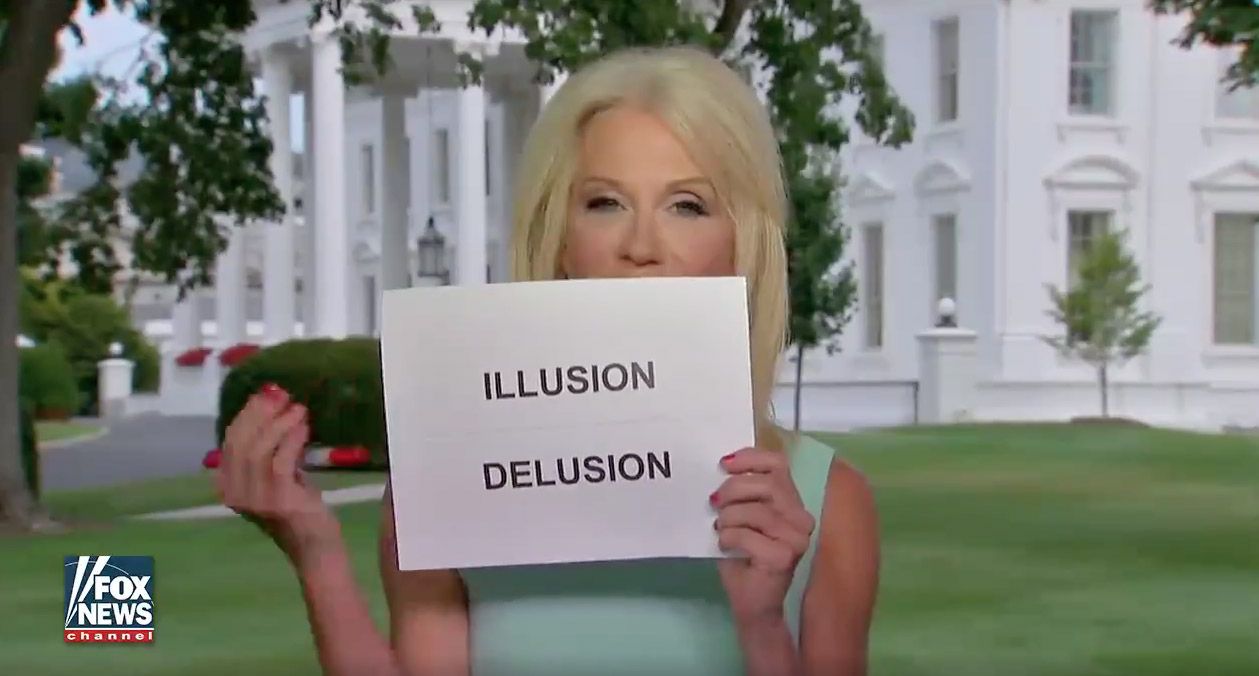 In something from an episode of Sesame Street, President Donald Trump's senior advisor Kellyanne Conway used flashcards to explain to Americans why the Trump campaign is innocent of working with Russia to interfere in the election.
"This is to help all the people at home. What's the conclusion? Collusion? No. We don't have that yet," Conway said, raising flashcards for the camera during an appearance on Sean Hannity's politics show on Fox News.
"I see illusion and delusion," she said holding large cards with the words written on them.
"So, just so we're clear everyone. Four words: Conclusion? Collusion. No," Conway reiterated lifting the cards. "Illusion. Delusion. Yes," she said. "I just thought we would have some fun with words. Sesame Grover's word of the day," she told host Sean Hannity.
Conway appeared on Hannity late Wednesday to defend Donald Trump Jr. who released a chain of emails the day before showing he met with a Russian lawyer last June after being told she had information on his father's election campaign opponent Hillary Clinton that "is part of Russia and its government's support for Mr. Trump."
Trump Jr. responded to the emails saying: "If it's what you say I love it." He has said the meeting was fruitless.
"We really appreciate—we being the American people—appreciate the fact that Don Jr. released those emails, appeared on your show for all to see," Conway told Hannity.
Read more: Republicans split on whether to back or condemn Trump Jr.'s Russia meeting
Trump Jr. appeared on Hannity's show the night before and said he saw the proposal of Russian government intelligence on his father's rival as "opposition research."
Currently both houses of Congress and special counsel Robert Mueller are conducting investigations into whether the Trump campaign and its associates worked with Russia to interfere in the 2016 U.S. election.
President Trump's top intelligence officials all agree on the accuracy of an American intelligence community report published early this year that found Russian President Vladimir Putin ordered the hacking of U.S. political parties and a misinformation campaign to help candidate Trump.
"I'll leave it to the special counsel to determine whether the legal threshold of collusion was breached, but from this layman's point of view, it certainly appears that way to me," said former Director of National Intelligence James Clapper on Tuesday.
"Any person with integrity would have picked up the phone and called the FBI, and they would not have attended the meeting," former CIA Acting Director Michael Morell told the Cipher Brief.
"The fact that Donald Jr. did not call the FBI—and the fact that he went ahead with the meeting with such enthusiasm—shows a willingness to collude with a foreign government," Morell said, "even though there was probably no actual collusion during the meeting itself, if it played out as described."