Trump's Keystone XL Pipeline in Peril As Native American Tribes Sue the State Department to Stop Construction
Two Native American tribes have filed a lawsuit to stop the Keystone XL pipeline, previously approved by President Donald Trump.
The Fort Belknap Indian Community of Montana and Rosebud Sioux Tribe of South Dakota are appealing to a federal judge in Montana to block construction of the pipeline, on the grounds no research has been done to investigate how it will affect their sacred lands. In 2015, the State Department rejected a permit for the Keystone XL pipeline. In 2016, President Barack Obama ordered work to be halted.
After being elected, Trump approved the works and invited Keystone to resubmit for a permit—which was granted two months later. According to NPR, Trump said it would be "part of a new era of American energy policy that will lower costs for American families," "reduce our dependence on foreign oil" and "create thousands of jobs here in America." The pipeline will ultimately create just 35 jobs.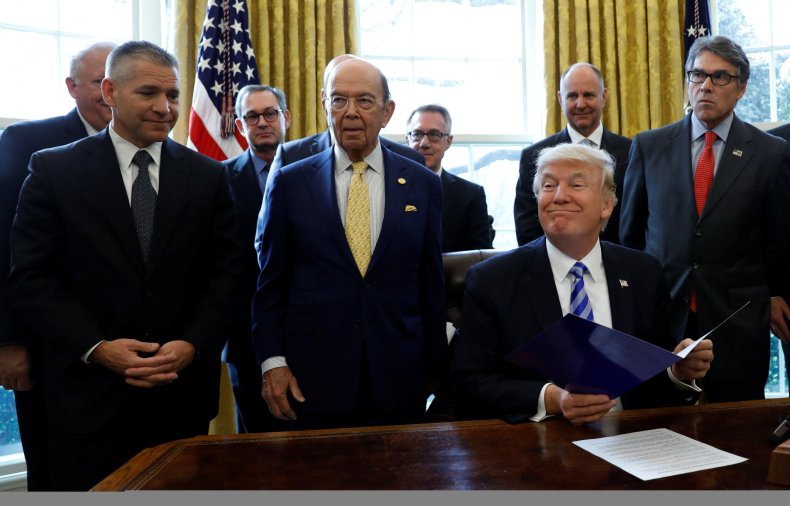 The Native American tribes have formally sued the Trump administration and are arguing the 1,200-mile pipeline could impact their water systems and lands. In a statement on the Native American Rights Fund (NARF) website, the tribes said the decision was reversed "without any public comment or environmental analysis."
"The permitting process was completed only 56 days after TransCanada submitted its application for the third time," the site states. "The State Department provided no explanation in the 2017 decision for its contradictory factual finding; instead, it simply disregarded its previous factual findings and replaced them with a new one. The reversal came as no surprise.
"There was no analysis of trust obligations, no analysis of treaty rights, no analysis of the potential impact on hunting and fishing rights, no analysis of potential impacts on the Rosebud Sioux Tribe's unique water system, no analysis of the potential impact of spills on tribal citizens, and no analysis of the potential impact on cultural sites in the path of the pipeline"
NARF State Attorney Natalie Landreth said Trump permitted the pipeline "because he wanted to." "It was a political step, having nothing to do with what the law actually requires. NARF is honored to represent the Rosebud Sioux and Fort Belknap Tribes to fully enforce the laws and fight this illegal pipeline."
The pipeline will run from Alberta, Canada, through to Nebraska—passing through South and North Dakota. It will carry up to 830,000 barrels of crude oil. Attorneys for NARF have cited three similar cases of oil ruptures or spills in North Dakota, South Dakota and Nebraska, warning their water may be affected.
The Trump administration did not immediately respond to a request for comment.