President Donald Trump's National Labor Relations Board has catered to the requests of a prominent business lobbying group and "systematically" eroded workers' rights, according to a report from the Economic Policy Institute released Wednesday.
The report says that the labor board, which is supposed to protect the interests of workers, has "elevated corporate interests above those of working men and women and have routinely betrayed the statute they are responsible for administering and enforcing."
Trump has depicted himself as a champion of blue-collar workers. He regularly touts the monthly jobs report and the unemployment rate, which is currently at a half-century low. He promoted his 2017 bill to overhaul the tax code as a victory for workers, though an April report from the Center for Public Integrity noted corporations benefitted far more than workers did.
But the president has pushed policies that critics say contradict his claims of supporting worker right, including rebukes for efforts to cut the power of unions. Past reports from journalists and left-leaning think tanks have also challenged Trump's self-depiction as a champion of the laboring class. The Center for American Progress wrote in August that Trump had enabled wage theft, empowered employer discrimination and threatened worker safety, and in 2018, detailed how his policies were "hurting American workers."
EPI's report further challenges Trump's claims as a workers' advocate by closely examining the functioning of the NLRB, which is comprised of three Trump appointees, one Democrat holdover and a Trump-appointed General Counsel. The report says that, during Trump's time in office, the board has worked to undermine the intended duties of the agency.
The researchers depict effort to weaken workers' rights as a concerted effort motivated in part by deference to the U.S. Chamber of Commerce, a powerful business lobby organization that has sought to provide more power to employers. During Trump's tenure, the board has sought to prevent employees from talking amongst coworkers about employer investigations and alter standards so that employers can settle more disagreements with employees by forced arbitration, among other efforts.
"The Trump NLRB has systematically rolled back workers' right under the NLRA and they show no sign of slowing down," EPI senior fellow Lynn Rhinehart said in a press release accompanying the report. "Congress has a responsibility to hold the NLRB accountable for their actions, and policymakers should pass legislation to restore and strengthen workers' rights to organize and collectively bargain."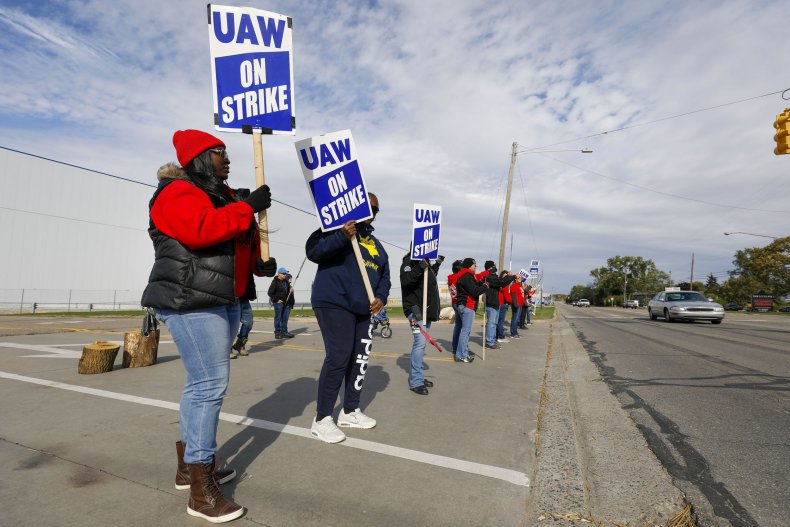 Trump's favorability with workers holds an important role in the 2020 election. His success in the election relied on the support of white, blue-collar workers in key states like Michigan and Pennsylvania. His ability to win the support of these voters in 2016 has fueled ample speculation about his 2020 prospects, and whether he will be able to retain their support.
Trump in part won the 2016 election by wooing blue-collar voters in key swing states that had not voted Republican in decades. Pennsylvania and Michigan had not gone blue since choosing George H.W. Bush in 1988 and Wisconsin last supported a Republican president in 1984. Morning Consult found that Trump has a net approval rating of -11 in Wisconsin, -8 in Pennsylvania and -10 in Michigan as of last month.