Trump's Lawyer Jay Sekulow Breaks With Him Over Pence's Powers During Election Certification
President Donald Trump's lawyer, Jay Sekulow, broke with the president over his recent claims regarding Vice President Mike Pence's authority during the Electoral College certification process.
During the Tuesday airing of his podcast, Jay Sekulow Live, the attorney said, "some have speculated that the vice president could simply say, 'I'm not gonna accept these electors,' that he has the authority to do that under the Constitution."
"I actually don't think that's what the Constitution has in mind," Sekulow, who serves as the chief counsel of the American Center for Law and Justice (ACLJ), said. "If that were the case, any vice president could refuse any election."
Newsweek reached out to the ACLJ for a comment from Sekulow but did not receive a response in time for publication.
During the podcast, Andy Ekonomou, an Atlanta attorney who also has served on Trump's legal team, chimed in to say "yeah, that's not the case at all."
"It is a ministerial procedural function, and I actually watched Vice President Biden presiding at the Electoral College certification of President Trump," Ekonomu said. "It is more than him making the choice of who the president is gonna be, he has to abide by the United States Code, which gives the procedure."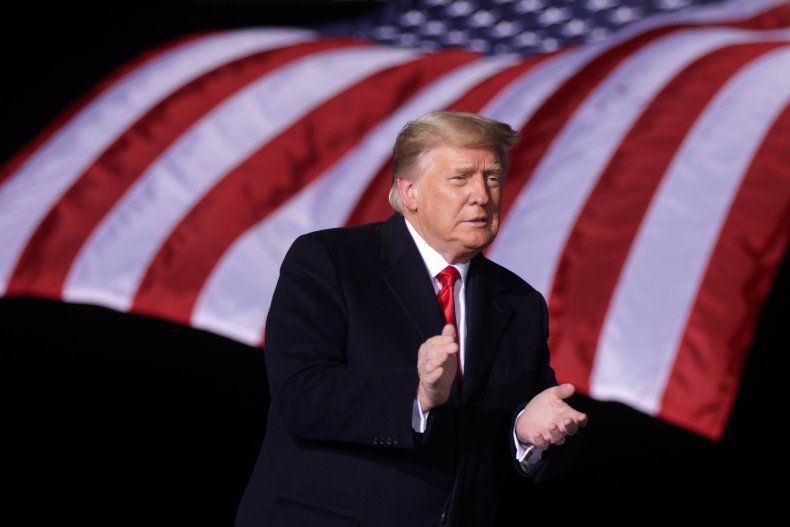 The comments by Sekulow come amid Trump's claims that Pence has the power to overturn the 2020 presidential election results on Wednesday, where he will preside over a joint session in Congress to count state's Electoral College votes certifying President-elect Joe Biden's win.
"The Vice President has the power to reject fraudulently chosen electors," Trump wrote in a tweet posted on Tuesday.
Trump made similar claims in a tweet on Wednesday, where he wrote that, "If Vice President @Mike_Pence comes through for us, we will win the presidency."
Trump's tweet added, "Many States want to decertify the mistake they made in certifying incorrect & even fraudulent numbers in a process NOT approved by their State Legislatures (which it must be). Mike can send it back!"
Another tweet from Trump on Wednesday called for "extreme courage" from Pence to send votes "back to the states."
Prior to Trump's comments on Twitter, on Saturday, a federal appeals court dismissed a lawsuit from Republican Rep. Louis Gohmert and other GOP House members, which attempted to provide Pence with the legal power to reject the Electoral College results and overturn Trump's loss.
As Sekulow noted during the podcast, Pence has no authority to overturn election results and that his role, which is governed by an 1887 Electoral Count Act, is mainly ceremonial.
Despite the comments from Sekulow and the dismissal of Gohmert's lawsuit, at least 13 Republican senators have publicly announced that they plan to challenge the Electoral College results, and attempt to overturn Biden's victory in the election.
Newsweek reached out to Trump for comment but did not receive a response in time for publication.