Trump's Lawyers Argue President Is Too Busy for Sexual Misconduct Defamation Lawsuit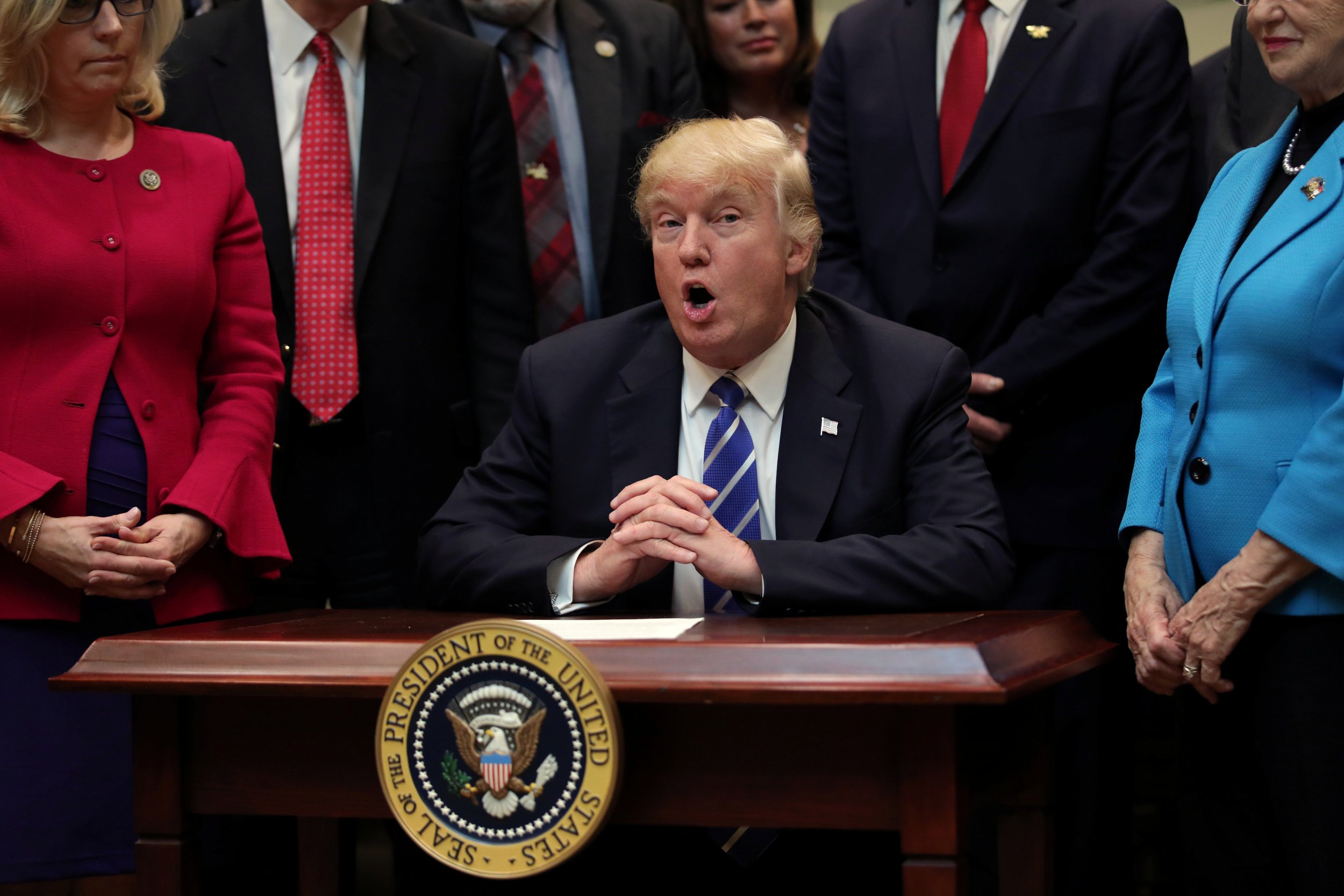 President Donald Trump's lawyers argued in New York's top court Monday that Trump's busy schedule prevents him from facing a defamation lawsuit.
The suit was brought three days before Trump's inauguration in January by a female contestant on The Apprentice who—along with nearly a dozen other women—accused Trump of sexual misconduct during the 2016 election campaign.
Summer Zervos, who appeared on season five of Trump's 'The Apprentice' in 2006, filed the suit against Trump on January 17. She accused him of defamation for saying her charge that he touched her inappropriately was "fabricated and made-up."
Zervos accused Trump of making non-consensual sexual advances in October 2016, but she says the incident took place in 2007 when she claims she was invited to meet with Trump at the Beverly Hills Hotel in Los Angeles to talk about a business proposal.
"I assumed we were going to a restaurant in the hotel. Instead, I was taken to a bungalow," Zervos said. Trump "came to me and started kissing me open-mouthed as he was pulling me toward him," she explained. "He then grabbed my shoulder and began kissing me again very aggressively and placed his hand on my breast." Zervos said she gave Trump an opportunity to retract his accusation that she lied about the encounter, but decided to sue when he didn't.
Zervos' attorney Gloria Allred filed the suit, which calls for Trump to apologize and pay $2,914.
Zervos v. Trump by Graham Lanktree on Scribd
On Monday Trump's lawyers argued the case should be dismissed or suspended until the president leaves office, citing precedent in U.S. Supreme Court decisions that "show deference to the president" and his power, as well as his "extremely busy schedule during his first 100 days in office."
Trump's lawyers quote the 1982 Supreme Court case Nixon v. Fitzgerald, which says courts have "recognized the President's constitutional responsibilities and status" in "counseling judicial deference and restraint."
Trump "denies these unfounded accusations" and is prepared to show they are "false, legally insufficient and made in a transparent politically-motivated attack," Trump's lawyers wrote in the filing (see above). But they ask that the court first decide if Trump is immune from litigation to protect him "from the burden of defending against a lawsuit in the first place." One issue, they write, is whether a state court can have "any direct control" over a president.
Read more: What should we make of Trump's sex assault denials?
Nearly a dozen women came forward in the later days of the 2016 election campaign accusing Trump of sexual misconduct. Their claims followed the release in October 2016 of a video outtake from a 2005 Access Hollywood interview where Trump was recorded saying that "when you're a star" you can do whatever you want to women. "Grab 'em by the pussy. You can do anything," Trump is heard saying.
A story in the New York Times soon followed in which two women, Jessica Leeds and Rachel Crooks, claimed Trump touched them sexually without consent in separate chance meetings on a plane and real estate office in the 1980s and 2005. People Magazine writer Natasha Stoynoff, who interviewed Trump and his wife Melania at Trump's Mar-a-Lago club in Florida in 2005, also accused Trump of assaulting her during a break in the interview.
Yoga instructor Karena Virginia, who like Zervos is represented by Allred, was one of the last women to come forward in October. She alleged Trump grabbed her breast when he approached her at the 1998 US Open Tennis Championship.
Yet even if Zervos can state her case, Trump's lawyers wrote, it isn't urgent and she won't be harmed by a delay.
As Trump's lawyers tried to push back further hearings, they also argued that "it would be a waste of judicial resources for this court to entertain briefing on issues which this court lacks the power to even hear."