Trump's Lead Coronavirus Doctor Advises Sick People Who Haven't Traveled to 'Hunker Down' at Home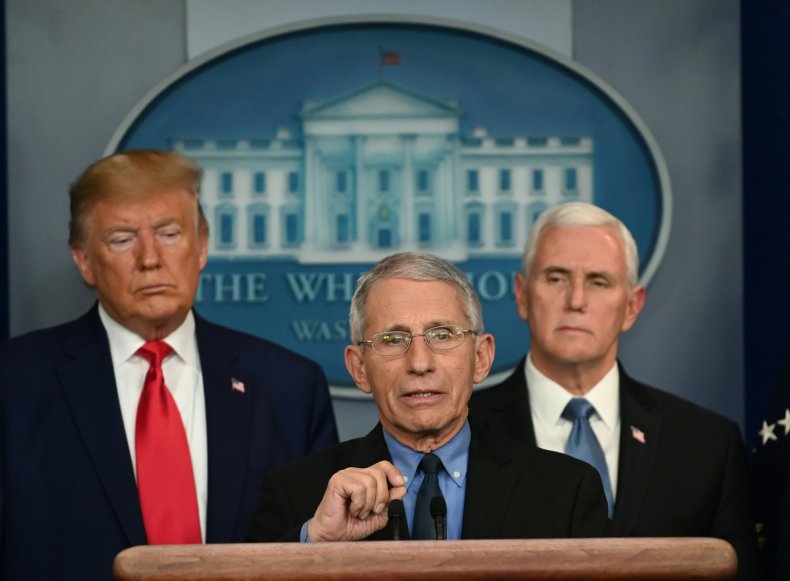 President Donald Trump's lead doctor in the nation's response to combat the novel coronavirus advised those who are feeling sick and have not traveled abroad Thursday to "hunker down" at home until they recover.
"The overwhelming likelihood is that it is not coronavirus," Dr. Anthony Fauci said when posed a question about what steps citizens who have not traveled abroad but are feeling sick should take. "I think they should just go home and just hunker down and recover at home."
Fauci, the director of the National Institute of Allergy and Infectious Diseases at the National Institute of Health, insisted that the current risk of infection across the country for COVID-19, the disease contracted by the novel coronavirus, is quite low, unless a person is in a city where community spread has been reported. He said that people feeling sick in other areas around the country most likely have influenza. Fauci also stated that people should stay home even if sick because they could still spread the virus.
Fauci was appointed by the president to the coronavirus task force directed by Vice President Mike Pence. He appeared on a CNN Town Hall Thursday night to answer questions about fears people have regarding the COVID-19 pandemic.
When show host Anderson Cooper asked Fauci what was the one thing he wanted to tell Americans concerning the novel coronavirus, Fauci said that while it is a serious issue "we should not be panicking about it" and that most people who have been infected "do quite well."
"The risk of getting infected, taking the nation as a whole, is low, but that could change," Fauci said. "If a person is infected, if you look at the experience from China, from Korea, and from Italy, the overwhelming majority of individuals would do quite well. They'll be able to spontaneously recover without any specific kind of medical intervention."
"However, about 15 to 20 percent of the individuals, very heavily weighted towards the elderly and those with underlying conditions – heart disease, chronic lung disease, diabetes – are really a considerable risk for a bad outcome, including death," Fauci added.
Fauci also answered questions regarding the mortality rate of the novel coronavirus. Trump said on Hannity Wednesday he had a "hunch" that the mortality rate was less than one percent after the World Health Organization said the rate was 3.4 percent.
"When you look at the WHO numbers, it's a purely arithmetic calculation," Fauci said on CNN. "You look at the number of deaths as the numerator and the denominator is the number of infections. If you do that simple mathematical formula, what you have is a two to three percent mortality."
"However, when you do modelling, namely you figure out the likelihood there is and to what extent you have asymptomatic infection...the [mortality] range is lower than that. How much lower is uncertain, but it's clearly lower than that," Fauci said, adding that in order to get a more accurate mortality rate much more testing would need to be done.
Pence said Thursday that there are not enough test kits in the U.S. to provide widespread testing for COVID-19. Fauci told CNN that in the coming weeks more tests will be available because of a partnership between the Centers for Disease Control and Prevention and the private sector.
The CDC website currently has the number of confirmed U.S. coronavirus cases at 145, including 49 people who were repatriated to the country from either Wuhan, China, where the disease originated, or the Diamond Princess Cruise ship. Fourteen Americans have died thus far as a result of the virus, according to the CDC.
According to a tracker from Johns Hopkins University, there are over 100,000 cases worldwide, though over 55,700 people have recovered from the virus. While the majority of cases (80,573) remain in China, South Korea, Iran and Italy are other spots with at least 3,000 cases in each of the respective countries. Over 3,400 people have died worldwide from COVID-19 since the virus was discovered in December 2019.