Trump's Loyalties Lie With Putin's Russia, Claims Sally Yates
President Donald Trump revealed where his loyalties lie during the infamous Helsinki press conference with Russia's President Vladimir Putin, according to former acting attorney general Sally Yates, and it wasn't with America.
Trump faced backlash after appearing to believe Putin's denial of Russia's interference in the 2016 election over the unanimous conclusion of the U.S. intelligence community that the Kremlin was trying to undermine the process through cyber espionage and online manipulation.
The president said he did not see any reason "why it would be Russia." Over a day later, amid bipartisan criticism and accusations of treason, Trump claimed he misspoke and intended to say "would not be Russia."
"I think all of us were really shaken by the events that took place in Helsinki," Yates, who was fired by Trump in January 2017, told MSNBC's Rachel Maddow on Thursday night.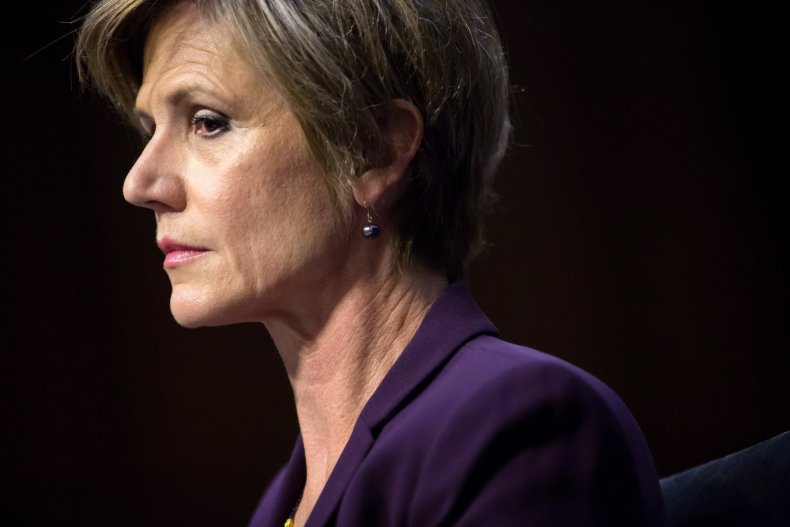 "It wasn't really just a rhetorical, semantic faux pas that we are talking about here. It was what his words reflected. They revealed what our president is thinking, and how he feels, and where his loyalties lie.
"So I think the startling reality for all of us is that we are faced with a situation where our president, the person whom we have entrusted to lead this country, isn't all in for our nation."
Trump's own election campaign is under investigation by special counsel Robert Mueller on suspicion of collusion with the Russian government. There are also concerns that Russia holds compromising material on Trump, explaining his softness in dealing with Putin.
Yates, who was deputy attorney general in the Obama administration, was dismissed by Trump after she contested his controversial executive order banning immigration from several Muslim-majority countries because she did not think it was lawful.
She was replaced by Jeff Sessions.
"My responsibility is to ensure that the position of the Department of Justice is not only legally defensible, but is informed by our best view of what the law is after consideration of all the facts," Yates had written in a letter to lawyers at the department, who faced having to defend Trump's executive order from a number of legal challenges.
"In addition, I am responsible for ensuring that the positions we take in court remain consistent with this institution's solemn obligation to always seek justice and stand for what is right. At present I am not convinced that the defense of the executive order is consistent with these responsibilities nor am I convinced that the executive order is lawful.
"Consequently, for as long as I am the Acting Attorney General, the Department of Justice will not present arguments in defense of the executive order, unless and until I become convinced that it is appropriate to do so."
Yates also warned the White House before she was fired that its national security adviser General Michael Flynn may have been compromised by the Russians. Flynn was indicted by Mueller and plead guilty to lying to the F.B.I. about his conversations with the Russian ambassador to Washington.
The White House did not respond to a request for comment.