Trump's 'Major Announcement' Brings Bannon to the Brink: 'I Can't Do This'
The revelation that former President Donald Trump's "major announcement" involves the sale of $99 Trump-themed digital trading cards has prompted his former adviser Steve Bannon to say he "can't do this anymore."
Bannon called for those responsible for the announcement to be "fired today" on his War Room podcast on Thursday. During a discussion with fellow ex-Trump advisers Steve Cortes and Sebastian Gorka, Bannon lamented that "nobody even talked about" Trump's plans to battle the "left-wing censorship regime" if elected in 2024 after being overshadowed by the announced sale of the NFT trading cards, which depict the former president as a superhero.
"I can't do this anymore," Bannon said after interrupting a clip of Trump's NFT announcement video. "He's one of the greatest presidents in history, but I gotta tell you, whoever ... business partner [or] anybody on the comms team and anybody at Mar-a-Lago ... and I love the folks down there, but we're at war—they ought to be fired today!"
"And hey, you don't have three [bigger supporters] than Cortes, Bannon and Seb Gorka," he added. "And we're getting blown up all day on this."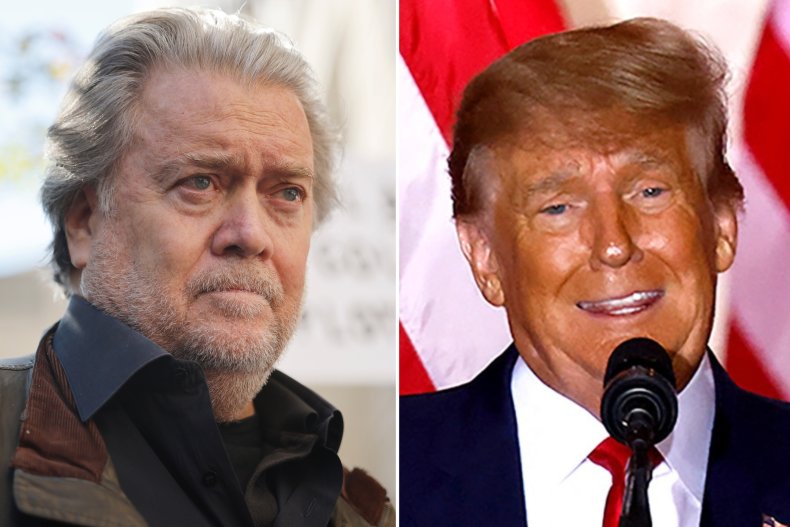 Gorka shook his head in approval as Bannon denounced the video, before agreeing that the announcement "never should have happened" and urging whoever "came up with" the idea to be fired.
"Whoever wrote that, that pitch, should be fired," Gorka said. "And should never be involved in any ... I don't want them making the presidential napkins for Mar-a-Lago ... anybody who came up with that."
"If you want to do this kind of stuff, have a peon do it," he added. "Get somebody who's recognized in the MAGA world to, you know, put their face to this thing and do it. But the president should not be involved with this."
Gorka also blasted Trump's current close advisers for not preventing the announcement, saying "at least Kash Patel or somebody sane should say 'guys, can you hold the Superman cartoons until we've got some freedom of speech back.'"
Trump's Truth Social post teasing the "major announcement" on Wednesday had prompted speculation about it involving his political career, including anything from his vice presidential pick to a run for Speaker of the House.
Bannon and his guests were far from the only prominent conservatives to blast the former president for Thursday's reveal.
Trump loyalist Robby Starbuck, a GOP former congressional candidate, tweeted that the announcement was "not the kind of fight people want to see now," while adding that it "turns many off."
Other conservatives, such as former congressional aide Daniel Bostic, described the announcement as a "a slap in the face to Trump's base."
Some suggested that the move could benefit Trump's potential 2024 GOP primary challenger Ron DeSantis. Despite not yet announcing a run for president, the Florida governor is already leading Trump in multiple recent primary polls.
Newsweek has reached out to Trump's office for comment.