Trump's Mar-a-Lago Cronies Secretly Shaped Veterans Affairs Policy: Report
Three of President Donald Trump's associates from his Mar-a-Lago resort in Florida—including Marvel Entertainment chairman Ike Perlmutter—have been quietly shaping Veterans Affairs (VA) policies for months, ProPublica reported Tuesday.
Documents obtained by the publication through the Freedom of Information Act reportedly showed the three associates have influenced policy, made personnel decisions and spoke with top VA officials daily.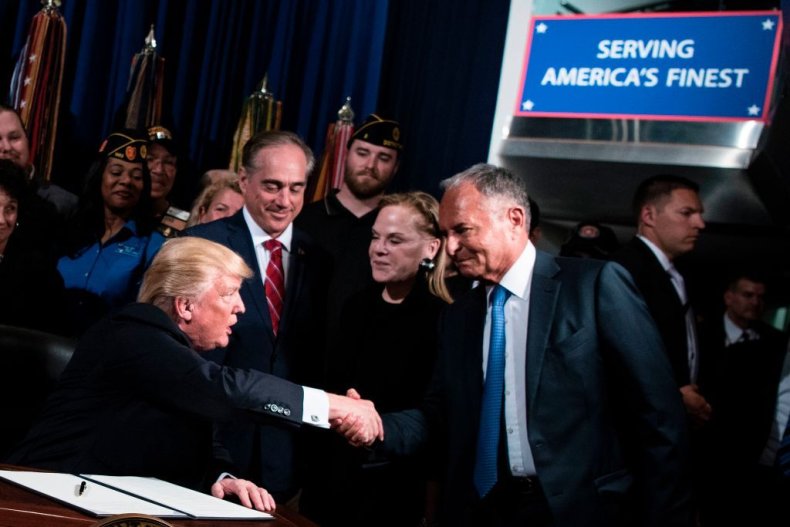 Longtime Trump associate Perlmutter is joined by lawyer Marc Sherman and a Palm Beach doctor by the name of Bruce Moskowitz in exerting a "sweeping influence" in the department, according to the report.
None of the three men have served in the U.S. military, and none hold government positions. Perlmutter fought for the Israeli military in the Six-Day War.
All three are members of Trump's Palm Beach Mar-a-Lago resort.
Perlmutter talks to Trump regularly by telephone and is the first person the president consults on veterans affairs, reported the outlet.
Perlmutter, Moskowitz and Sherman told ProPublica that they offered help and advice on a voluntary basis, but denied having authority over department decisions.
"While we were always willing to share our thoughts, we did not make or implement any type of policy, possess any authority over agency decisions, or direct government officials to take any actions… To the extent anyone thought our role was anything other than that, we don't believe it was the result of anything we said or did," said the three in a joint statement.
White House spokeswoman Lindsay Walters told ProPublica the three "have no direct influence over the Department of Veterans Affairs."
VA spokesman Curt Cashour told the publication "a broad range of input from individuals both inside and outside VA has helped us immensely over the last year and a half."
On the campaign trail, Trump pledged better support for veterans, but the department has reportedly been rocked by turmoil during his presidency.
VA secretary David Shulkin left his position in April. In an interview with NPR he claimed to have been sacked after he opposed members of the Trump administration seeking to privatize veterans affairs. The White House claimed he resigned.
He had faced criticism over the misuse of funds while on a trip to Europe.
In June, Robert Wilkie was confirmed as new veterans affairs secretary.
Trump had planned to replace Shulkin with White House physician Ronny Jackson, who withdrew in April after allegations of alcohol abuse and professional misconduct surfaced.