Trump's Meeting With Kim Jong Un Will Make North Korean Dictator Look More Powerful
President Donald Trump is set to meet with North Korean leader Kim Jong Un by May, and the meeting could make Kim appear more powerful, said nuclear nonproliferation experts, if it isn't tied to conditions that would pressure the Kim regime to denuclearize.
South Korean national security adviser Chung Eui-yong made the surprise announcement of the talks late Thursday on the White House driveway. The location of the talks is yet to be determined. Earlier, Chung briefed Trump on a message from Kim.
"Kim Jong Un talked about denuclearization with the South Korean representatives, not just a freeze," Trump tweeted late Thursday, adding there would be "no missile testing by North Korea during this period of time." The president said sanctions would "remain until an agreement is reached."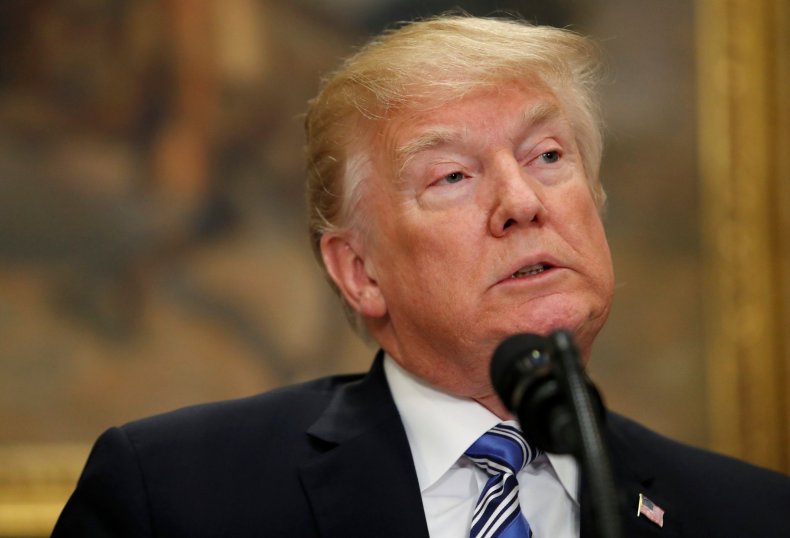 But "Kim is not inviting Trump so that he can surrender North Korea's weapons," wrote Jeffrey Lewis, a nuclear nonproliferation expert at the Middlebury Institute of Strategic Studies, on Twitter. "Kim is inviting Trump to demonstrate that his investment in nuclear and missile capabilities has forced the United States to treat him as an equal."
"This is literally how the North Korean film The Country I Saw ends. An American president visits Pyongyang, compelled by North Korea's nuclear and missile programs to treat a Kim as an equal," Lewis wrote. The 1988 propaganda film was made during the reign of Kim's father, Kim Jong Il.
Read more: Trump will meet North Korea's Kim Jong Un: They fought in 2017, will they make peace in 2018?
Hours before the announcement, Secretary of State Rex Tillerson said the U.S. and North Korea were "a long ways from negotiations" and direct talks.
The talks came as a surprise after Trump and Kim stoked nuclear tensions over the past year, trading insults and calling each other names, like "Little Rocket Man" and a "lunatic mean old trickster and human reject."
"There is good reason to talk with North Korea, but only if we are talking about something that is worth doing and that could be reasonably verified—otherwise we are setting ourselves up for a major diplomatic failure," wrote former U.S. Secretary of Defense and nuclear weapons expert William Perry in a blog post reacting to the meeting announcement.
In the past, North Korea hitched the idea of "denuclearization" to the entire Korean Peninsula, rather than the Kim regime itself, pointed out Duyeon Kim, a nuclear nonproliferation expert, in her column for Bulletin of the Atomic Scientists.
Past statements suggested that Kim Jong Un's regime would only denuclearize "if both sides reciprocally reduced and eventually eliminated their nuclear weapons," she wrote. "For Seoul, Washington, and Tokyo, on the other hand, 'denuclearization' simply means a nuclear-weapons-free North Korea."
North Korea Up Close: From the Bright Lights of Pyongyang to the Impoverished Countryside
It is unclear who will be advising Trump during the meeting, as the U.S. has yet to appoint a new ambassador to South Korea and one of America's foremost experts, U.S. special representative for North Korea Joseph Yun, recently retired.
Nevertheless, it's "interesting that NK proposed summit, and even more interesting (if reports accurate) it signed onto testing freeze," tweeted Richard Haass, president of the Council on Foreign Relations, a nonprofit U.S. foreign policy think tank.
"What will be truly interesting tho is how NK defines denuclearization and what it is linked to," he wrote, indicating the meeting "promises to be a major test for U.S. statecraft."