Trump's Message to Mexico's New President-Elect, Andrés Manuel López Obrador
President Donald Trump has sent his congratulations to Mexico's presidential election winner, Andrés Manuel López Obrador.
The left-wing populist candidate beat José Antonio Meade of the ruling Institutional Revolutionary Party, as well as National Action Party candidate Ricardo Anaya, who was viewed as López Obrador's main rival.
In typical style, the U.S. president on Sunday tweeted his thoughts on the election: "Congratulations to Andres Manuel Lopez Obrador on becoming the next President of Mexico. I look very much forward to working with him. There is much to be done that will benefit both the United States and Mexico!"
Speculation has already begun over how Trump will get on with the new Mexican president, particularly given his fractious relationship with the incumbent, Enrique Peña Nieto, whose term ends when López Obrador takes office December 1.
The leaders had previously clashed over Trump's plan to build a wall along the U.S.-Mexico border and his claims that he would ask Mexico to cover the cost of construction. The two leaders engaged in fraught telephone calls on the topic, as well as canceling and rescheduling a planned face-to-face meeting, CNN reported in February.
But if the U.S. president is expecting an easier ride with López Obrador, who has been dubbed Mexico's Donald Trump, he may be in for an unpleasant surprise.
López Obrador tapped into the same kind of populist support that Trump did, pitching himself as an outsider candidate who would fight for the people. He has previously spoken out against the U.S. president's plans for a border wall.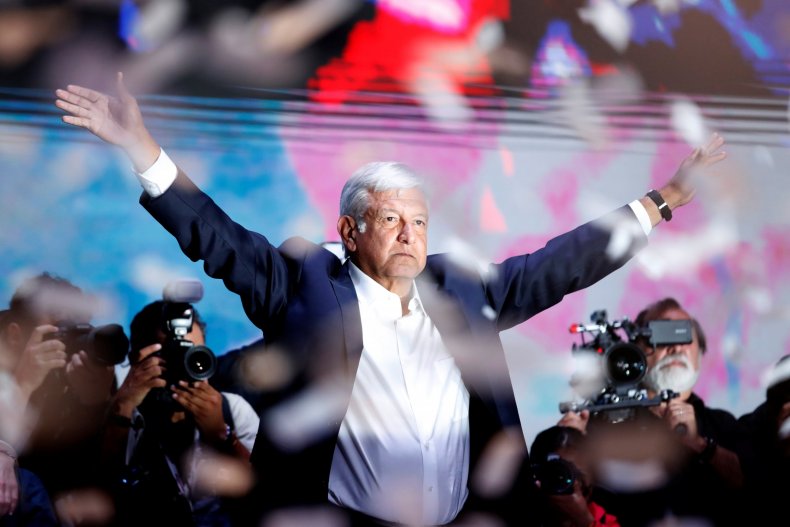 López Obrador has written a book titled Oye, Trump (Listen Up, Trump), which slams the border wall and Trump's attitude toward migrant workers, Politico reported. He has also promised supporters that Mexico "will never be the piñata of any foreign government."
But in many ways, the former mayor of Mexico City has taken a measured approach to the U.S. president. López Obrador stated during a debate May that he wants "a friendly relationship with the government of the United States, but not one of subordination," The Washington Post reported.