At Trump's Minnesota Fundraiser Days Before His COVID Diagnosis, Guests Sang Karaoke and Had Their Arms Around Each Other
Several guests who attended President Donald Trump's campaign fundraising event in Shorewood, Minnesota, on Wednesday participated in karaoke and embraced despite continuing threats posed by the coronavirus pandemic, according to political consultant Blois Olson.
Olson told "WCCO Morning News" on Friday that he saw images and videos taken during the fundraiser that were posted on a private Instagram account.
"They sang karaoke, they had their arms around each other," Olson said. Attendees continued mingling at the event after Trump left, he said.
"I think that the protocols and all of this that we have been working on for months was not followed at that fundraiser," Olson said, adding that he believed Trump's recent COVID-19 diagnosis would "raise more questions" about how people approach pandemic restrictions.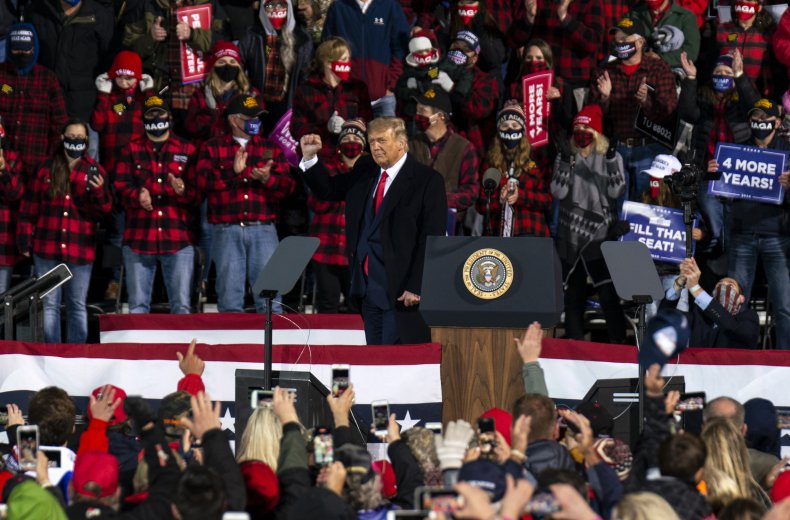 Newsweek reached out to Trump's campaign for comment, but did not receive a response in time for publication.
Trump announced on Twitter early Friday morning that he and first lady Melania Trump both tested positive for COVID-19 and would be quarantining at their residence at the White House. They were both tested on Thursday after one of Trump's top aides, Hope Hicks, also tested positive for the virus.
Trump's chief of staff, Mark Meadows, told reporters Friday morning that the president was experiencing "mild" symptoms. White House physician Dr. Sean Conley said in a statement Friday afternoon that the president "remains fatigued but in good spirits" and said he was given a dose of Regeneron's polyclonal antibody cocktail as a precaution.
Conley did not specify whether Trump was experiencing symptoms beyond his fatigue but said the first lady had a mild cough and a headache. The other members of their family tested negative for COVID-19, Conley said, and Vice President Mike Pence's press secretary said Friday morning that Pence and his wife both tested negative for the virus as well.
Later Friday, White House Press Secretary Kayleigh McEnany said that the president was being taken to Walter Reed National Military Medical Center in Bethesda, Maryland, "out of an abundance of caution" and would remain there for a few days.
In addition to the fundraising event he attended in Shorewood on Wednesday, Trump also spoke at a campaign rally in Duluth later that day.
As news of Trump's COVID-19 diagnosis spread Friday morning, the Minnesota Department of Health released a statement saying its officials were focused on contact tracing efforts for state residents who may have been exposed.
"There is a potential risk that transmission occurred at the Duluth rally and other events associated with President Trump's visit," the department said. "Community transmission of COVID-19 was high in St. Louis County prior to this week's rally, and people attending the rally may have been infectious without realizing it."
The health department encouraged residents who attended any of the campaign events and were experiencing possible COVID-19 symptoms to get tested quickly and said everyone in attendance should consider getting a test. Health officials also advised all attendees who interacted with Trump or another known COVID-19 patient to quarantine for two weeks regardless of their own immediate test results.
A handful of state legislators who were in attendance at one of the campaign events—including at least one who posed for a picture with the president—said they were being tested for the virus, according to St. Paul Pioneer Press.
Trump's campaign manager, Bill Stepien, released a statement on Friday saying that all upcoming campaign events involving Trump and members of his family would be held virtually or temporarily postponed due to the president's COVID-19 diagnosis. Pence would continue to host his scheduled campaign events, Stepien said.
Minnesota health officials have discouraged large gatherings but allowed indoor and outdoor venues to occupy at 25 percent capacity up to 250 people. The Centers for Disease Control and Prevention (CDC) has also discouraged large gatherings and advised people to retain six feet of distance from other individuals while in public spaces to decrease the risk of virus transmission. In a May CDC report, scientists identified singing as a possible factor in transmission among a cluster of COVID-19 cases reported among participants of a choir practice in March.
Updated 5:53 p.m. ET: This article has been updated to include information on Trump's visit to Walter Reed National Military Medical Center.