Trump's Moscow Missile Threat Hits Russia's Ruble, On Track For Worst Week in Two Decades
The ruble has been hit hard following Donald Trump's warning that Moscow should "get ready" for missiles to be fired into Syria.
As Russia faces accusations over complicity in an alleged chemical weapons attack in Douma, near Damascus, the ruble fell for a third day in a row and is heading for its worst week since 1999, eclipsing the slump it suffered in 2014 when Moscow annexed Crimea, the Financial Times reported.
It dropped 2 percent in early European trading Wednesday, with one dollar buying 64.5 rubles, down almost 10 percent since the start of the week.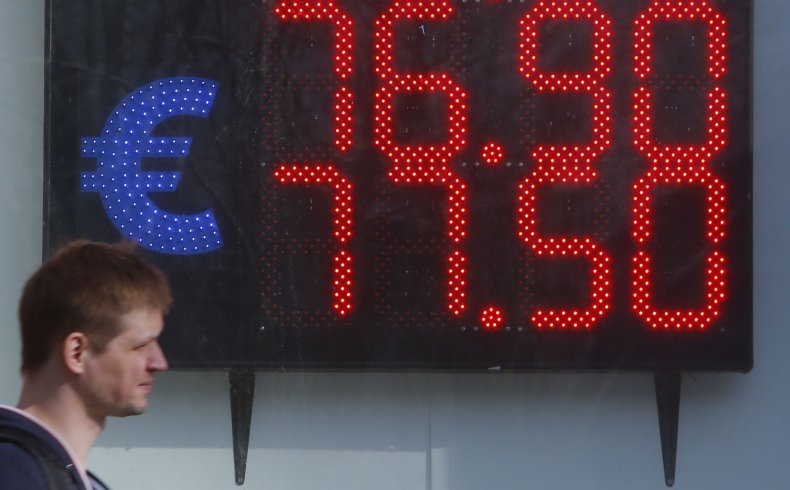 Russian markets continue to reel from U.S. sanctions, which have wiped billions of dollars off the value of Rusal, the world's second biggest aluminum producer, owned by billionaire Oleg Deripaska.
The company said that two of its directors who were among the 26 people named on the American sanctions list, Maksim Goldman and Daniel Lesin Wolfe, have resigned.
Moody's said it would withdraw its rating of Rusal due to "its own business reasons."
Metals giant Mechel, BTB Bank and Norilsk Nickel also lost value as investors sold off Russian assets. Oleg Tinkov, founder and chairman of Tinkoff Bank, lost $250 million on Monday.
Dmitry Polevoy, ING Bank's chief economist for Russia, told the Financial Times it was hard to assess the long-term impact of sanctions on the country. "The direct impact on the Russian economy through the sanctioned entities doesn't look too biting. Yet, as was the case in 2014, the indirect effects are the primary focus," he said.
The expulsion of Russian diplomats and the U.S. blacklisting of sanctioned Russian officials have brought ties between Moscow and the West to an all-time low. Referring to U.S. missiles, Trump tweeted: "Get ready Russia, because they will be coming, nice and new and 'smart!'"
Meanwhile, another tweet by Trump, calling on Russia "to stop the arms race," was met with derision by Moscow.
Russian Foreign Ministry spokeswoman Maria Zakharova wrote on Facebook: "Great idea! There is a proposal to start with the destruction of chemical weapons. The American ones."
Russia insists the chemical attack in Douma, Syria, was a "provocation," with Zakharova saying that the aim of Western strikes would be to "remove the traces" of the attack. Russia has also vowed to respond to any U.S. strikes in Syria.