Trump's Most Loyal Followers Pledge to Subpoena Him
Some of former President Donald Trump's most prominent supporters are following through with their plans to subpoena him as part of their sedition trial.
On Thursday, attorney Norm Pattis, who is representing leading Proud Boys figure Joe Biggs, said that the defendants are "going to ask the government for assistance in serving Mr. Trump."
Biggs is on trial for seditious conspiracy, along with former Proud Boys chairman Enrique Tarrio and three other allies, for their role in the January 6, 2021, Capitol riot. The far-right group is well-known for its support of Trump and opposition to progressive groups.
It was reported last month that the defendants intended to call Trump to testify as a witness in the trial, although it's unclear why they want him to testify under oath.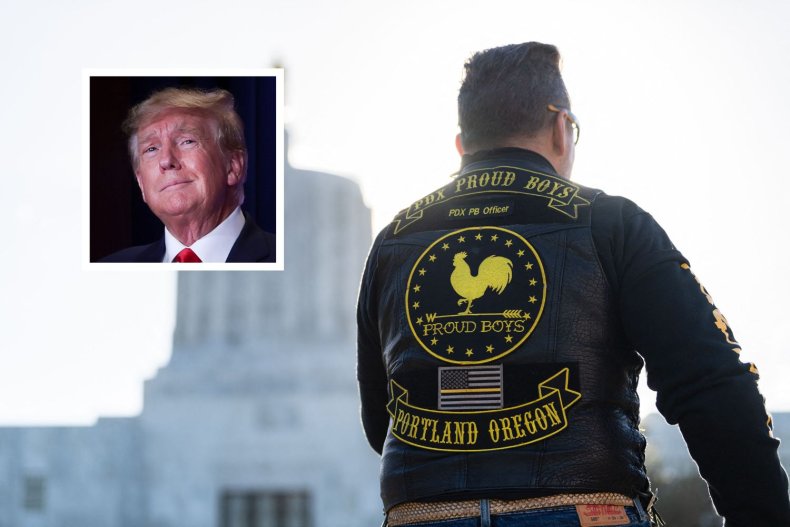 While Thursday's announcement confirmed earlier reports, it will ultimately be up to U.S. District Court Judge Tim Kelly to approve the subpoena.
Similar efforts to have Trump testify have not been granted in other January 6-related trials, but the Proud Boys trial would have the best chance, given the former president's previous remarks directly referring to the group. Trump infamously said, "Proud Boys, stand back and stand by," during an October 2020 presidential debate.
Although a Trump subpoena is not certain, a high-ranking Proud Boys member from North Carolina, Jeremy Bertino, who plead guilty to his own seditious conspiracy charge, is expected to take the stand next week. Bertino did not attend the January 6 riot but had engaged in a series of discussions with other Proud Boys leaders ahead of the riot.
Pattis, who is known for representing conspiracy theorist Alex Jones in his defamation lawsuits related to the Sandy Hook Elementary School shooting, and other defense lawyers have repeatedly sparred with Kelly over the last month. The trial began on January 12 in Federal District Court in Washington, D.C.
So far, prosecutors have argued that the Proud Boys are singularly responsible for the violence of that day, presenting evidence that Tarrio, Biggs and other leaders gave instructions for the events that unfolded on January 6 and that they helped others breach the Capitol building.
In one message shown to the jury, Biggs wrote on social media weeks before the attack: "If police block electors from entering a building to cast a vote for Trump, we the people will treat your thin blue line like we do antifa."
"Get in our way and get walked over," he wrote in the December 14, 2020, post. "You will become the enemy of the state."
The prosecution has also shown evidence that Tarrio received inside information about law enforcement matters from a D.C. police officer with whom he had a close relationship.
Newsweek reached out to Trump and Pattis for comment.