Trump's Muslim Ban Is Working. Muslim Immigration Slumps
This article first appeared on the Cato Institute site.
During his campaign, President Trump promised to ban all Muslims outright until he could figure out "what is going on."
He later explained that this idea had developed into several policies that would have the same effect.
Since his inauguration, Trump has begun to implement them—they include slashing the refugee program, banning all immigration and travelers from several majority Muslim countries, and imposing new burdens on all visa applicants as part of "extreme vetting" initiatives.
So far, these policies appear to have "worked," strongly reducing Muslim immigration and travel to the United States.
Muslim refugee admissions have fallen dramatically over the past year. According to figures from the State Department, Muslim refugee flows fell 94 percent from January to November 2017 (the last full month of available data).
In calendar 2016, the United States admitted almost 45,000 Muslim refugees, compared to a little more than 11,000 in 2017—fully half of those entered in January and February.
Of course, the administration has cut refugee flows generally, but the Muslim share of all refugees has dropped substantially too—from 50 percent in January to less than 10 percent in November.
Figure 1
Monthly Muslim Refugee Admissions for Each Month of 2017 and Average for 2016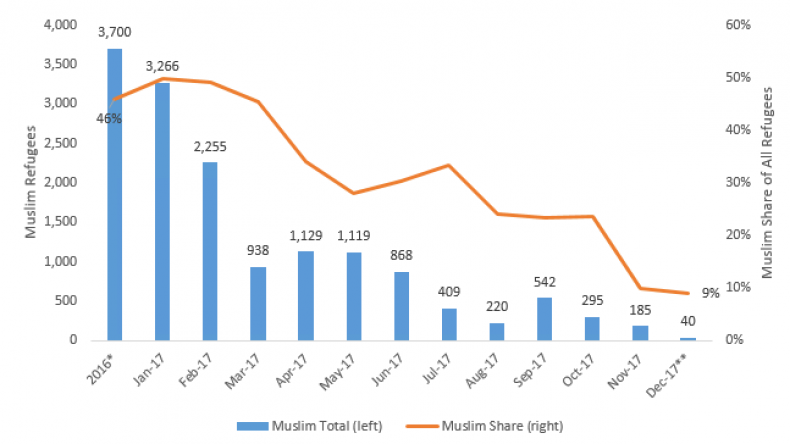 This year's drop is even more substantial when compared with the trend. In only one year over the last decade has the number of Muslim refugee admissions fallen, and Muslim admissions have increased on average 18 percent annually from 2007 to 2016.
As for foreign travelers and immigrants seeking to live permanently in the United States, the State Department does not ask on its visa application form about their religious affiliation (thankfully).
But based on the number of visas issued to nationals of the nearly 50 majority Muslim countries, it certainly appears that the Trump administration policies have affected them as well.
America issues two types of visas—"immigrant" for permanent residents and "nonimmigrant" for temporary residents—mainly tourists, guest workers, and students.
For Muslim majority countries, the average monthly permanent visa issuances during the period of March to October 2017 (the only months that are available so far) dropped 13 percent from the monthly average in FY 2016. Average monthly visa issuances for temporary residents —tourists, guest workers, and students—from majority Muslim countries have dropped 21 percent from the FY 2016 monthly average.
Figure 2
Average Monthly Visa Issuances—Permanent and Temporary—2016 and 2017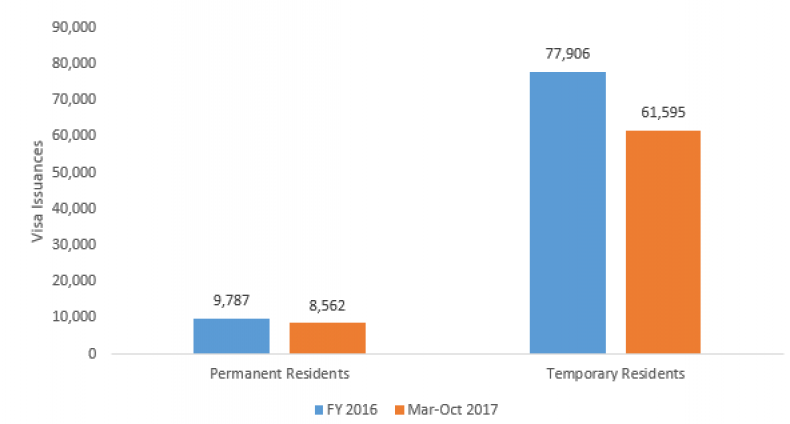 During the last decade, majority Muslim countries have never—even during the recession—seen temporary visa issuances fall by more than 1 percent in a single year and immigrant visas never more than 7 percent.
From 2007 to 2016, temporary visa approvals for nationals of these countries actually grew 8 percent annually and permanent visas 9 percent annually. Again, compared to the expected increases, the declines are even more remarkable.
Immigration and travel from all countries has also declined this year, but the declines for Muslim majority countries were larger. They saw their share of all immigrant visa issuances fall 3 percent and their share of temporary visa approvals by 15 percent.
The visa declines disproportionately affected certain countries. In particular, they impacted the eight majority Muslim countries that President Trump has singled out in his three "travel ban" executive orders—Chad, Iran, Iraq, Libya, Syria, Somalia, Sudan, and Yemen. (Iraq and Sudan are technically now off the list, though Iraqis are supposedly subject to higher scrutiny. Chad was added in September.)
All eight countries received fewer visa approvals, and collectively, their monthly average immigrant visa issuances fell a collective 36 percent, while temporary visas fell 42 percent. These declines occurred despite court orders that barred full implementation of the ban until this month.
Figure 3
Average Monthly Visa Issuances—Permanent and Temporary—2016 and 2017 for Eight "Travel Ban" Countries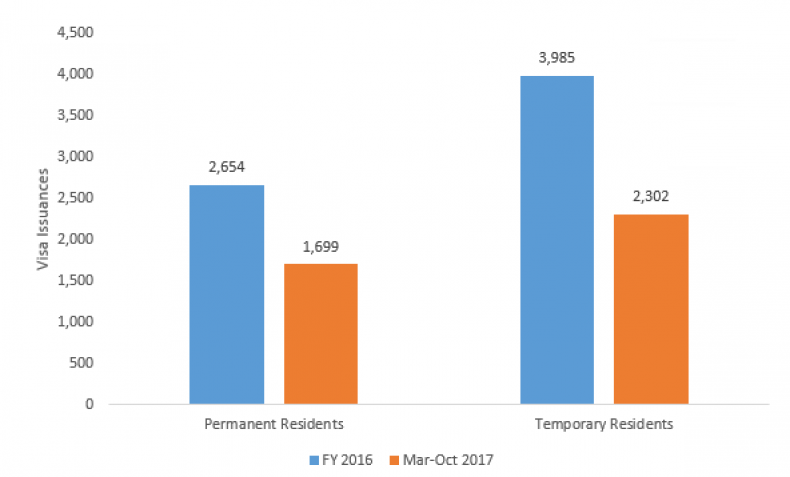 The decline in Muslim refugee admissions is almost entirely a consequence of policy. The administration selects the number and types of refugees that it wants.
President Trump promised to "prioritize" Christian refugees, and he has done so, not by increasing their numbers—the number of Christian refugees has declined as well—but by decreasing Muslim admissions.
Policy is at least partially culpable for fewer visa approvals. Almost 80 percent of the drop in immigrant visas came from the eight targeted countries, but these countries explain only 14 percent of the drop in temporary visas.
The Trump administration has rolled out other policies designed to target Muslim extremists that include more complicated and lengthy immigration forms and requirements to supply more evidence to support certain claims, such as past addresses and jobs.
These could be increasing the costs associated with an application, forcing immigrants to hire attorneys or simply delaying their applications. Accounts of mysterious visa denials for Muslim applicants have serviced as well.
Undoubtedly, some Muslim travelers are also afraid to travel to the United States right now—stories of lengthy detentions and other mistreatment at the border for Muslims could dissuade Muslims from even applying.
Regardless, President Trump is certainly fulfilling a major campaign promise: few Muslims are entering the United States.
One can only hope he will figure out "what is going on" soon.
David J. Bier is an immigration policy analyst at the Cato Institute's Center for Global Liberty and Prosperity. From 2013 to 2015, Mr. Bier drafted immigration legislation as senior policy advisor for Congressman Raúl Labrador, a member and current chairman of the House Judiciary Committee's Subcommittee on Immigration and Border Security.