Treasury Secretary Steve Mnuchin Shows Trump Sample Prepaid Stimulus Debit Card With His Name on It
Treasury Secretary Steve Mnuchin on Tuesday showed President Donald Trump the new coronavirus stimulus prepaid debit cards that will be sent out to Americans this month.
Around 10 million Americans who qualify to receive stimulus payments are still waiting for their funds, according to the Internal Revenue Service data. The Treasury on Monday announced that the remaining payments will be mailed via prepaid debit cards to those who haven't provided the IRS with their bank account details. This group of individuals include low-income workers who don't have bank accounts.
"We now have developed debit cards. In an effort to expedite money to people even quicker in a very safe way, I'm pleased to show you what a debit card looks like with your name on it, Mr. President," Mnuchin told Trump during a cabinet meeting. "We think debit cards are a safe and secure way of delivering refunds."
The new method, called the Economic Impact Payment (EIP) Card, will provide recipients with a "secure, easy to use" alternate way to receive payments. "Recipients can immediately activate and use the cards safely," Mnuchin said in a press release from the Treasury Department.
The Treasury Department on Tuesday told Newsweek that EIPs will feature the recipient's name on it and that the one Mnuchin showed Trump was a sample.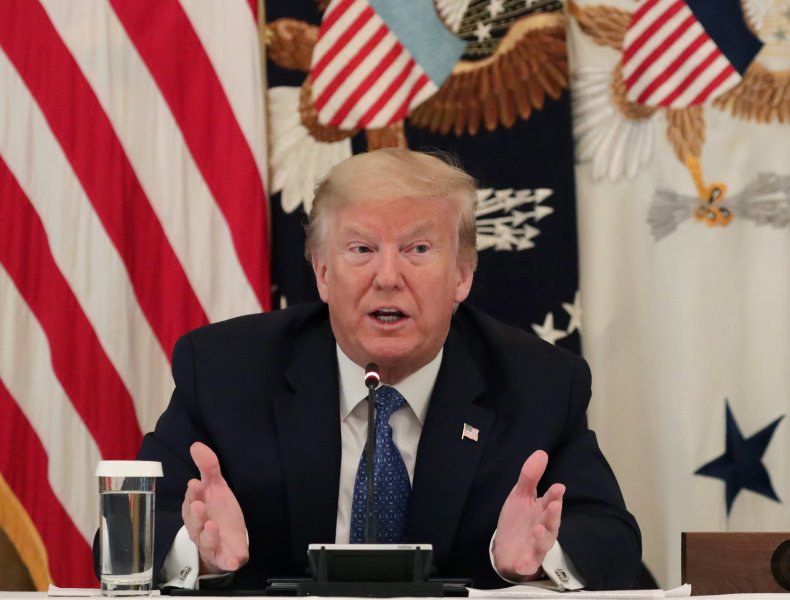 "EIP Cards are being distributed to qualified individuals without bank information on file with the IRS, and whose tax return was processed by either the Andover or Austin IRS Service Center," the release added.
The stimulus funding is provided for by the $2 trillion Coronavirus Aid, Relief and Economic Security Act, otherwise known as the CARES Act, which went into effect late March. After the bill's passing, the IRS sent out checks to approximately 140 million Americans from mid-April. Individuals who earn under $75,000 annually are eligible to receive $1,200 and married couples who earn under $150,000 received $2,400 in total. Under 17-year-olds received $500.
A website for the EIP card details directions for its use. It also allowed recipients to move funds from the card to their personal bank accounts. However, individuals can draw the funds from an ATM or use the card directly to make purchases in-store or online at places that accept Visa.
The federal government began mailing out the cards on May 18, and will continue to do so throughout the month.
Americans who received their stimulus checks in the past few months also received a letter signed by Trump explaining the reason for the payment. "We are fully committed to ensuring that you and your family have the support you need to get through this time," reads the letter, seen by Newsweek. It also states the amount the person is receiving and instructions for how to claim the funds.
"Do I sign the letter again?" Trump asked Mnuchin on Tuesday.
Correction 5/19/20 6:19 p.m. ET: This article was updated to clarify that the EIP card Mnuchin showed the president was an inactive sample, and recipients names will be embossed on the cards sent to Americans.