Trump's National Security Adviser Says NSC Will Support 'Very Professional Transition' to Biden
President Donald Trump's national security adviser Robert O'Brien said the National Security Council will support a smooth transition to a Biden presidency, admitting that it appears the president has lost the 2020 election.
"Look, if the Biden-Harris ticket is determined to be the winner—and obviously things look that way now—we'll have a very professional transition from the National Security Council," O'Brien said during a global security forum streamed online Monday.
He said that "even in the most contentious periods," Americans have repeatedly "passed the baton and had peaceful transitions."
He implied that Trump would be leaving the White House come January, calling the Arab-Israeli peace deals which materialized under Trump's four years "a great legacy for the president to have as he leaves office."
O'Brien also expressed confidence in Biden's incoming team, adding that the group is "going to have very professional folks who are coming in to take these positions, many of whom have been here before and spent a lot of time in the White House in prior administrations."
The remarks from the president's top security official stood in contrast from Trump's views on the election.
Late Sunday night, Trump, who has refused to concede the election, tweeted, "I WON THE ELECTION." Twitter put a warning label on the tweet, citing that "other sources have called this election differently."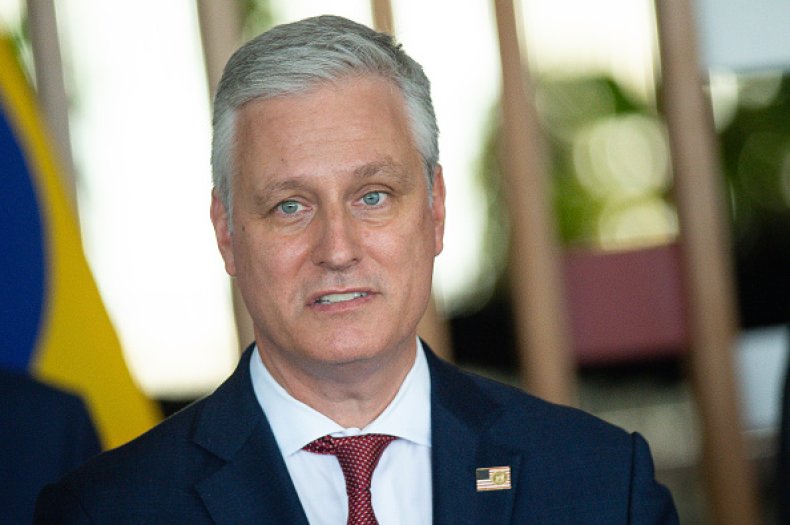 O'Brien is among other Trump administration and Republican officials who have begun defying the president's own claims of a stolen election and declaring a Biden win.
Over the weekend, Arkansas Governor Asa Hutchinson stressed that Biden's transition team should begin receiving intelligence briefings in preparation for his first term.
"During times of transition our enemies have an opportunity to take advantage of us, and we want to make sure that there is a smooth transition, particularly when it comes to the vaccine distribution [so that] everybody understands what we're doing there and what the plan is for the future," Hutchinson said on Sunday.
A number of top GOP lawmakers also broke with Trump last week in saying that Biden be given access to the classified briefings.
Senators Chuck Grassley, John Thune, John Cornyn, Lindsey Graham, Rob Portman and Ron Johnson all agreed that the former vice president should receive intelligence information as he prepares for a transition of power.
O'Brien said on Monday that although a transition has not yet begun, the current timeline of events would not deter one from happening.
"I'm old enough to remember Bush v. Gore, and the transition there didn't start until mid-December, and yet it got done," O'Brien said. "And if we're in a situation where we're not going into a Trump second term, which I think people where I'm sitting in the White House would like to see, if it's another outcome, it will be a professional transition, there's no question about it."
However, the national security adviser remained a staunch Trump loyalist in his comments, portraying Trump as a "voracious consumer of intelligence," unlike other former Trump officials who have described the president as uninterested in such material.
"He had been president of the United States for three years when I joined him as national security adviser," O'Brien said. "I said, 'You've got a well-developed sense of what you want to do. I view my job as making sure you get all the best options you have that are available for you to implement the policy that you want.'"
"My effectiveness, I think, comes from the fact that he can rely on me to give him good advice, to give him the best options, and then to implement his policies," he added.
Newsweek reached out to the White House for comment but did not hear back before publication.