Trump's National Security Adviser Urges Taiwan to Build Military for Possible Chinese Invasion
U.S. National Security Adviser Robert O'Brien said Friday that Taiwan should beef up its defenses in anticipation of an eventual invasion by China.
China's communist government considers Taiwan to be part of China's territory. Taiwan, which has its own independent government, is a U.S. ally. In October, Chinese military jets were spotted breaching Taiwanese air space, causing Taiwan to scramble its jets to turn the Chinese away. O'Brien told the Aspen Security Forum that China could have the military capacity to launch an amphibious incursion of Taiwan within the next 15 years.
O'Brien told the Forum that "whether there's an amphibious landing, a missile attack, a grey zone-type operation, they really need to fortify themselves."
"Taiwan needs to start looking at some asymmetric and anti-access area denial strategies," O'Brien said, "and really fortify itself in a manner that would deter the Chinese from any sort of amphibious invasion or even a grey zone operation against them."
O'Brien said that China would likely consider a missile attack against Taiwan counterproductive.
"I don't know what they would gain from that," O'Brien said.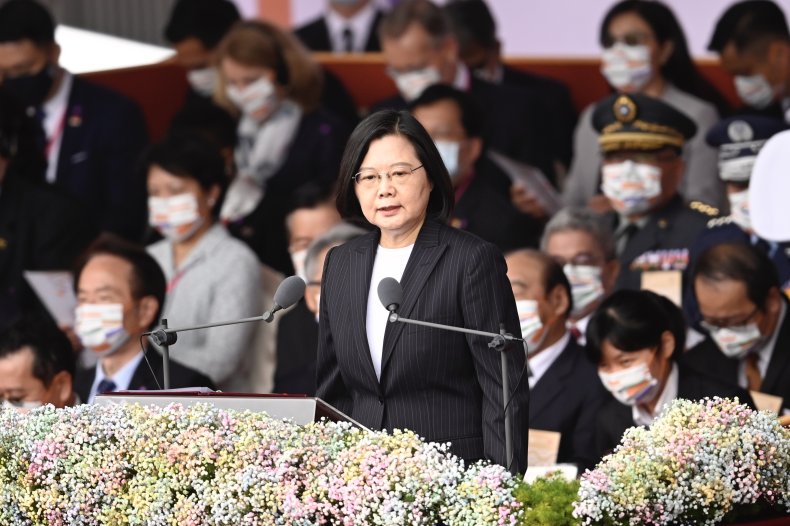 On Saturday, Taiwanese president Tsai Ing-wen expressed hopes during a speech that China and Taiwan could work out their differences diplomatically, despite China's incursions into the Taiwan Strait, a small body of water that separates Taiwan and China.
"As long as the Beijing authorities are willing to resolve antagonisms and improve cross-strait relations while parity and dignity are maintained," Tsai said, "we are willing to work together to facilitate meaningful dialogue."
Despite her call for diplomacy, Tsai also said that Taiwan would increase its defense capability. "Adequate preparation and reliance on the determination and strength of solid national defense capabilities is the only way to guarantee Taiwan's security and maintain regional peace," Tsai said.
On Sunday, Chinese state-owned newspaper Global Times said that Tsai's call for talks between Taiwan and China were "attempting to deceive the international community for sympathy."
According to Global Times, China "is making full combat-level preparations for possible military conflict to strike Taiwan secessionist forces. It is not just a bluff."
"Taiwan is an inalienable part of China's territory, and the Taiwan question is purely China's internal affair which allows no foreign interference," said a spokesperson for the Embassy of the People's Republic of China in the United States of America in a statement sent to Newsweek on Friday. "Any attempt to contain China with the Taiwan question or solicit foreign support will lead nowhere."
"China has the firm will, full confidence and sufficient capability to foil any interference by external forces and the secessionist acts of 'Taiwan independence' forces and resolutely safeguard national sovereignty and territorial integrity," the statement continued.
In 2019, Taiwan obtained 66 F-16 fighter jets and 108 Abrams tanks from the U.S. government. U.S. Forces have also made their presence known in the Taiwan Strait, much to China's chagrin. On Wednesday, the Navy destroyer USS Barry sailed through the Strait in what the U.S. Pacific Fleet called a demonstration of "the U.S. commitment to a free and open Indo-Pacific."
China viewed the destroyer's transit through the Strait negatively. "We warn the U.S. to stop its words and deeds that provoke trouble," Eastern Theater Command spokesperson Colonel Zhang Chunhui said in a Thursday statement.
Updated 11:18 p.m. EST 10/16/2020: This story has been updated with a statement from the Embassy of the People's Republic of China in the United States of America.