Trump's National Security Aides Unanimously Oppose His Syria Withdrawal Plan
President Donald Trump's announcement that "it's time" to rapidly pull U.S. soldiers out of Syria within the next five to six months was met with opposition from every one of his top national security aides, according to the Associated Press.
Hours after telling reporters on Tuesday that it was time to pull the 2,000 American troops out of Syria, Trump sat down with his Joint Chiefs of Staff, the Pentagon, the State Department and the intelligence community in the Situation Room. The national security aides unanimously opposed the president's plan, warning that a swift withdrawal would allow the militant group known as the Islamic State, or ISIS, to reestablish itself, according to the AP. The wire service cited five administration officials who were briefed on the conversation.
Officials at the meeting included the chairman of the Joint Chiefs of Staff General Joseph Dunford, Defense Secretary James Mattis, CIA chief Mike Pompeo and acting Secretary of State John Sullivan.
The top brass reportedly presented Trump with two options: Remain in Syria and prevent the Islamic State from regrouping, or pull out completely. The former was bolstered by several documents and pages with various options to remain in the country. The latter was a short description for total withdrawal accompanied by caveats on the sizable risk and consequences for such a decision, according to the AP.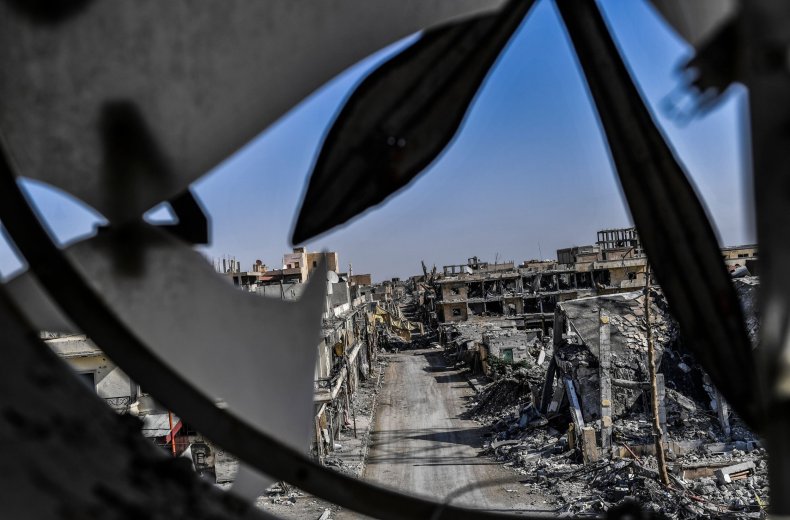 Trump wasn't swayed. Despite the united front, Trump passionately advocated for pulling out "quickly if not immediately," the AP reported.
Trump asked the officials what the U.S. had received in return for the money and American lives lost in Syria, repeatedly answering the question himself. "Nothing," he said, according to the AP. He made similar comments to reporters before the Situation Room meeting too: The Syrian conflict is "very costly for our country and it helps other countries a helluva lot more than it helps us," Trump said, according to the Washington Post.
During one exchange in the national security meeting, Dunford asked the president to give them specific orders, the AP reported. Trump was obstinate, again urging for an immediate withdrawal. Mattis later stepped, saying an immediate withdrawal isn't logistically feasible without opening the door to the Islamic State or other terror operations to fill the vacuum.
That's when Trump recalibrated his vision for a total withdrawal by the fall.
On Wednesday, the following day, the White House issued a statement that the United States's military effort in Syria "is coming to a rapid end."