Trump's National Security Strategy Is All About Nukes and Terrorism, Barely Mentions Human Rights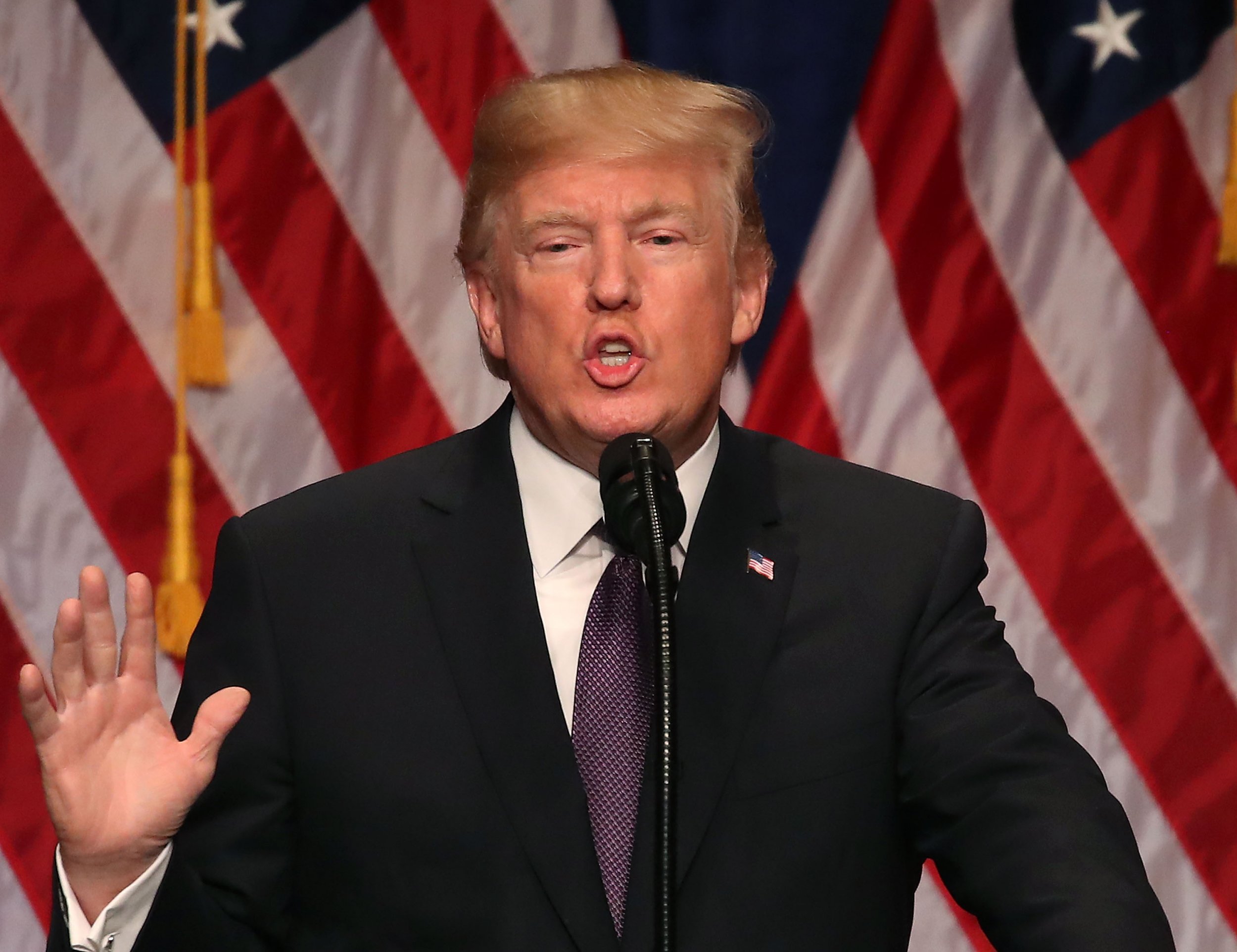 President Donald Trump's "America First" national security strategy, released Monday, overwhelmingly focuses on terrorism and nuclear weapons, but barely mentions human rights or the promotion of democracy—issues that members of Congress from both parties have cited as vital to the nation's security.
The 68-page document, which Trump outlined in a speech Monday afternoon, includes the word "terrorist" 53 times and the word "nuclear" 54 times. The phrase "human rights," however, is only mentioned once. That seems to offer a major indication as to what Trump is prioritizing in terms of foreign policy. Comparatively, former President Barack Obama's national security strategy from 2015 mentions "human rights" 16 times, "terrorist" 20 times and "nuclear" 33 times.
Meanwhile, Trump's national security strategy mentions "democracy" just three times, during a period where autocratic governments are rising in many parts of the world. Trump has praised many of the leaders of such countries, such as Turkey's Recep Tayyip Erdoğan and Rodrigo Duterte, leader of the Philippines. Obama's 2015 strategy mentioned "democracy" more than a dozen times.
There is ample evidence that habitual violations of human rights and democratic norms by governments can destabilize countries and lead to humanitarian crises that endanger the wider world, including the U.S. As Obama's 2015 strategy stated, "Defending democracy and human rights is related to every enduring national interest. It aligns us with the aspirations of ordinary people throughout the world. We know from our own history people must lead their own struggles for freedom if those struggles are to succeed. But America is also uniquely situated—and routinely expected—to support peaceful democratic change."
Republican members of Congress also have explicitly pointed to defending human rights as vital to national security, including Senator Marco Rubio, a member of the Senate Foreign Relations Committee. While discussing Cuba in June, Rubio said, "It's in our national security interest to have human rights and democracy in our region."
In the wake of Trump's speech on Monday, Democratic Senator Bob Menendez, who sits on the Senate Foreign Relations Committee and previously served as its chairman, tweeted, "Extremely disappointed by what was left out of Pres. Trump's speech. Supporting democracy & human rights creates global stability & peace. A National Security Strategy w/o those values strengthens dictators' ability to oppress & adversaries' ability to create war."
Amid the worst refugee crisis since World War II, with 22.5 million refugees worldwide, Trump's strategy doesn't include a single mention of "refugees." Trump has consistently demonized refugees and suggested they posed a danger as potential terrorists, despite evidence to the contrary. The vast majority (85 percent) of individuals responsible for jihadist terror attacks in the U.S. since 9/11 were citizens or legal residents.
During his speech outlining the strategy on Monday, Trump reiterated his calls for a wall on the U.S.-Mexico border as well as an end to chain migration, which he's claimed will help protect the U.S. from terrorism. In doing so, Trump ignored the fact the most recent jihadist terror attacks in the U.S. were perpetrated by individuals who legally entered the country and were radicalized after their arrival.
The national security strategy presents jihadist terrorism as one of the greatest threats to the U.S. Since 9/11, jihadist terrorists have killed 103 people on U.S. soil. In 2017 alone, nearly 15,000 people have been killed by gun violence in the U.S., a topic not mentioned a single time in Trump's strategy or accompanying speech.
Trump's strategy also makes no mention of climate change, which the Pentagon and Secretary of Defense James Mattis have described as a national security threat. Obama's 2015 strategy, however, mentioned the issue more than a dozen times.