Trump's New Army? Saudi Arabia in Talks to Build Syria Arab Force, Report Says
Saudi Arabia has reportedly begun talks to bolster the Arab element of a U.S.-backed force tasked with defeating the Islamic State militant group (ISIS) in Syria.
Turkey's official Anadolu Agency reported Tuesday that three Saudi Arabian military advisers flew to the northern Syrian town of Kobani, also known as Ayn al-Arab, to meet with representatives of the U.S.-backed Syrian Democratic Forces, which is dominated by Kurdish People's Protection Units (YPG) but also includes Arab fighters. The Saudi advisers reportedly sought to create a new union of Arab groups in cooperation with Arab tribal Al-Sandid army.
The Turkish report said that Saudi Arabian authorities had set up checkpoints in the Kurd-held northeastern Syrian towns of Al-Hasakah and Al-Qamishli seeking to recruit Arab fighters, who would be paid $200 upon joining.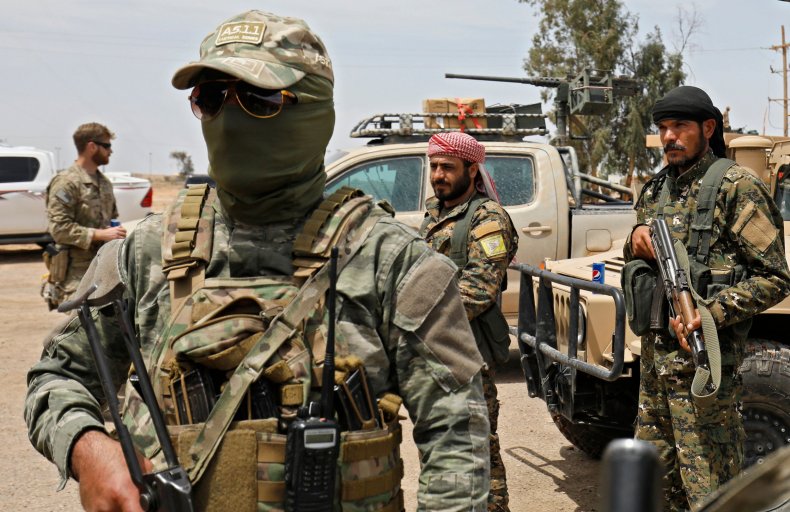 One day after a high-profile report in The Wall Street Journal last month revealed President Donald Trump's plans to gather troops from allied Arab nations in a bid to bolster U.S.-backed efforts in Syria, Saudi Arabian Foreign Minister Adel al-Jubeir stated that the kingdom was "in discussions with the U.S. and have been since the beginning of the Syrian crisis about sending forces into Syria."
Saudi Arabia is not one of the countries known to currently deploy forces in war-torn Syria, but it did join Western nations, other oil-rich Sunni Muslim monarchies and Turkey in supporting efforts to overthrow Syrian President Bashar al-Assad in 2011. As the opposition to the Syrian government grew increasingly fundamentalist and a post-U.S. invasion Al-Qaeda insurgency spread from neighboring Iraq, a significant amount of U.S. and Saudi weaponry ended up in the hands of ISIS.
Related: U.S. military will leave Syria base in deal with Russia, reports say
In 2014, the U.S. formed a coalition to focus on defeating ISIS and steadily withdrew assistance to Syrian opposition groups, instead shifting support to the Syrian Democratic Forces in 2015. Saudi-backed Islamist groups, such as Jaysh al-Islam and the Ahrar al-Sham coalition, have suffered a number of defeats by a resurgent Syrian military, backed by Russia, Iran and various pro-government militias, as well as rebel infighting.
Other Free Syrian Army fighters have aligned themselves with Turkey, which also opposes Assad but has prioritized battling Kurdish groups—such as the YPG—it considers to be terrorist organizations. U.S. support for the YPG-heavy Syrian Democratic Forces has opened up a rift between Washington and Ankara, and Riyadh's alleged outreach to the Syrian Democratic Forces may further strain Saudi-Turkish ties already tested by Turkey's willingness to work with Iran and Qatar.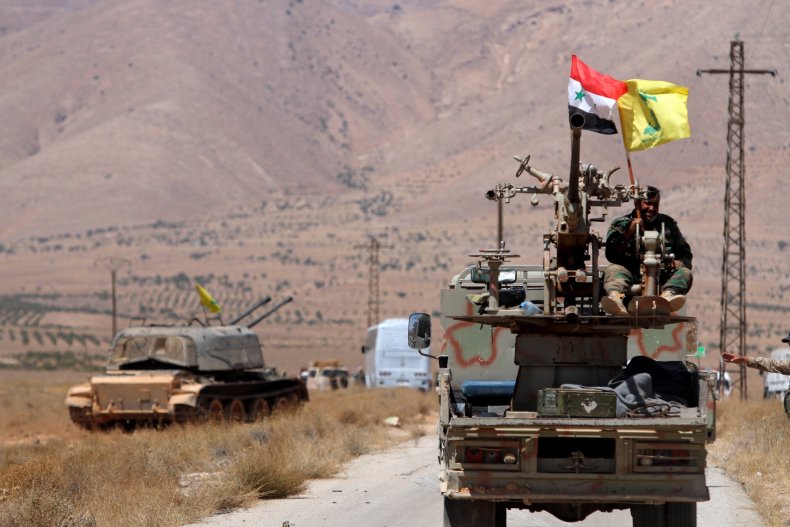 The move could also highlight conflicting views within the Syrian Democratic Forces, which the U.S. has struggled to keep focused on the fight against ISIS. As the Syrian military and its allies pushed eastward against ISIS toward Deir Ezzor last year, the Syrian Democratic Forces managed to take the jihadis' de facto capital of Raqqa in the north. In January, however, Turkey staged a limited invasion with the help of the Free Syrian Army to rout Kurdish control in the northwestern district of Afrin. The Turkey-led offensive saw Kurdish fighters—who make up much of the Syrian Democratic Forces' higher-ranking command—leave the battle against ISIS to block the Turkish incursion.
These Kurdish fighters made an alliance with the Syrian government, while other pro-Syrian government forces clashed with the mostly Arab remnant of the Syrian Democratic Forces near Deir Ezzor. The departure of Kurdish fighters forced the U.S. to halt the ground offensive against ISIS in March and the mission was only resumed at the beginning of this month.
As Trump hails the near-total defeat of ISIS in Syria, he has expressed a desire to withdraw U.S. troops from the country. He has also boosted ties with Saudi Arabia over their mutual rival Iran, which has expanded its foothold in Syria thanks to the proliferation of its mostly Shiite Muslim militias fighting on behalf of Assad, who considers the presence of both Russian and Iranian forces to be legitimate. The Syrian leader has branded the U.S. and Turkey invaders, and blames them as well as Saudi Arabia for stirring up the seven-year civil war.