Trump's New Attack on Abortion Rights Could Cost Republicans Seats in Key Swing Districts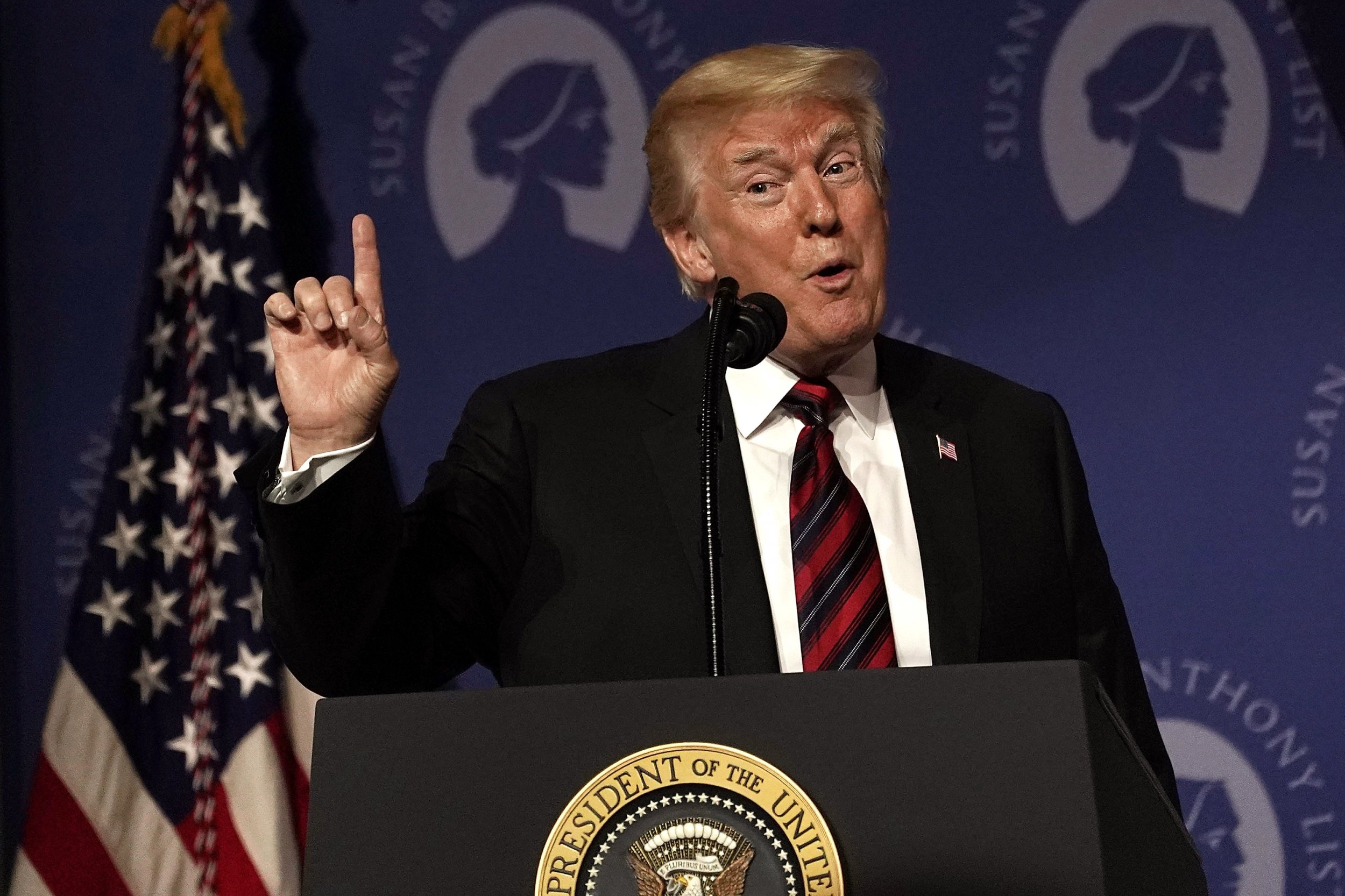 President Donald Trump's continued attacks on abortion rights are a gift to his pro-life supporters, but could be a curse for Republicans worried about holding on to valuable seats during an election year poised to return power to their opponents.
On Wednesday, Trump announced the latest: A Reagan-era policy known as the domestic gag rule that would block health care providers from receiving federal family-planning funds if they share information about abortion services with their patients. The announcement elevated Trump to the status of "most pro-life president" in American history in the eyes of the Susan B. Anthony List, one the country's most prominent anti-abortion groups. More than 200 members of Congress had urged the president against the gag rule, and in the days following its rollout, hundreds have protested it, including an impressive slate of public health organizations.
If abortion rights weren't on voters' minds before, they are now. That could spell trouble for Republicans running in the crucial swing districts that could hand Democrats control of the House.
"Something like this really boxes Republican candidates in because they know opponents and the press want them on the record with their platform on abortion issues," Meghan Milloy, the co-founder of Republican Women for Progress, told Newsweek on Friday. "It's one thing if you're running in a district that went to Trump by double digits. It's another if you're running in in California, where you probably have a strong pro-choice contingent." (Democrats are targeting seven House seats in California this cycle, currently held by vulnerable Republicans.)
Milloy, a pro-choice Republican, said Trump's anti-abortion policies risk "totally alienating" young women like her, and could tip the scales for white, suburban and female Republican voters who "held their noses and voted for Trump but now regret it." It's not a small group of people: A Pew Research Center poll from March found that less than a quarter of millennial women identify as Republican, a number that's been steadily decreasing since 2014.
"This policy alienates everyone under 40," Milloy said.
Whereas once Democrats might have been encouraged to tiptoe around the abortion issue in more conservative parts of the country, the party has already won two crucial races post-Trump with unabashedly pro-choice candidates.In December, Alabama Senator Doug Jones defied a popular narrative at the time, which held that if he lost to Roy Moore, it would be because a pro-choice candidate can't win in a ruby red state. Months later, Conor Lamb—though personally opposed to abortion—came out with a pro-abortion rights stance in the final stretch of his campaign, and beat opponent Rick Saccone in a district Trump carried by more than 20 points.
The spotlight on abortion issues in 2018—particularly when it originates from Trump—is going to put moderate Republicans in a difficult spot, according to political experts.
"It's one of the reasons many of them are going to lose," Joe Trippi, the Democratic strategist behind Jones's campaign, told Newsweek. "If they moderate their position, they'll lose the Trump base, and if they don't, they won't be able to win a lot of these swing districts.
"Democrats know where they are on these issues," he added. "But because of Trump's rhetoric and the positions he's staked out, Republicans are in no-man's land."
Still, Trippi said, the 2018 elections won't be about any single issue. (Though there are and have always been voters for whom abortion rights is the only issue.) Most voters are looking for candidates with strong platforms on health care and jobs, with Trump's vision for a pro-life nation being just one piece of what they're considering. "I think voters want a candidate who isn't going to add to the division and bitterness emanating out of the White House and Washington," Trippi said.
Whether or not the administration's reproductive rights policies will be the definitive issue driving voters to the polls five months from now—which, as Trippi points out, is unlikely on a mass scale—pro-choice advocates are using them to rally the progressive base.
"Everyone has a connection to reproductive health issues," Heidi Sieck, the co-founder and CEO of #VoteProChoice, a group that backs pro-choice candidates down ballot. "We encourage—and require—candidates we endorse to own the issue, and we've found that voters are really yearning for that in their candidates too."
Sieck launched the group in the wake of Trump's election, after she conducted focus groups with women who voted for President Barack Obama in 2012 but Trump in 2016, finding that many of them were horrified to learn of their local and state representatives' anti-choice stance on abortion. Earlier this month, Sieck's group put together a digital voter guide identifying pro-choice candidates in races in voters' districts, to make people more aware of candidates' records on the issue.
Planned Parenthood, the group that's been most directly targeted by the administration's anti-choice policies, has already devoted a large sum of money to taking down Republicans at the polls. In March, PPFA and the super PAC Planned Parenthood Votes announced a $20 million midterm campaign, targeting races in Arizona, Florida, Michigan, Minnesota, Nevada, Ohio, Pennsylvania and Wisconsin.
"These attacks have fueled an unprecedented mobilization of people, with women from all walks of life truly leading that charge," Kevin Griffis, the vice president of communications at Planned Parenthood Action Fund, told Newsweek in an email. "And we've already seen that turn into electoral victories—with women running for office, organizing, and winning in record numbers."
Trump's gag rule, he said, will only make sure that continues to be the case.
"People all across this country [are] ready to vote out candidates attacking reproductive rights and health care access," he continued. "The gag rule is just adding fuel to that fire."