Trump's New Hampshire Rally Postponed Due to Tropical Storm Fay
President Donald Trump's Saturday campaign rally in Portsmouth, New Hampshire, has been postponed as Tropical Storm Fay is forecast to slam the Northeast this weekend.
Tim Murtaugh, communications director for the president's 2020 campaign, announced on Friday that the rally will happen in a week or two.
"The rally scheduled for Saturday in Portsmouth, New Hampshire, has been postponed for safety reasons because of Tropical Storm Fay. It will be rescheduled and a new date will be announced soon," he said in a statement.
Fay formed off the coast of North Carolina and is expected to move toward the mid-Atlantic in a northerly path as it passes over New York and portions of New England.
In a statement sent to Newsweek, the National Hurricane Center (NHC) said the storm "will be well past New England by Saturday night."
"The National Weather Service forecast for Portsmouth on Saturday night has a 30 percent chance of showers before 8 p.m. Otherwise, mostly cloudy with a low around 70. South winds at 5 to 10 mph," the NHC said.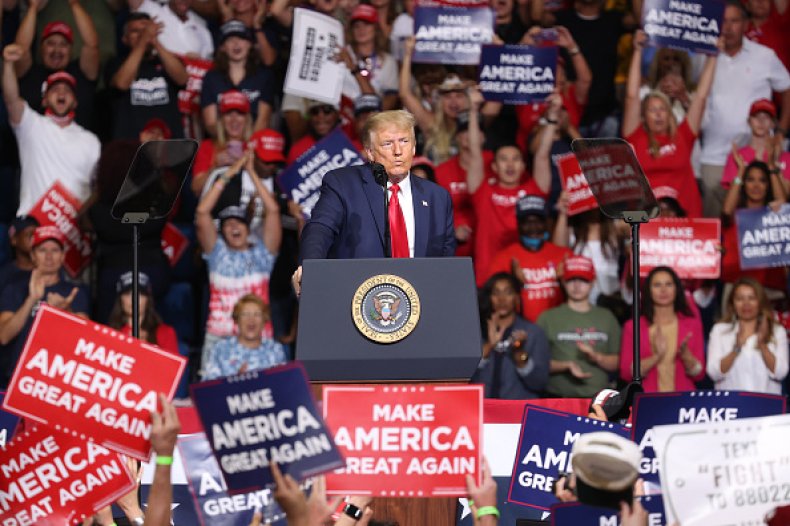 Earlier on Friday, Trump was hopeful about the rally, which had been scheduled for Saturday evening.
"We're going to have a big crowd and we're going to have a great crowd," the president said in a radio interview on New Hampshire Today With Jack Heath.
However, Trump's advisers learned to avoid estimating crowd sizes after a low turnout at the president's first rally since the campaign's coronavirus hiatus, on June 20 in Tulsa, Oklahoma. The empty seats raised questions about whether supporters would attend political rallies during a pandemic.
"I learned from the Tulsa, Oklahoma, thing: never make an expectation," said Trump campaign senior adviser Corey Lewandowski on Thursday.
Newsweek reached out to Trump's campaign for further comment and was referred to Murtaugh's earlier statement.
The Portsmouth rally has been met with pushback by New Hampshire residents and politicians, especially after Tulsa County reported a surge in coronavirus cases and a record single-day high two weeks after the June 20 rally.
Two letters signed by a group of health care professionals and House Speaker Steve Shurtleff asked New Hampshire Governor Chris Sununu to issue a face mask order for the event. A nearby restaurant announced a one-week closure in its efforts to protect workers and patrons from the virus.
On Monday, Sununu said he "will always welcome the president of the United States to New Hampshire" and would greet Trump at the airport with a mask but would not be attending the rally because of its size. The governor canceled his Thursday coronavirus briefing ahead of the rally's originally scheduled date.
"Chris Sununu did not cancel this rally and was willing to risk the health and safety of Granite Staters to appease Donald Trump but not his own," New Hampshire Democratic Party Chairman Ray Buckley said in a statement on Friday.
"Now, Mother Nature has apparently intervened to protect the health of Granite Staters when Chris Sununu refused. Chris Sununu will have to spend his time from now until when this super-spreader rally takes place explaining why he is still willing to protect himself and willing to jeopardize Granite Staters' health," Buckley said.