Trump's NIH Director Condemns His Maskless Michigan Rally: 'Twisted Decision-Making That Makes No Sense'
National Institutes of Health Director Francis Collins said Thursday that images of people not wearing face masks at President Donald Trump's campaign event in Michigan left him "pretty disheartened."
Collins made the remarks during a coronavirus town hall on CNN, hosted by Anderson Cooper and Dr. Sanjay Gupta. At Trump's crowded Michigan rally, many attendees could be seen without face coverings and failing to observe social distancing guidelines.
The Centers for Disease Control and Prevention (CDC) have recommended that people wear face coverings and remain six feet apart during mass gatherings, but some Republicans have chosen not to follow that advice. Collins decried that choice Thursday by using the metaphor of an extraterrestrial visiting Earth and observing the behavior of its inhabitants during the pandemic.
"When you went around, you saw some people not wearing [masks] and some people wearing them and you tried to figure out why and it turned out it was their political party," Collins said. "You would just scratch your head."
"This is not a planet that has much promise for the future if something that is so straightforward can somehow get twisted into decision-making that really makes no sense," Collins continued. "As a scientist, I'm pretty puzzled and rather disheartened."
Newsweek reached out to President Trump's re-election campaign for comment.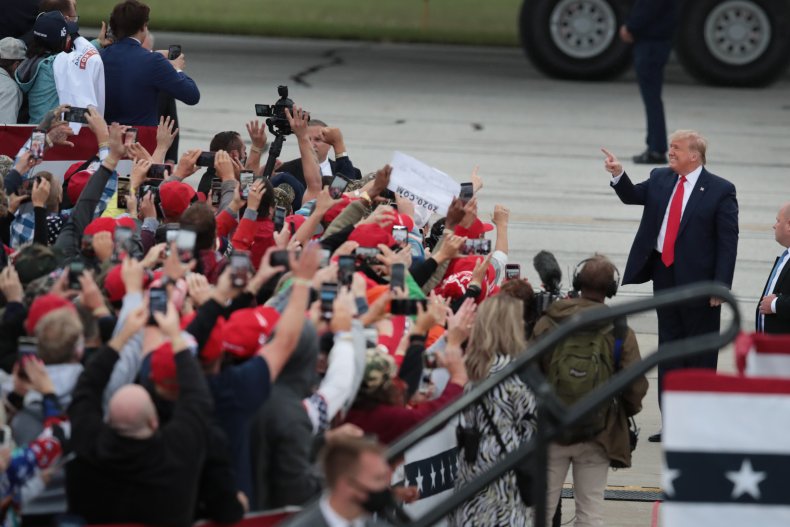 Wearing masks to help curb the spread of the coronavirus has been espoused by health care professionals, including the director of the CDC, Dr. Robert Redfield.
"Cloth face coverings are one of the most powerful weapons we have to slow and stop the spread of the virus," Redfield said in a July press release, "particularly when used universally within a community setting. All Americans have a responsibility to protect themselves, their families, and their communities."
President Trump said in July that while he did not necessarily reject the idea of wearing face masks, he understood that some individuals may feel that a mandate violates their civil liberties.
"I want people to have a certain freedom," Trump said, adding that he disagreed with the assessment that "if everybody would wear a mask, everything disappears."
Although the U.S. coronavirus pandemic began in January, President Trump did not wear a face mask in public until a July visit to the Walter Reed National Military Medical Center.
In September, President Trump spoke about Democratic presidential candidate Joe Biden's habitual donning of a face mask while in public. "It gives him a feeling of security," Trump said. "If I was a psychiatrist, I'd say this guy has some big issues."
Biden called Trump's attitude towards mask-wearing "macho stuff" that "costs people's lives" during a September interview with CNN.
"Presidents are supposed to lead, not engage in folly and be falsely masculine," Biden added.