Congressional oversight has long been recognized as an essential implied power of the legislative branch, a power principally exercised through Congress' ability to conduct investigations. At the heart of any congressional investigation is the ability to call and question witnesses. If Congress is to exercise its oversight responsibilities with regard to the executive branch, it must call executive branch officials before it, and those officials should participate with alacrity.
Possibly the most important regular witness to appear before Congress is the attorney general, whose activities as chief law enforcement officer for the federal government determine the tone and direction of the rule of law for the country. For the most part, past administrations have been quite willing to have their attorney generals appear before Congress, and with good reason. When executive branch officials testify before Congress, they have an opportunity to offer a public justification for their actions and thereby build the nation's trust.
Yet Attorney General William Barr has appeared with less frequency before Congress than any other confirmed attorney general in recent history. Since the beginning of his tenure in February 2019, he has appeared exactly twice: once in May 2019 before the Senate to testify on the Mueller report and once in April of that year before the House Appropriations Committee to answer non-substantive budgetary questions. Despite multiple requests from the House Judiciary Committee, and several promises from Barr himself to testify, he has either refused to testify or simply failed to appear.
In February of this year, Barr agreed to testify before the House Judiciary Committee, but the appearance, which was set for March, was canceled due to the COVID-19 pandemic. Since then, the committee has sought to reschedule, but the attorney general purports to be too busy to attend. At this point, Barr's actions speak louder than his words: The attorney general is stonewalling Congress and the American people to protect President Donald Trump and his chances of re-election in November.
In lieu of questioning the attorney general, therefore, the House Judiciary Committee must resort to a more indirect method of fulfilling its oversight duties. The committee has sent subpoenas to two career officials in the Department of Justice, Aaron Zelinsky and John Elias, who are scheduled to testify next week to answer questions about the Roger Stone case. If the attorney general remains true to form, however, we can expect to see him attempt to prevent these officials from testifying. When confronted in May 2019 by Speaker Nancy Pelosi about his refusal to answer subpoenas, Barr evinced his disregard for Congress, quipping, "Did you bring your handcuffs?"
The Trump administration has repeatedly signaled that it regards responding to congressional subpoenas as optional, given that Congress lacks the physical force needed to enforce them. In July 2019, the House even voted to hold Barr in criminal contempt for ignoring some subpoenas issued by the House Oversight and Reform Committee relating to the 2020 census.
The enforceability of congressional subpoenas is currently up for grabs in federal court. The D.C. Circuit Court granted a rehearing in a case involving Congress' right to ask a federal court to enforce a subpoena that it issued to former White House Counsel Don McGahn, and its decision is due sometime soon. Unless the judiciary is prepared to gird its loins and side with Congress, Barr's "no handcuffs—no subpoena" premise will become the de facto law of the land.
Worse, Barr has sent Department of Justice lawyers to court to block congressional subpoenas of other executive branch agencies. This includes defending the Treasury Department's refusal to turn over Trump's tax returns against a lawsuit brought by the House to enforce a subpoena, as well as sending the solicitor general to defend Trump's lawsuit to defeat a congressional subpoena issued to his former accounting firm. In yet another case relating to the president's financial records, brought by Trump against the Manhattan district attorney, Barr had the solicitor general argue that the records at issue should not be turned over to a New York state grand jury. According to Barr's Justice Department, New York state cannot conduct a criminal investigation of financial crimes if it in any way involves the Trump Organization or its financial records.
As we pointed out in the amicus brief we submitted to the Supreme Court in Trump v. Vance, none of the above cases has anything to do with U.S. executive branch records or the official functions of the presidency. Barr has turned the Department of Justice into Trump's personal law firm, and his refusal to talk to Congress is just part and parcel of his perception of his role.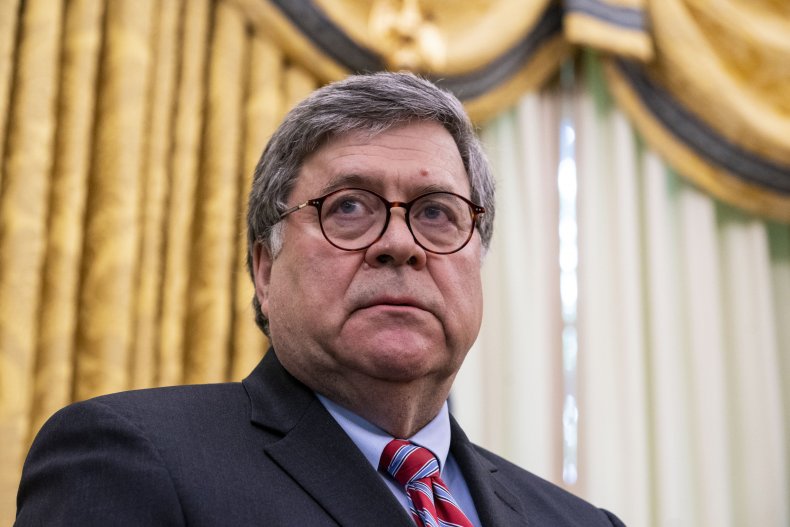 Congress has the right and obligation to provide oversight of executive branch agencies, including the Department of Justice. That is implicit in the power Congress has under Article I of the U.S. Constitution to appropriate funds to federal agencies and to legislate on behalf of the American people.
If Barr continues to refuse to testify in connection with an ongoing congressional investigation, he could be obstructing Congress under 18 U.S.C. § 1505, an offense for which he could rightly be prosecuted or impeached. While impeachment is a political process and does not require the commission of a criminal offense, obstruction of Congress was one of the grounds on which the House voted out articles of impeachment against President Richard Nixon in 1974. It was also one of two offenses that formed the basis for the articles of impeachment against Trump in 2019.
Last week, we sent a letter to the House Judiciary Committee raising a host of concerns about Barr's leadership of the Department of Justice and asking for a thorough investigation into his activities. Among the issues we raised were Barr's order to use force against peaceful protesters in Lafayette Park, his mishandling of both the Russia and Ukraine investigations, including his conflicts of interest in both cases, his involvement with the president's firing of up to five inspectors general, many in agencies responsible for our national security, "Obamagate" counter-investigations conducted by political cronies, and the list goes on.
It is urgent that Congress and the American people learn what is going on at the Department of Justice. Barr is a lawyer and the country's top law enforcement officer. If he cannot or will not publicly defend his actions, he should resign or be removed from office.
Claire O. Finkelstein is the Algernon Biddle professor of law and professor of philosophy at the University of Pennsylvania, where she is the faculty director of the Center for Ethics and the Rule of Law. Richard W. Painter is a professor at the University of Minnesota Law School and was the chief White House ethics lawyer under President George W. Bush. He is the author (with Peter Golenbock) of American Nero: The History of the Destruction of the Rule of Law in America, and Why Trump Is the Worst Offender.
The views expressed in this article are the authors' own.