Trump's Nuclear Cruise Missile Plan Pits Biden Against His Generals
Russia's invasion of Ukraine has prompted a rarity in recent U.S. history, as both the Left and the Right have largely joined together in advocating for increased military spending to bolster the nation's capabilities while providing support for Ukraine.
However, despite the recent string of defense-based collaboration, one issue has developed as an area of contention between Democrats and Republicans in the House Armed Services Committee, and has also become a key sticking point that has put the Biden administration at odds with its top military leaders — the Nuclear-Armed Sea-Launched Cruise Missile (SLCM-N).
"On one hand, you've got folks that would like to demonstrate their commitment to reducing reliance upon nuclear weapons, but on the other hand you've got a lot of folks that are contending with a very provocative and obstreperous Russia," Tom Karako, director of the Missile Defense Project at the Center for Strategic and International Studies (CSIS), told Newsweek.
The SLCM-N is a type of nuclear missile that would be launched from a submarine and is could carry a smaller "tactical" warhead that possesses a lower yield than its larger counterparts.
Those who support its usage within the armed forces, including those in the Trump administration that sought to put the plan into action, argue it serves as "a needed non-strategic regional presence" that addresses "the increasing need for flexible and low-yield options" in order to deter aggression from powers like Russia and China.
Despite this argument, the Navy ultimately decided that the program was "cost prohibitive and the acquisition schedule would have delivered capability late to need," slicing it from the FY2023 budget in order to save an estimated $199.2 million in FY2023 and $2.1 billion over the next five years. However, top generals have openly disagreed with this decision.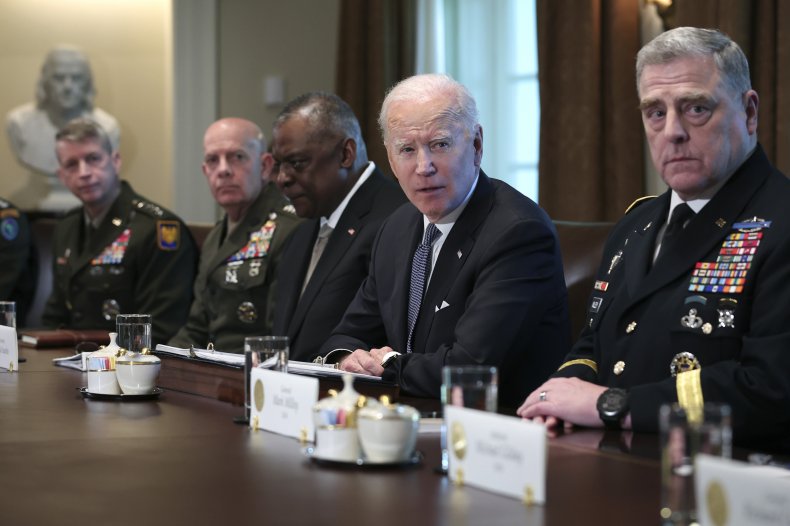 Admiral Charles Richard, commander of United States Strategic Command (USSTRATCOM), the command responsible for nuclear operations, advocated for SLCM-N in a letter to lawmakers sent to lawmakers in early April.
"The current situation in Ukraine and China's nuclear trajectory convinces me a deterrence and assurance gap exists," Richard wrote. "To address this gap, a low-yield, non-ballistic capability to deter and respond without visible generation is necessary to provide a persistent, survivable, regional capability to deter adversaries, assure allies, provide flexible options, as well as complement existing capabilities."
Asked Wednesday by Republican Senator Tom Cotton of Arkansas whether this meant it was his "best military advice" to continue the SLCM-N initiative, Richard said, "Yes."
The following day, Newsweek questioned Richard during a press briefing as to whether he was concerned over a public rift forming in the administration between the supporters and opponents of SLCM-N.
"No, I'm not," Richard responded. "I think it has all been adequately addressed. I've made my recommendations, and I'm very confident that my department has a process in order to address recommendations and come to a good overall answer."
But the list of top generals who have gone on record to back the SLCM-N against the administration's recommendation has grown in recent months to also include Joint Chiefs of Staff Chair Army General Mark A. Milley, Vice Chair Navy Admiral Christopher W. Grady and European Command chief General Tod Wolters.
Still, the Biden administration has argued that the decision was made in consultation with leading Department of Defense officials, including Milley.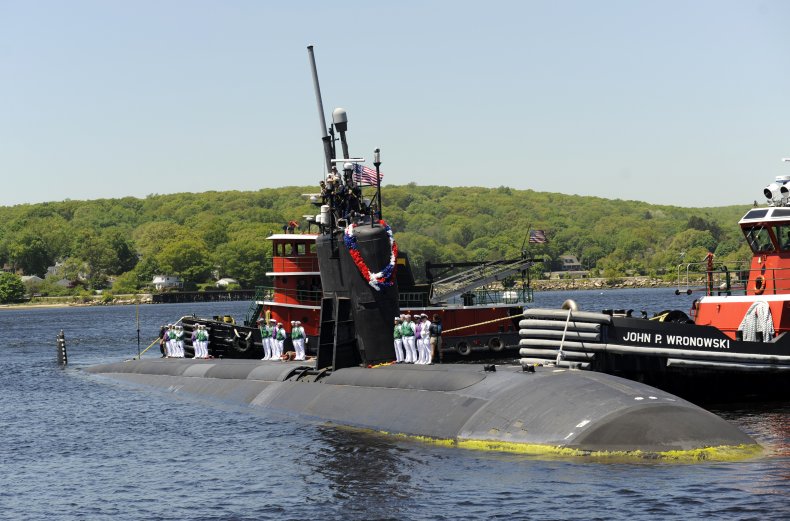 A senior administration official told Newsweek that "the President supported the recommendation of the DoD-led Nuclear Posture Review — which included the active participation of representatives from the Office of the Secretary of Defense, the Joint Staff, Strategic Command, the Department of Energy, and the Department of State, to cancel the SLCM-N, while supporting similar deterrent capabilities that will be fielded in the same time frame."
"The President agrees with Secretary [Lloyd] Austin's statement that the marginal increase in capability that the SLCM-N would provide is far outweighed by its cost," the official added. "The President solicited the views of his senior national security team, including Chairman Milley, in making his decision. The President is firmly committed to re-establishing U.S. leadership in arms control and avoiding costly and unnecessary arms racing."
Reflecting upon Biden's FY2023 budget request, the official argued that "the Administration fully supports modernization of the nuclear triad, modernization of the nuclear security infrastructure, and investment in our nuclear command control and communications (NC3) architecture to ensure a safe, secure, and effective nuclear deterrent."
"The current U.S. nuclear stockpile contains weapons capable of employment via land, sea, and air-based platforms with a variety of yields, to include the low-yield W76-2 currently deployed today on U.S. ballistic missile submarines," the official added.
The W76-2 is the low-yield nuclear warhead developed under then-President Donald Trump, which was put in service for ballistic missile submarines in 2019. It was one of two projects planned by his administration, the other being the SLCM-N.
Trump's 2018 Nuclear Posture Review effectively reversed that of his predecessor, former President Barack Obama, whose own Nuclear Posture Review in 2010 began the phasing out of nuclear-armed cruise missiles.
On the campaign trail, Biden called both of Trump initiatives "a bad idea," and though early indications appeared to signal that his administration would support the idea nonetheless, the U.S. Navy ultimately scrapped the idea.
Lieutenant Lewis Aldridge, requirements and acquisition spokesperson for the Navy Office of Information, explained why.
"The U.S. government considered a variety of regional deterrence contingencies as part of the 2022 Nuclear Posture Review," told Newsweek. "As part of this analysis, the Nuclear Posture Review affirmed the need to deter limited nuclear use by adversaries."
Aldridge said the analysis confirmed that the cancellation of the SLCM-N program was warranted.
"The United States applies tailored deterrence strategies and maintains a variety of nuclear capabilities to address this need," he said. "Given the deterrence contribution of the W76-2 SLBM warhead and other capabilities, and its estimated cost in light of other nuclear modernization and defense priorities, the SLCM-N program was canceled."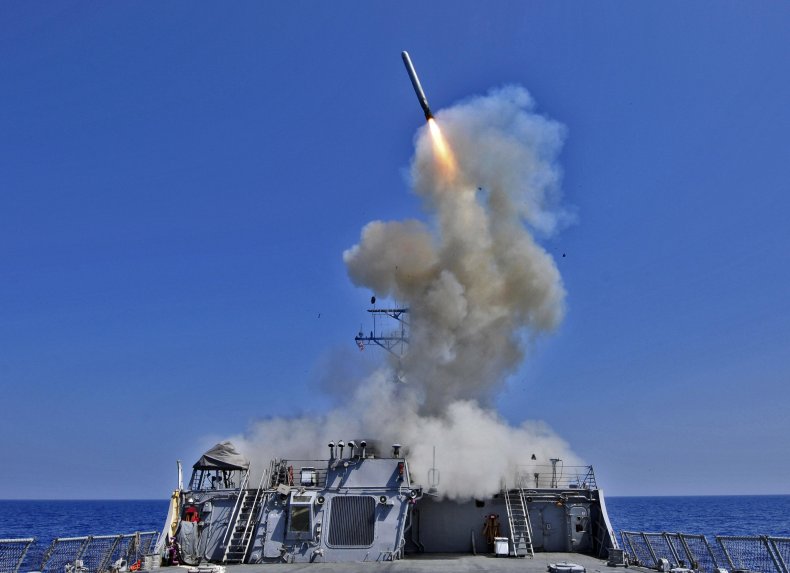 Though officials in both the White House and Pentagon have sought to ease public concerns about the divide, Republicans have seized the opportunity to characterize the administration as weak amid a devastating war in Europe and ahead of midterm elections.
"The global threat environment is rapidly deteriorating and our military commanders are telling us they need this capability to deter Russia and China," Republican Congressman Mike Rogers of Alabama, ranking member of the House Armed Services Committee, told Newsweek.
"The SLCM-N provides the President optionality to reliably deliver a low-yield nuclear payload," he added. "The responsible thing to do is fund this system."
But many Democrats stand behind the administration, pointing out that a range of new hurdles associated with the SLCM-N would overshadow its benefits.
"The question is really: Are we going to carry that kind of warhead?" Democratic Congressman Joe Courtney of Connecticut told Newsweek. "To put it on an SSN attack submarine creates a whole new host of complications, logistics and issues with our allies."
"When you add up all those concerns, I think those subs have many more very important missions to carry out than to add something like that to their dance card," he added.
Courtney said his views were rooted in his constituency, which he said included those who had first-hand experience on the front lines of the decades-long geopolitical bout that brought Moscow and Washington to the brink on more than one occasion.
"I represent an area with retired submariners who did amazing work during the Cold War, and the last time there were attack subs that were carrying tactical nuclear warheads," Courtney told Newsweek. "They lived it, they did it."
"They definitely have shared with me the logistical challenges that that created back in the day, which ended again in 1991 under Herbert Walker Bush when he took those missiles off the Los Angeles-class submarines," he added.
The U.S. has come to expect bitter partisan divides across the political aisles. But even experts close to the issue found themselves split on SLCM-N.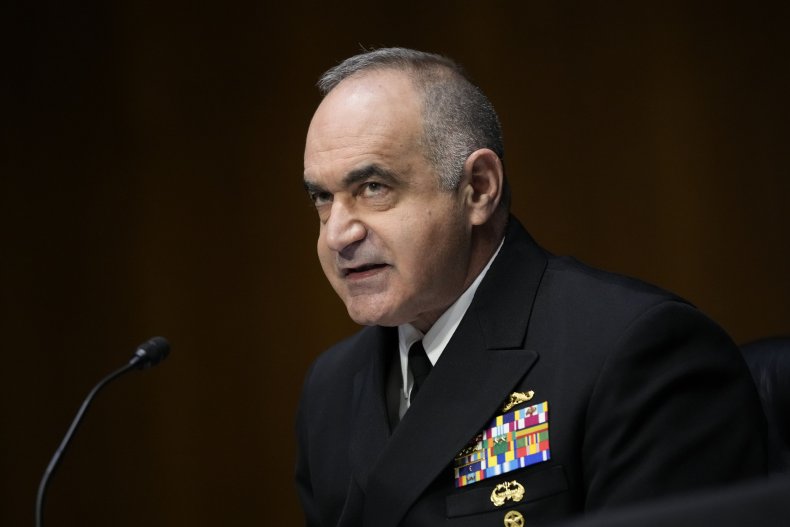 For Karako of CSIS, the rationale for including SCLM focuses on filling strategic gaps he sees in the nation's arsenal. He notes that the SLCM subs would be smaller than other submarines, have a lower flight profile and ultimately be less detectable. This ability, he argued, would allow the nation to threaten and hold adversary targets at risk, if needed.
During a time in which the country finds itself in a new era of international conflict, with deteriorating relations with adversaries and continuing warnings from Russia of the risks of direct confrontation, Karako said the military has to tackle threats in new ways, making the need for tools like SLCM-N more pressing than in past decades.
"Across the board, we have to worry about precision-guided munitions being directed at us in all kinds of ways," he told Newsweek, "and that has pushed us to a greater dispersal of our military forces and greater distributed posture across the board. Part of the characteristic nuclear SLCM is a distributive quality that makes it necessary in its environment."
"Fundamentally, this is about making sure that we have a sufficiently distributed nuclear strike posture that is flexible, that can penetrate defenses, that is stealthy, and that is reliable," Karako added.
He also noted that the air-launched cruise missile (ALCM) is the only cruise missile the country has that is nuclear. It is from 1981, he said, meaning that it was designed in the 1970s.
"Stealth didn't exist then," Karako told Newsweek. "So there are very good reasons why you might want a different and more up-to-date, flexible but also reliable, cruise missile of some kind."
Ultimately, as the military becomes more distributed, Karako's appeal for the development of SLCM-N centers around affording the United States a greater number of options, a point echoed by General Milley during his testimony before the House Armed Services Committee.
"My general view is that this president or any president deserves to have multiple options to deal with national security situations," Milley told the committee. "My advice is listened to, and I have an opportunity to express my voice on a continuous basis many many times."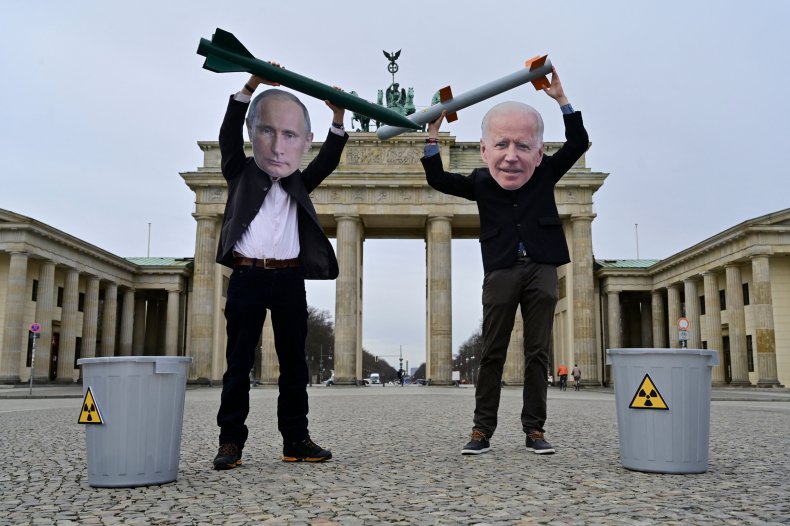 Assessing Biden's current dilemma, Federation of American Scientists Nuclear Information Project Director Hans Kristensen told Newsweek that "Democratic presidents are always in a bind."
"On the one hand they have to be visionary, but on the other hand they can't be seen to be weak," Kristensen said. "As a result, most U.S. nuclear reductions have actually taken place during Republican presidents. Compared with his predecessors, Biden fits in well."
Kristensen has a decades-long history of documenting the state of nuclear weapons, and has closely followed the trajectory of how successive administrations pursued policies toward the most dangerous tool in their arsenal.
He said Biden has followed in the footsteps of Presidents Obama, George W. Bush and Bill Clinton in having "campaigned on promises to reduce nuclear weapons and the role they play." But Kristensen noted that the current U.S. leader "breaks with Trump...whose Nuclear Posture Review expanded both the role and types of U.S. nuclear weapons."
"So although he didn't go for no-first-use or sole purpose, which is disappointing to many arms controllers and more left-leaning Democrats, he appears to have blocked the worst ideas from the Trump administration," Kristensen said.
And the nuclear expert outlined three reasons why he felt the development of the SLCM-N may impose more trouble and incur more cost than it was worth.
First, echoing Courtney, Kristensen channeled the history of low-yield nuclear weapons and their decline up until the senior Bush administration, which "even promised as part of the Presidential Nuclear Initiative in 1992 that it would not develop nuclear SLCMs again."
"And there is no evidence that a Russian decision on whether to use nuclear weapons is in any way dependent on whether the United States would respond with a low-yield warhead or a high-yield warhead," Kristensen pointed out.
Second, he argued that "there is no indication that SSBNs will be vulnerable in the future." While he noted that unmanned underwater vehicles and their capabilities were becoming more advanced, he also highlighted how "submarine quieting and countermeasures" were also growing more resilient.
"That fact that the United States is investing $100+ billion in developing yet another generation of SSBNs to operate through the 2080s tells me that they are pretty confident," Kristensen said. "Granted, technical surprises can happen, but if SSBNs were to become detectable, so would SSNs. So deploying SLCM-N on them wouldn't really help."
And finally, in what may be the most daunting argument put forth by those seeking to avert a nuclear war at a time of heightened geopolitical tensions, "reintroducing tactical nuclear weapons obviously indicate that the United States was more willing to use them than strategic weapons," according to Kristensen.
"They would have to be supported by doctrine, strategy, strike options, and operational support that would increase the utility and salience of nuclear weapons," he added, "which contradicts everything the United States has worked for the past 30 years."
In his view, the Trump administration's plans for the W76-2 and SLCM-N "was a political step rather than a military requirement." And he noted that the concept of "'keeping up with rival nations' doesn't necessarily mean copying what they do."
Despite ultimately supporting the SLCM-N, Richard offered a similar argument in his response to Cotton on Wednesday.
"It's not necessary to match your opponent weapon to weapon," he said. "We have a good strategy."
Kristensen reinforced the point, saying that "U.S. military strategy today is a lot more integrated and using non-nuclear capabilities to achieve strategic effects."
"The poor Russian performance in Ukraine is a reminder that the Russian military is not ten feet tall, and underscores the advantage the U.S. enjoys," Kristensen said. "And, mind you, the Chinese military has no experience at all in fighting modern wars against joint-operating forces."
"Notwithstanding Russian nuclear saber rattling," he said, "I think both Moscow and Beijing are fully aware that the United States has the nuclear and conventional capabilities needed to respond to any likely scenario."