Trump's Ohio Supporters Chant 'No More Joe' Ahead of Pete Buttigieg Visit
Supporters of former President Donald Trump were heard chanting "no more Joe" in reference to President Joe Biden ahead of Trump's visit to the site of the toxic train derailment in East Palestine, Ohio.
Trump fans in the Ohio town were seen holding "Trump won" flags and signs that read "no mo' Joe" on Wednesday as they awaited the former president to arrive.
East Palestine has made national headlines in recent weeks after a February 3 train derailment that resulted in a toxic chemical leak and forced residents to evacuate, prompted calls for a faster and more comprehensive federal response. Since the incident, many have raised serious concerns over the health and environmental risks that residents may face in the years to come.
Trump landed at the Youngstown/Warren Regional Airport on Wednesday afternoon to meet with local leaders and first responders at East Palestine's fire station. Speaking to his crowd of supporters, the former president claimed that "nobody" had planned to come to East Palestine until he announced his trip.
His comments and appearance come a day before Biden's transportation secretary, Pete Buttigieg, is scheduled to appear at the site.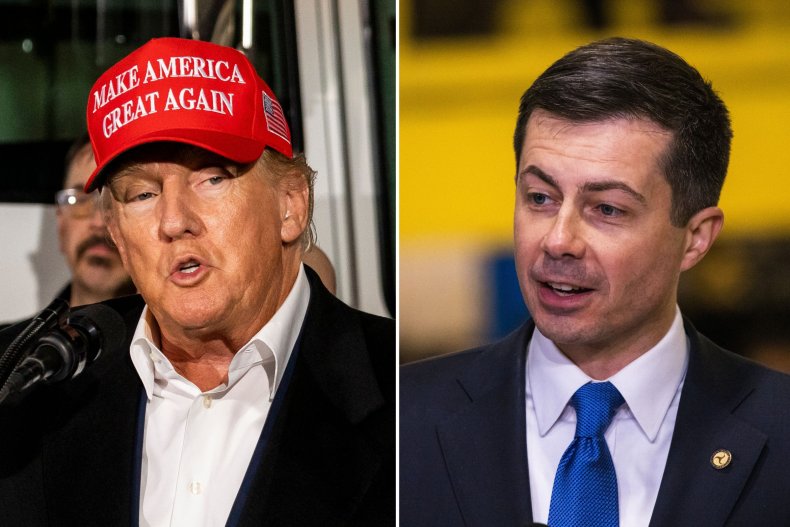 On Thursday, Buttigieg, who took 10 days to publicly address the derailment, is expected to meet with community members and to hear from Department of Transportation investigators and receive updates on the National Transportation Safety Board's (NTSB) latest findings. He said he was holding off visiting until the NTSB completed its investigation.
Earlier this week, Buttigieg told CBS News that he "followed the normal practice of transportation secretaries in the early days after a crash, allowing NTSB to lead the safety work and staying out of their way."
"I was focused on just making sure that our folks on the ground were all set but could have spoken sooner about how strongly I felt about this incident, and that's a lesson learned for me," he said on Tuesday. "I am very eager to have conversations with people in East Palestine about how this is impacted them."
In response to Republican criticism over the handling of the Ohio crisis, the White House has pointed fingers at the Trump administration for withdrawing an Obama-era rule requiring faster brakes for freights carrying highly flammable materials, among other safety regulation rollbacks.
"Congressional Republicans and former Trump Administration officials owe East Palestine an apology for selling them out to rail industry lobbyists when they dismantled Obama-Biden rail safety protections as well as EPA powers to rapidly contain spills," White House spokesman Andrew Bates told Newsweek in a statement on Wednesday.
"Congressional Republicans laid the groundwork for the Trump Administration to tear up requirements for more effective train brakes," Bates said.
However, NTSB Chair Jennifer Homendy said that the brake rule would not have prevented the accident in Ohio because the train did not meet the "high-hazard flammable" threshold to require them.
Asked about the resurfacing of his rail safety record at a McDonald's in East Palestine, Trump said he "had nothing to do with it."
Update 02/22/23 5:19 p.m. This story was updated with comments from Bates.