Trump's Past Fundraising Boasts Now Awkward as Biden Takes Huge Lead
President Donald Trump said during a campaign rally on Friday in Macon, Georgia, that he could "be the world's greatest fundraiser," but didn't want to feel obligated to donors who might later ask for favors. His comments marked a shift in tone from past statements he has made about fundraising wins, as Democratic presidential nominee Joe Biden reported higher fundraising numbers than Trump's campaign for the month of September.
Trump said he could easily secure large donations from wealthy donors and special interests if he wanted to. "I could call these guys, every one of them would give me millions. I'm president. I'd call heads of Wall Street firms, I'd say, 'Hey, do me a favor: Could you give me $5 million,'" Trump said.
But the president said he didn't like the obligations attached to those favors. "If I do that, I've got to do things for them. And I don't want to. I want to do what's right," he said.
"I could raise more money; I'd be the world's greatest fundraiser. But I just don't want to do it. Because then they call you and you sort of say, 'Hey, you know, they treated me good, I've got to treat them good,'" Trump said.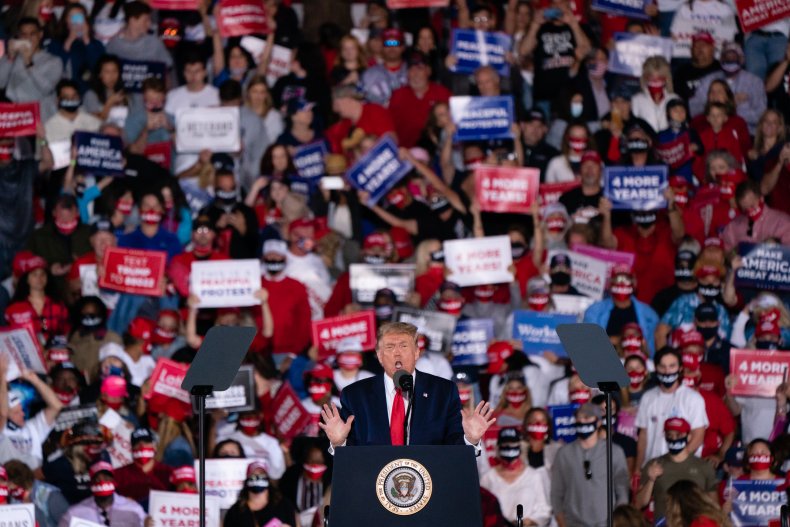 Trump has celebrated his success in fundraising often throughout his time in office. The day after House Speaker Nancy Pelosi announced an official impeachment inquiry into Trump last September, he posted on Twitter that his re-election campaign had "one of our best fundraising days EVER."
About one week later, Trump again commended his campaign's fundraising success, saying that "record setting fundraising has taken place over the last two weeks."
Following the midterm elections in 2018, Trump praised the "unprecedented fundraising strength" of the Republican National Committee led by committee chair Ronna McDaniel, gains that he said led him to invite her to assist with his re-election campaign.
Trump has repeatedly said that his campaign's fundraising efforts are going well, but said the coronavirus pandemic "forced" his campaign to spend "a lot of money up front."
"My Campaign spent a lot of money up front in order to compensate for the false reporting and Fake News concerning our handling of the China Virus. Now they see the GREAT job we have done, and we have 3 times more than we had 4 years ago - & are up in polls. Lots of $'s & ENERGY," he tweeted on September 8.
He said later that morning: "Because of the China Virus, my Campaign, which has raised a lot of money, was forced to spend in order to counter the Fake News reporting about the way we handled it (China Ban, etc.). We did, and are doing, a GREAT job, and have a lot of money left over, much more than 2016," adding in a second tweet, "Like I did in the 2016 Primaries, if more money is needed, which I doubt it will be, I will put it up!"
About a month later, Trump criticized "Fake News" reports about his campaign "running low on money." "Not true, & if it were so, I would put up money myself. The fact is that we have much more money than we had 4 years ago," he said on Twitter.
According to campaign spokesperson Tim Murtaugh, the re-election forces behind Trump raised nearly $248 million in September. On Wednesday, Biden announced that his campaign raised $383 million during the same time period. Both campaigns shared their fundraising gains with less than three weeks remaining until Election Day.
Newsweek reached out to Trump's campaign for comment, but did not receive a response in time for publication.