Trump's Plea to 'Go Big' on Stimulus Package Gives Pelosi Leverage to Hold Out for $2.2 Trillion
President Donald Trump's plea for Congress to "go big" on another stimulus package has given Democratic House Speaker Nancy Pelosi further leverage to hold out for her $2.2 trillion demand.
As the stimulus stalemate continues amid the worsening pandemic, Trump reiterated his push for further relief on Tuesday. "STIMULUS! Go big or go home!!!" the president tweeted. Pelosi later declined calls from moderate Democrats to negotiate a $1.8 trillion deal with Republicans and the Trump administration. She invoked the president's remarks as justification for wanting to hold out for a larger price tag.
"I appreciate, shall we say, a couple people saying, Take it, take it, take it," Pelosi said during a phone call with Democrats, according to the New York Times. "Take it? Take it? Even the president is saying, 'Go big or go home.'"
"We really need to have an agreement, but we cannot have an agreement by just folding," she added. "I don't think our leverage has ever been greater than it is now."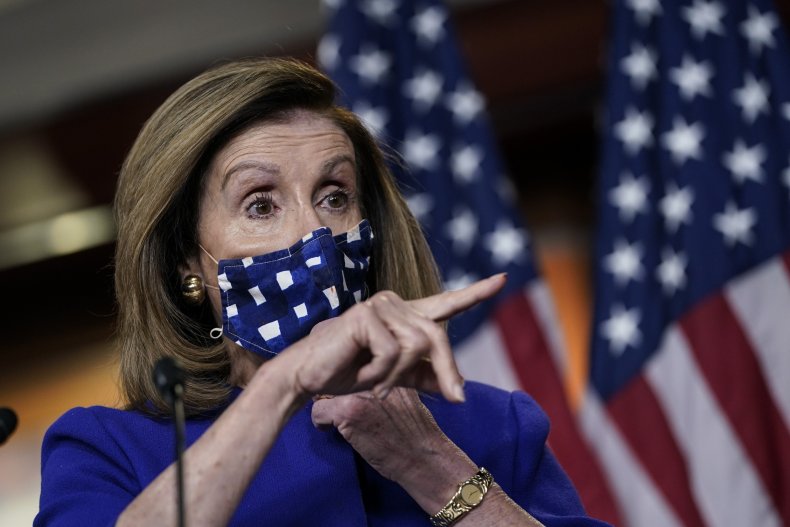 Last week, Senate Republicans joined Pelosi in opposing Treasury Secretary Steve Mnuchin's latest coronavirus stimulus offer of $1.8 million. The administration's Friday proposal was rejected by members from both sides of the political aisle within 24 hours.
While some GOP senators—such as Lindsey Graham of South Carolina—backed going for a bigger package, other file-and-rank members of the party—including Marsha Blackburn of Tennessee and Rick Scott of Florida—declined to support the legislation that they consider too expensive and out of touch with conservative values.
Pelosi also rejected the proposal, which she referred to as "one step forward, two steps back," because she believed it to be "insufficient in meeting families' needs."
"When the President talks about wanting a bigger relief package, his proposal appears to mean that he wants more money at his discretion to grant or withhold, rather than agreeing on language prescribing how we honor our workers, crush the virus and put money in the pockets of workers," she wrote in a letter to Democratic colleagues on Saturday.
On October 1, House Democrats narrowly passed their own $2.2 trillion stimulus bill. At the time, Republican leaders quickly indicated that a package of that size would fail in the Senate. "The thought that Senate Republicans would jump up to $2.2 trillion is outlandish," Senate Majority Leader Mitch McConnell said.
Trump has recently been encouraging Republicans to move toward a larger amount so further stimulus relief could be passed before Election Day. "Covid Relief Negotiations are moving along. Go Big!" he tweeted on Friday. The president's position on the matter is expected as another package could increase his chances of re-election, according to political analysts.
"A fly on the wall or wherever else it might land in the Oval Office tells me that the President only wants his name on a check to go out before Election Day and for the market to go up," Pelosi said in a statement on Tuesday, adding that his proposals have fallen "significantly short" of the needs of Americans amid the pandemic.
"The American people want us to have an agreement to protect lives, livelihoods and the life of our American Democracy. Democrats are determined to do so!" she added.
Newsweek reached out to the Treasury Department for comment.