Trump's Postmaster General Is Sabotaging the Postal Service | Opinion
As a 34-year employee of the U.S. Postal Service and an elected union official, I have never witnessed such widespread outcry from the American public in its defense. Customers are demanding answers regarding the delays in mail delivery and dismantling of the service itself, as well as expressing anger that many lawmakers in Congress have refused to offer support amid the coronavirus pandemic—especially with the 2020 election racing toward us. But unfortunately, many of these problems now come from the inside.
Postmaster General Louis DeJoy is undermining the integrity of the Postal Service and its 650,000 employees. More important, DeJoy is recklessly and blatantly devolving the services we provide to our customers nationwide. Although DeJoy announced Tuesday that he is suspending some policy and operational changes until after the election, this apparent concession fell far short of what is required: his resignation or removal.
DeJoy was appointed in May and took little time in instituting policies that advance the agenda of President Donald Trump, Treasury Secretary Steven Mnuchin and others who wish to privatize the Postal Service. The postmaster general (and Trump campaign megadonor) had moved to eliminate employee overtime, as well as modify transportation and delivery methods, reassigned or replaced 23 executives and introduced a number of other changes that ultimately have resulted in poorer, slower mail service for the American people. Just last week, I sounded the alarm that upwards of 65,000 pieces of mail in southern Maine were delayed in a single day, after new scheduling rules forced transportation to leave without them.
Under the guise of reducing costs, DeJoy had called for the closure of post offices at lunch and on Saturdays. While closing doors and limiting delivery days may reduce paid hours and delivery costs, they also exponentially reduce revenue—and service to the American people. Such stunning initiatives demonstrate that the postmaster general does not respect the Postal Service's mission or comprehend how it works.
By contrast, expanding hours, maintaining and improving delivery, and seeking new avenues of service, such as Postal Banking, are an investment in our future and in the American public.
It is widely known that the Postal Service is struggling. It is $160.9 billion in debt. What fewer people know is that the financial difficulties were caused by an act of Congress, the Postal Accountability and Enhancement Act, introduced by Maine Senator Susan Collins and signed into law by President George W. Bush in 2006. It required the post office to put aside money for retiree health benefits—75 years into the future, at a cost of $5 billion per year. That mandate is responsible for $119.3 billion of the Postal Service's debt.
Yet those who don't grasp that concept (Trump, Mnuchin and now DeJoy) argue that selling off portions of the Postal Service is the best way to fix its financial troubles. Specifically, contracting out maintenance, delivery and transportation takes the financial obligation off the Postal Service—but at a higher cost to the public. And the result is financial gains for big business, rather than a not-for-profit service to the American people.
It's true that it costs more to deliver to remote communities. That's why the Postal Service has "last-mile" delivery deals with UPS, FedEx and Amazon. However, limiting our services to only the more profitable areas—typically urban areas—would leave remote and inner-city communities at risk of increased costs and decreased services as a result of privatization.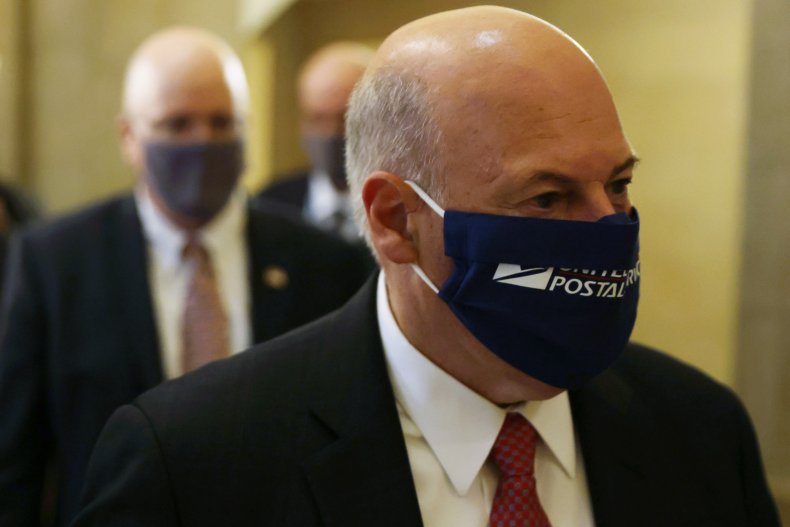 Another way to encourage privatization is to discourage the use of the Postal Service as a whole by making its services inferior. DeJoy still owns at least $30 million in equity in his former company, a USPS contractor, and recently bought stock options for Amazon. Consider the situation last week in Maine, where tens of thousands of pieces of mail were held back. Residents in those communities were deeply concerned and want these issues addressed. Any delay implicates the employees of the Postal Service as being unable to meet the standards of providing "prompt, reliable and efficient services to patrons in all areas." Ultimately, that negatively impacts the public's confidence in the Postal Service's ability to navigate this year's elections.
These unwarranted attacks on the Postal Service, coupled with the government's failure to provide the needed stimulus due to the coronavirus pandemic, compromise the public's trust in voting by mail.
DeJoy's conflicts of interest and harmful policies need to be addressed immediately. Congressional representatives have spoken out, Representative Carolyn Maloney of New York has introduced legislation to undo some changes, as well as prevent future ones, and now U.S. Postal Service Inspector General Tammy Whitcomb is investigating.
The mounting pressure appears to be having some impact, given DeJoy's remarks on Tuesday. Yet postal workers, Congress and the American people should settle for nothing less than the removal or resignation of Louis DeJoy.
Scott Adams is president of the 550-member Portland Maine Area Local of the American Postal Workers Union.
The views expressed in this article are the author's own.