Trump's Pre-Rally Boast of 'Single-Handedly' Giving Alabama Space Command HQ Angers Colorado
Leaders in Colorado expressed frustration after former President Donald Trump boasted in a Friday interview ahead of an Alabama rally that he "single-handedly" made the decision to move the headquarters of Space Command to the southern state.
The HQ of Space Force is temporarily located in Colorado Springs, Colorado. But the U.S. Air Force announced in January that it would be relocated to Huntsville, Alabama. Leaders in Colorado have argued that the decision was politically motivated, and they viewed Trump's Friday remarks as further evidence to support their claim.
"Keeping U.S. Space Command in Colorado means protecting our national security but it's clear that the former President—now through his own admission —made this misguided decision for political or personal purposes," Colorado Governor Jared Polis and Lt. Governor Dianne Primavera, both Democrats, said in a joint statement.
"Unfortunately, this poor decision could cost taxpayers billions of dollars, hurt military readiness, and would be fiscally irresponsible. We urge the federal government to truly restore integrity to the process," said the Colorado leaders.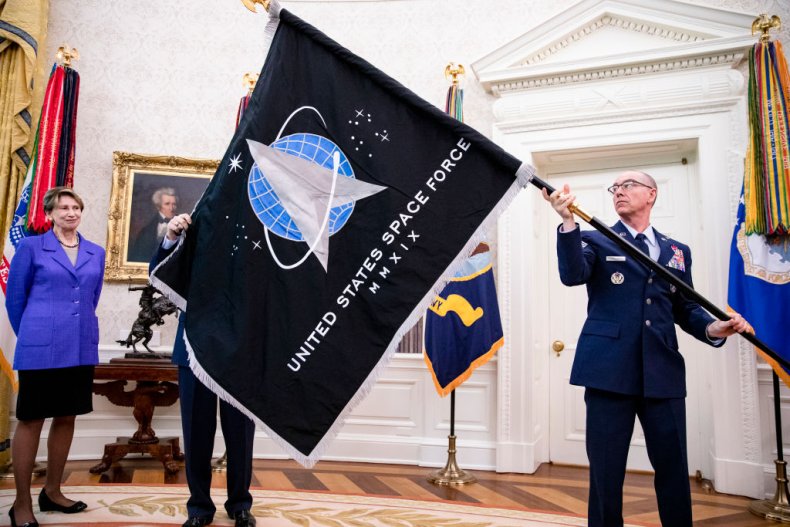 Colorado Springs Mayor John Suthers, a Republican, released a similar statement as well.
"We have maintained throughout the process that the permanent basing decision for U.S. Space Command was not made on merit. The admission by former President Trump that he 'single-handedly' directed the move to Huntsville, Alabama, supports our position," Suthers said.
Trump made the remarks in an interview with Alabama-based syndicated radio show Rick & Bubba ahead of a rally to be held in the southern state on Saturday.
"Space force—I sent to Alabama," the former president said. "I hope you know that. (They) said they were looking for a home and I single-handedly said 'let's go to Alabama. They wanted it. I said let's go to Alabama. I love Alabama."
Despite the claims of Trump and the Colorado leaders, Air Force documents reported by Al.com showed that Alabama beat out Colorado based on a number of criteria. Those documents showed that Alabama was better suited in 11 of 21 categories than Colorado to house the Space Force HQ.
The Space Force was formally established under Trump at the end of 2019. CNN reported in the spring of 2019 that the Air Force had identified six prospective sites for the permanent HQ. Four of those were located in Colorado, while one was in Alabama and another was in California.
Newsweek reached out to Trump's press office for comment, but did not immediately receive a response.