Trump's Presidency Has Barely Even Started, and These Famous Rockers Already Made a Protest Compilation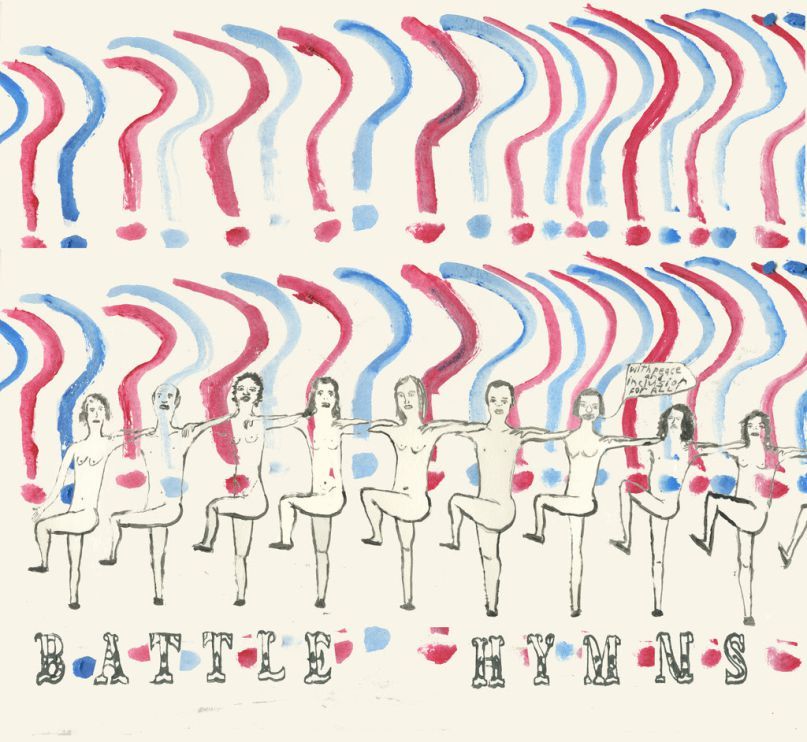 Donald Trump, now the 45th president, famously had some trouble rounding up well-known musicians willing to perform at his inauguration celebration. He settled on less-than-glamorous acts like Lee Greenwood and 3 Doors Down (a Bruce Springsteen cover band backed out at the last minute).
Where was all the rock royalty? Instead of preparing for an inauguration performance, some of them have spent the past few months preparing an anti-inauguration compilation. Stephen Malkmus (of Pavement), Carrie Brownstein (of Sleater-Kinney), Peter Buck (of R.E.M.), Ash Bowie (of Polvo) and other indie-rockers have all contributed to a new protest album titled Battle Hymns. The good news is that it was released today, just hours ahead of Trump's swearing in. The better news is that it's available now for a pay-what-you-want price, and all of the proceeds are going to progressive organizations (Planned Parenthood, The ACLU and 350.org).
Related: Does Bush-era protest music hold up?
"Battle Hymns is a compilation album created in direct response to the current political situation in the U.S.A—it is a protest record!" the press release says. "It will be released digitally on inauguration day in opposition to the incoming administration."
Thank Sam Coomes and Janet Weiss of the band Quasi (and Sleater-Kinney) for spearheading the project and providing a soundtrack for your rage.
Like our 45th president, the songs are not very subtle. Doug Martsch, of Built to Spill fame, offers up a six-minute guitar workout titled "Fuck 2016." Helium's Mary Timony has a song that largely consists of the refrain "fight! The hate!" while Corin Tucker wails out lines about Trump's shocking rise to power on a track called "Love in the Time of Resistance." Here are some sample lyrics from Superchunk frontman Mac McCaughan's 2016 farewell song "Happy New Year (Prince Can't Die Again)":
Okay, but this could be a great year if you're rich
Or if you're a racist craving an authoritarian hand
And the sun will shine on you if you hate women
And then the sun itself will turn us all to sand
Yeah, this year it seemed like nothing really mattered
You could be any horrible thing and rise to the top of this shitheap
And here's the complete track listing:
1. Love Always (Kathy Foster) - "We Won't Go Back"
2. Mac McCaughan - "Happy New Year (Prince Can't Die Again)"
3. Boss Hog - "Save Our Soul"
4. Stephen Malkmus - "Midnight Cruisers"
5. Drew Grow - "Time Bomb"
6. MEDS (Carrie Brownstein and Katie Harkin) - "No More Fizz"
7. Mary Timony - "Fight The Hate"
8. Quasi - "Ballad of Donald Duck & Elmer Fudd"
9. Libraness (Ash Bowie) - "A Kind of Survival"
10. Filthy Friends (Corin Tucker, Peter Buck, Scott McCaughey, Kurt Bloch, Bill Rieflin) - "Love In The Time of Resistance"
11. Carl Newman - "Our Nero"
12. Rebecca Gates - "NO DIVISION"
13. Doug Martsch - "Fuck 2016"
14. Sean Croghan - "Spider House"
It's been some years since the music world rallied together against a U.S. president. (Barack Obama was, in may ways, the rare president the punk world embraced.) Do you feel nostalgic for the Bush years? Check out our deep dive into Bush-era protest music.
Here's hoping this compilation feels as quaint and dated in about 15 years as American Idiot does now.