Trump's Press Sec. Calls Thanksgiving COVID Guidelines 'Orwellian' as America Braces for Holiday Spread
President Donald Trump's press secretary Kayleigh McEnany referred to Thanksgiving COVID-19 guidelines and restrictions as "Orwellian" amid a spike in cases of the virus as Americans prepare for the upcoming holidays.
While appearing on Fox News' Fox & Friends on Wednesday, McEnany was asked what she thinks of the different suggestions and guidelines medical professionals have released in an effort to mitigate the spread of the virus during Thanksgiving.
"I think a lot of the guidelines you're seeing are Orwellian," McEnany said. "Let me start by saying the [Centers for Disease Control and Prevention] (CDC) has put out considerations as we prepare to go about Thanksgiving, about socially distancing, wearing masks, doing what you can."
She continued, "There's a whole list, that page of very good considerations, and in that they say, 'We're not recommending a certain number of people, but we are giving considerations that you should put in place' and I think that's the American way. The American people will know how to protect their health."
While McEnany applauded the considerations released by the CDC, she went on to criticize certain states, where governors have imposed capacity limits on indoor private gatherings.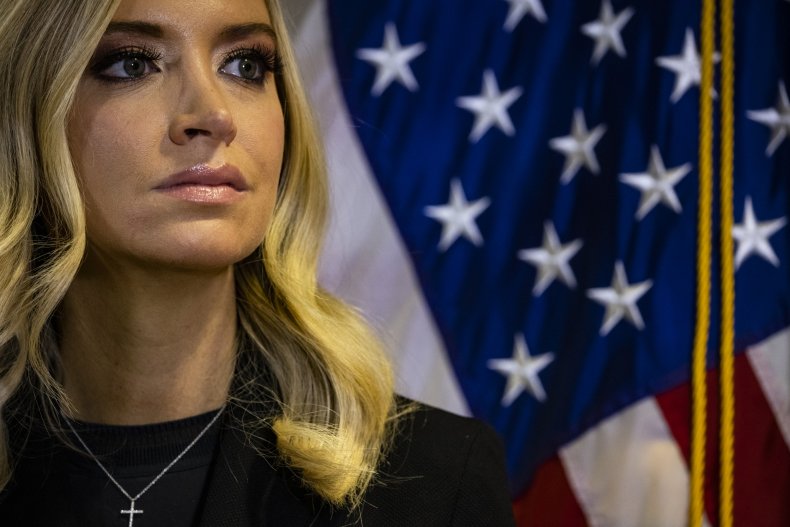 "We've dealt with COVID for many months, but it's Orwellian in a place like Oregon to say 'if you gather in numbers more than six we might come to your house and arrest you and you get 30 days of jail time,'" McEnany said. "That's not the American way. We don't lose our freedom in this country; we make responsible health decisions as individuals."
McEnany brought up Oregon in her discussion, as Governor Kate Brown has recently announced a statewide "two-week freeze" to limit the spread of the virus, which limits indoor gatherings to six or less people, ordering all bars and restaurants to move to takeout only and closing all gyms, museums and indoor entertainment venues.
In addition to Oregon, several other states have also issued similar guidelines such as New York, New Jersey and Massachusetts.
McEnany's comments come as cases of the virus continue to surge throughout the U.S. just a week ahead of Thanksgiving.
The U.S. has recorded over 100,000 new daily cases of the virus for the past 15 consecutive days, according to data from the COVID Tracking Project, and it currently has a seven-day average of 154,266 cases.
Across the U.S. there are now over 11.3 million confirmed cases as well as at least 248,734 deaths.
Several New York law enforcement officials have taken a similar stance to McEnany and have stated that they do not plan to enforce Governor Andrew Cuomo's holiday COVID guidelines.
Newsweek reached out to Trump's campaign for comment but did not receive a response in time for publication.