Social Security has long been called the "third rail" in American politics—touch it at your own peril. With the news cycle dominated by COVID-19 since March, it hasn't been a hot button issue.
But that is changing.
On August 8, President Trump signed an executive order calling for a "payroll tax holiday" for the millions of employees who pay into the system. He followed that with an announcement that if he won a second term, he intended to eliminate the payroll tax.
In 2020, the payroll tax amount is 7.65 percent, 6.2 percent of which goes to Social Security, with the remaining 1.45 percent going to Medicare. The employer pays a matching 7.65 percent.
Richard Johnson, a director of the Program on Retirement Policy at the Urban Institute, said Trump's plan to reduce payroll taxes for Social Security would have a "significant negative impact" on the program. The board that runs the program has already projected that the system will run out of money in 2035.
"Social Security is already facing a long-term financial gap and that is getting more pressing every year," Johnson said. "These projections were based on economic conditions before the pandemic and this deep recession, so the situation today is probably even more dire than that."
For senior voters—the biggest and most reliable voting bloc in every election cycle—the future of the program is an even larger concern. Those over the age of 45 were more likely to give Social Security a high priority on their 2020 checklist, with 68 percent listing it as a top issue.
"What Trump is doing, especially with this recent payroll tax holiday, is moving seniors away from him," said Rich Fiesta, the executive director at the Alliance for Retired Americans. "It's not a very popular idea." His organization, which has 4.4 million members, recently endorsed the Biden-Harris ticket.
Calling for cuts in Social Security looks like a risky move in the presidential campaign. A new survey released Thursday from the progressive think tank Data for Progress found protecting Social Security ranked among the top answers with 54 percent, when respondents were asked to pick their top three priorities for the 2020 election.
Nancy Altman, the president of the advocacy organization Social Security Works, agreed that Trump's plans for the program could cost him already waning support from voters over the age of 65.
"This year is going to provide a real test. COVID-19 is one of the reasons, but Social Security is going to be another reason that seniors move to the Democrats," Altman said.
Trump won senior voters by a significant margin in 2016, in no small part due to his promises not to cut Social Security or Medicare. In fact, on the campaign trail he said he would "do everything within my power not to touch Social Security, to leave it the way it is."
An AARP official told Newsweek that seniors don't forget.
"Those statements seared into the minds of the older voter that Trump would not interfere with these sacred programs," said Nancy Leamond, the executive vice president of AARP. "But historically, older voters have looked to Democrats as the protector of these programs."
Biden is already looking to capitalize on Trump's recent statements on Social Security. His campaign is currently running an advertisement attacking the executive order and proposed tax cuts in Florida, a key swing state where older voters make up an outsize share of the voting population.
"Nearly 4 million Florida seniors rely on Social Security, and once again Donald Trump's failed leadership is hitting seniors the hardest," the narrator says over footage showing the president playing golf.
The former vice president's 2020 platform calls for increasing Social Security benefits for low-income individuals and families, which would be paid for by raising taxes on those earning more than $400,000. His plan would also bolster the program for older seniors, as those between the ages of 78 and 82 would receive gradual increases in their annual benefits.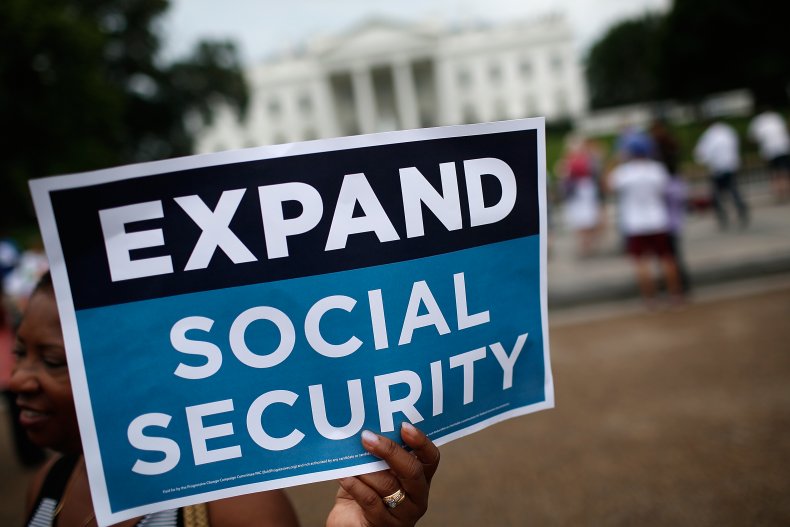 During the Democratic primary, Biden came under criticism from his rivals for his past record on the issue as a senator, including his support in the 1980s for a freeze on government spending and Social Security. The Trump campaign tried to flip the issue on Biden, sending out emails and tweets claiming that Biden was the only Democratic candidate who "has tried to cut Social Security benefits."
But while Trump has continued to voice support for gutting the payroll tax, his administration hasn't fully explained how Social Security would be funded if and when the tax is eliminated. Newsweek reached out to the president's campaign for clarification on his stance on Social Security, but did not receive a response prior to publication.
Polling has consistently shown that the program is extremely popular for Americans of all ages and political affiliations. A report from AARP released earlier this month for the 85th anniversary of Social Security found that 96 percent of Americans deemed it an important program and four in five say they will rely on it for part of their retirement income. Today, 65 million Americans are collecting benefits through the program.
"The American people are quite united on what they think on Social Security and what they want to see done and not done," Altman said. "And right now the parties are as far apart on this issue as maybe they've ever been."