Trump's Prosecution Odds 'Increased' After N.Y. Guilty Verdict: Kirschner
Donald Trump's chances of prosecution "increased" after a New York jury found the Trump Organization guilty of tax fraud, according to legal analyst Glenn Kirschner.
The jury found Trump's business guilty of all 17 charges it faced, as the organization faces a fine of up to $1.6 million. The former president, however, was not personally charged in the case despite prosecutors arguing he "knew exactly what was going on with his top executives."
Despite avoiding charges in the tax fraud case, the guilty verdict could still spell trouble for the former president, as Trump is still facing other lawsuits and investigations in New York that could end in a guilty verdict, according to Kirschner, a former U.S. prosecutor.
New York Attorney General Letitia James is suing Trump and his business, alleging they engaged in "years of financial fraud to obtain a host of economic benefits." She also accused Trump of falsely inflating his net worth by billions of dollars.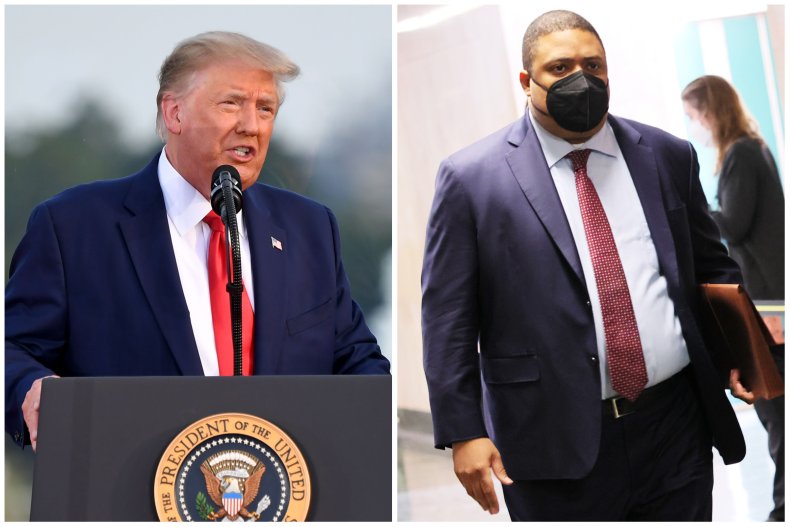 Trump is also facing a separate investigation from the Manhattan district attorney's office, which successfully tried the Trump Organization. The investigation appeared to escalate on Monday after Manhattan District Attorney Alvin Bragg announced the hiring of Matthew Colangelo, who led a separate probe into Trump, according to The New York Times.
Kirschner tweeted that he believes Tuesday's verdict indicates that Trump is now facing higher odds of being personally prosecuted in one of these cases.
"Two important takeaways: 1. this likely spells the end of Trump Org, and 2. this increases the odds of a NY prosecution of Trump himself, given that the prosecution argued 'Evidence shows Trump 'explicitly' OK'd tax fraud,'" Kirschner tweeted.
Other legal analysts also weighed in on the guilty verdict. Joyce White Vance, also a former federal prosecutor, tweeted that the ruling makes Colangelo's hiring "timely."
"Today's guilty verdict makes Matthew Colangelo's move to the Manhattan DA's office very timely. At the NY AG's office he oversaw the dismantling of Trump's "charitable" org. At DOJ he oversaw complicated tax & civil rights prosecutions. He has a stellar reputation," she wrote.
"This is a significant verdict—the Trump Organization is found guilty of serious felony fraud charges," tweeted former federal prosecutor Renato Mariotti. "This will give even more leverage to New York Attorney General Tish James in her civil suit, which seeks extraordinary remedies that would cripple the company."
Trump had not publicly commented on the guilty verdict as of publication time. However, he took to Truth Social earlier Tuesday to blast the suit against the Trump Organization as a "witch hunt," falsely accusing the Manhattan district attorney's office of not bringing a murder case to trial in six years.
The guilty verdict came after more than one day of deliberation by the jury. Prosecutors largely built their case off of testimony from Allen Weisselberg, the former Trump Organization chief financial officer who this year pleaded guilty to conspiring to avoid paying taxes on corporate benefits.
Just weeks earlier, Trump announced his bid for the 2024 presidential election, but his campaign has been marred by a series of legal entanglements.
Trump saw several court losses last week after his former legal counsel testified in the Department of Justice investigation into his conduct surrounding the January 6, 2021, siege on the U.S. Capitol. A federal court also overturned a ruling that allowed a special master in the investigation of the classified documents found at Trump's Mar-a-Lago residency—delivering what analysts called a "massive DOJ win."
Newsweek has reached out to Trump's office for comment.