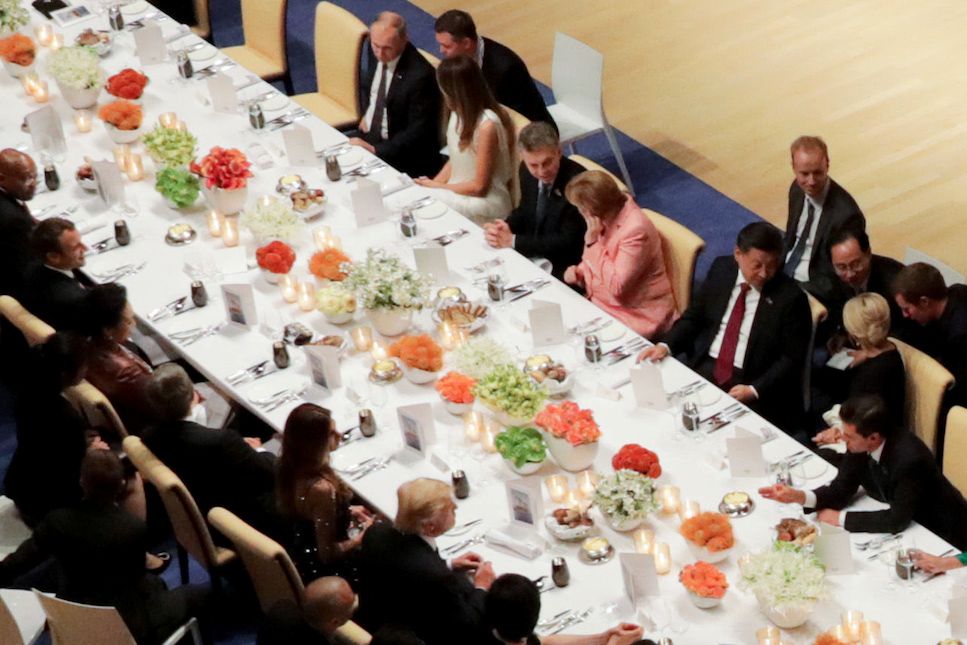 Donald Trump's decision to hold a second meeting with Russian President Vladimir Putin has been compared to O.J. Simpson going glove shopping.
It emerged on Tuesday that the president had held an undisclosed nearly hourlong meeting with the Russian leader at the G-20 Summit earlier in July, following his official two-hour-and-15-minute talk with Putin the same day.
On Wednesday evening, Late Show host Stephen Colbert said of the meeting: "How stupid can you be? You're in the middle of what could be the worst scandal in U.S. history. People think you colluded with the president of a hostile foreign power. Then you go out of your way to meet with him again, and you don't tell anybody?"
"That's like if O.J. does get out on parole and immediately goes glove shopping," he added about the former NFL star, who infamously was acquitted for murder after a trial in which a recovered glove was a key piece of evidence.
Colbert also mocked the White House's explanation for the meeting, saying: "The White House has downplayed this meeting, calling it a brief conversation at the end of dinner. Brief because, after all, how long does it take to give someone your room key?"
The White House dismissed the idea that it attempted to hide the meeting, with an official stating in comments carried by The Hill: "There was no 'second meeting' between President Trump and President Putin, just a brief conversation at the end of a dinner.
"The insinuation that the White House has tried to 'hide' a second meeting is false, malicious and absurd," the official added.
And Trump made it clear he did not appreciate details of the undisclosed meeting with Putin being reported, describing the media as "sick."
In a series of tweets on the topic, Trump wrote on July 18: "Fake News story of secret dinner with Putin is 'sick.' All G 20 leaders, and spouses, were invited by the Chancellor of Germany. Press knew!"
"The Fake News is becoming more and more dishonest! Even a dinner arranged for top 20 leaders in Germany is made to look sinister!" he added.