Trump's Reinstated Facebook, Instagram Accounts Come With 'New Guardrails'
Meta has decided to reinstate the Facebook and Instagram accounts of former President Donald Trump more than two years after he was banned for inspiring "civil unrest" in the January 6 attack on the U.S. Capitol.
Nick Clegg, Meta's president of global affairs, said in a statement shared to Facebook on Wednesday that the reinstatement of the former president's accounts would come "with new guardrails in place to deter repeat offenses." The accounts are expected to be restored "in the coming weeks."
The decision came roughly two months after Twitter boss Elon Musk reinstated Trump's account on his platform. The former president has not yet returned to tweeting, despite having been a nearly constant presence on the site prior to his ban in January 2021.
Trump was originally suspended from the Meta platforms for two weeks in the wake of the Capitol riot. The ban later was later extended to two years after Meta consulted with its semi-independent Oversight Board, with the intention of determining whether a "serious risk to public safety" remained before allowing reinstatement.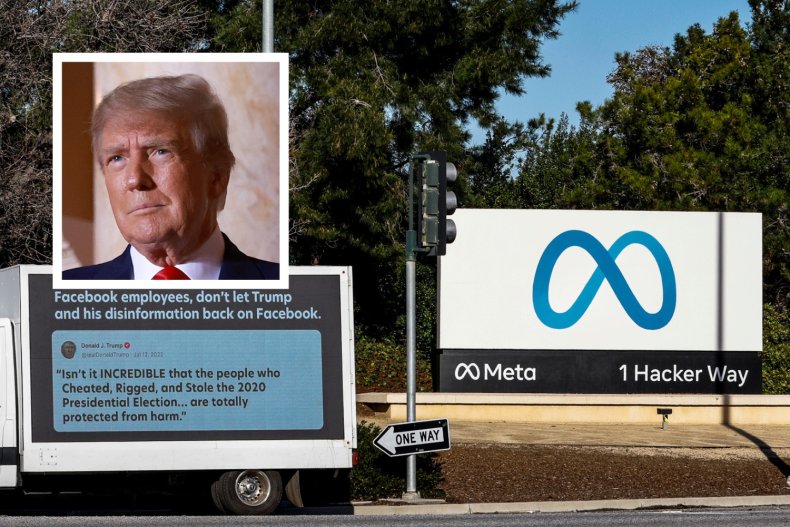 Clegg said on Wednesday that the company had determined that "the risk has sufficiently receded, and that we should therefore adhere to the two-year timeline we set out." However, he did warn Trump that further bans of up to two years could be on the horizon if he violates the company's terms of service.
"Like any other Facebook or Instagram user, Mr. Trump is subject to our Community Standards," Clegg wrote. "In light of his violations, he now also faces heightened penalties for repeat offenses."
"In the event that Mr. Trump posts further violating content, the content will be removed and he will be suspended for between one month and two years, depending on the severity of the violation," he added.
Clegg said that the rules would also apply to any "other public figures whose accounts are reinstated from suspensions related to civil unrest under our updated protocol."
The Oversight Board responded to the reinstatements in a statement shared to Twitter on Wednesday, noting that the "decision to reinstate Mr. Trump on Meta's platforms sat with Meta alone — the Board did not have a role."
The board praised Meta for following its "recommendations to introduce a crisis policy protocol" and undertaking "an assessment on the current security environment," while calling on the company to "provide additional details of its assessment" regarding Trump's accounts.
During a Fox News interview last week, Trump described his Meta bans as a "major business mistake" by the company, while revealing that he was hoping to arrange a meeting with Meta CEO Mark Zuckerberg to discuss his possible return to the platforms.
"If they took us back, it would help them greatly, and that's OK with me," said Trump. "But they need us more than we need them. We are talking to them, and we'll see how it all works out."
When reached for comment on the reinstatements, Trump spokesperson Steven Cheung pointed Newsweek to a Truth Social post that the former president made shortly after the decision was announced.
"FACEBOOK, which has lost Billions of Dollars in value since 'deplatforming' your favorite President, me, has just announced that they are reinstating my account," Trump wrote in the post.
"Such a thing should never again happen to a sitting President, or anybody else who is not deserving of retribution!" he continued. "THANK YOU TO TRUTH SOCIAL FOR DOING SUCH AN INCREDIBLE JOB. YOUR GROWTH IS OUTSTANDING, AND FUTURE UNLIMITED!!!"
It remains unclear when Trump intends to return to posting on Facebook or Instagram, if he does return.
During a Fox Business interview earlier Wednesday, Truth Social CEO and former Republican Congressman Devin Nunes denied recent reports claiming that the former president was planning to drop an exclusivity deal with his platform and return to Twitter soon.