Is Trump's 'Rough Cookie' Chicago Police Officer Real?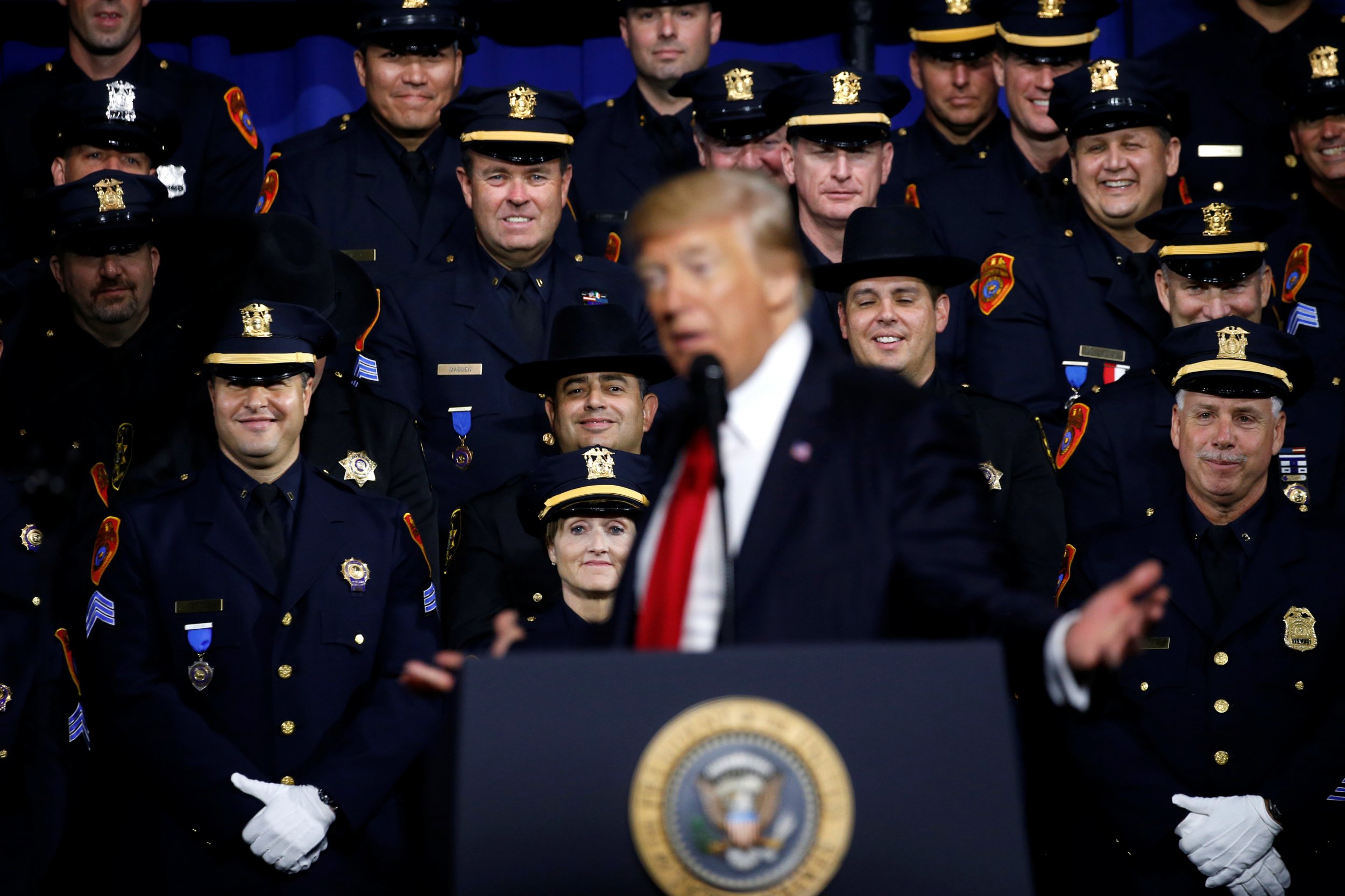 During a forceful speech to law enforcement officials on Long Island last week, President Donald Trump told an anecdote involving a "rough cookie" Chicago cop who he said escorted his campaign while in the Windy City last year.
The president said the cop claimed he could fix Chicago's crime problem if given the chance.
"And I said, 'How long would it take you to straighten out this problem?'" Trump said. "And he said, 'If you gave me the authority—couple of days.' I really mean it."
He claimed he asked the officer for his card and sent it to the mayor.
"Guess what happened?" Trump asked. "Never heard. And last week they had another record [for murders]. It's horrible."
The president has told this story more than once, and the existence of the officer has been called into question by the mayor's office. The police department also has said it is unaware of the person to whom Trump is referring.
Adam Collins, a spokesman for Mayor Rahm Emanuel, told Newsweek that the mayor was "never sent a business card or provided a name," and that the story had been "debunked long ago by the local press."
"We can only hope the president is as interested in attacking crime as he is in attacking his attorney general, transgender members of the military and the three largest cities in the country," Collins said.
The Chicago Police Department was "unable to identify any Department member who had a conversation with then-candidate Trump," a spokesman for the department told the Chicago Tribune.
This isn't the first time a Trump anecdote has been called into question. For example, he said he had a friend named Jim who had vacationed in Paris every summer but stopped visiting the city because "Paris is no longer Paris."
The New Yorker was unable to track down Jim, as was the Associated Press. The White House has not provided a last name for Jim despite media requests.
White House Press Secretary Sarah Huckabee Sanders did not respond to a request for comment on the identity of the Chicago officer Trump has talked about.
Trump also mentioned the cop during an August interview with Bill O'Reilly, saying a "top police officer" said he could solve the violence "in one week."
"He said, 'Mr. Trump I would be able to stop it in one week,' and I believed him 100 percent," Trump told O'Reilly, without providing any specifics.
The Trump campaign at that time was similarly vague about the identity of the officer Trump claimed he spoke with.
"He is a private individual but one who, like Mr. Trump, cares deeply about his country and protecting all Americans," Hope Hicks, the Trump campaign spokeswoman, told The Washington Post. "They had a very productive and interesting conversation as Mr. Trump does with officers and law enforcement communities around the country."