Trump's Russia Adviser Says He Was 'Not Concerned That Anything Illegal Was Discussed' in Ukraine Call
A top national security adviser on the infamous summer phone call between President Donald Trump and his Ukrainian counterpart Volodymyr Zelensky told impeachment investigators Thursday he "was not concerned that anything illegal was discussed," according to his opening remarks reviewed by Newsweek.
"I want to be clear," Tim Morrison, the Europe and Russia chief for the National Security Council, told lawmakers behind closed doors. "I was not concerned that anything illegal was discussed."
The conversation is at the center of the House's impeachment inquiry, investigating allegations of a quid pro quo by Trump to have the foreign leader open a probe into one of his political opponents, former Vice President Joe Biden and his son Hunter.
Despite the outgoing NSC official's belief there was no criminal wrongdoing in the July 25 conversation, Morrison did confirm portions of another Trump official's testimony linking the president to a quid pro quo.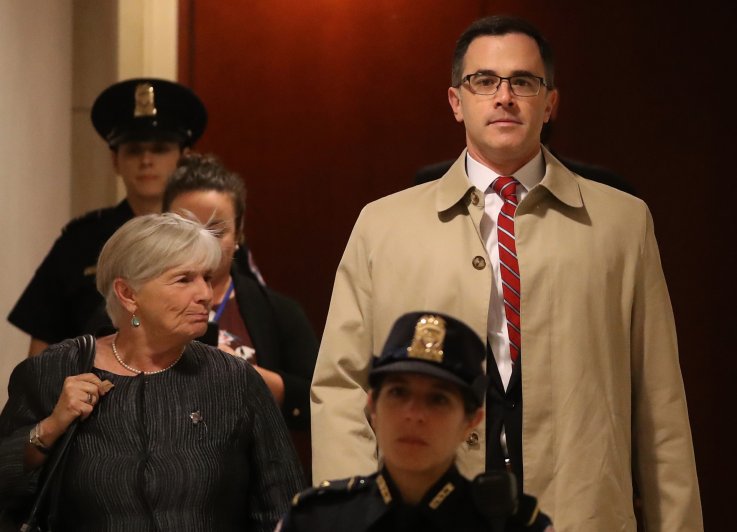 Morrison said the remarks from top U.S. diplomat to Ukraine Bill Taylor to lawmakers last week concerning a conversation the two men had were, for the most part, accurate.
Taylor told lawmakers last week that Morrison felt a "sinking feeling" when he heard that Trump had expressed a desire to Gordon Sondland, the U.S. Ambassador to the European Union, for Zelensky to open investigations into corruption. Trump wanted those investigations to focus on the Bidens and their involvement in a Ukrainian gas company—Burisma—as well as a debunked conspiracy theory about 2016 election interference originating from Ukraine rather than Russia.
Taylor also testified that he learned about Sondland's talk with a top Ukrainian official through a conversation with Morrison. According to Taylor, Morrison stated that Sondland told the foreign official they would withhold the $400 million in military aid and a trip to the White House unless Ukraine "committed to pursuing" the corruption investigations.
Morrison told lawmakers he believed it would have been "sufficient" for Trump if Ukraine's new prosecutor—not Zelensky—would agree to investigate, a slight discrepancy from that of Taylor's claims.
Although he may have viewed Trump's call with Zelensky as legal, Morrison did state he found the contents of it "problematic for U.S. policy in supporting an ally in the region."
He also had three concerns about how a leaked transcript of the call could damage America's relationship with Ukraine:
"How it would play out in Washington's polarized environment"
"How a leak would affect the bipartisan support our Ukrainian partners currently experience in Congress"
"How I would affect the Ukrainian perceptions of the U.S.-Ukraine relationship."
Morrison, a Republican staffer for 17 years prior to joining the NSC in 2018, said he would be resigning from his post in the near future. He has not submitted a resignation letter yet, Morrison said, because "I do not want anyone to think there is a connection between my testimony today and my impending departure."
"I plan to finalize my transition from the NSC after my testimony is complete," he added.
Trump's Russia Adviser Says He Was 'Not Concerned That Anything Illegal Was Discussed' in Ukraine Call | Politics