Trump's 'Salute to America' Mall Fencing Mocked With References to Cages, Walls: 'Poetic Justice... VIPs in Cages'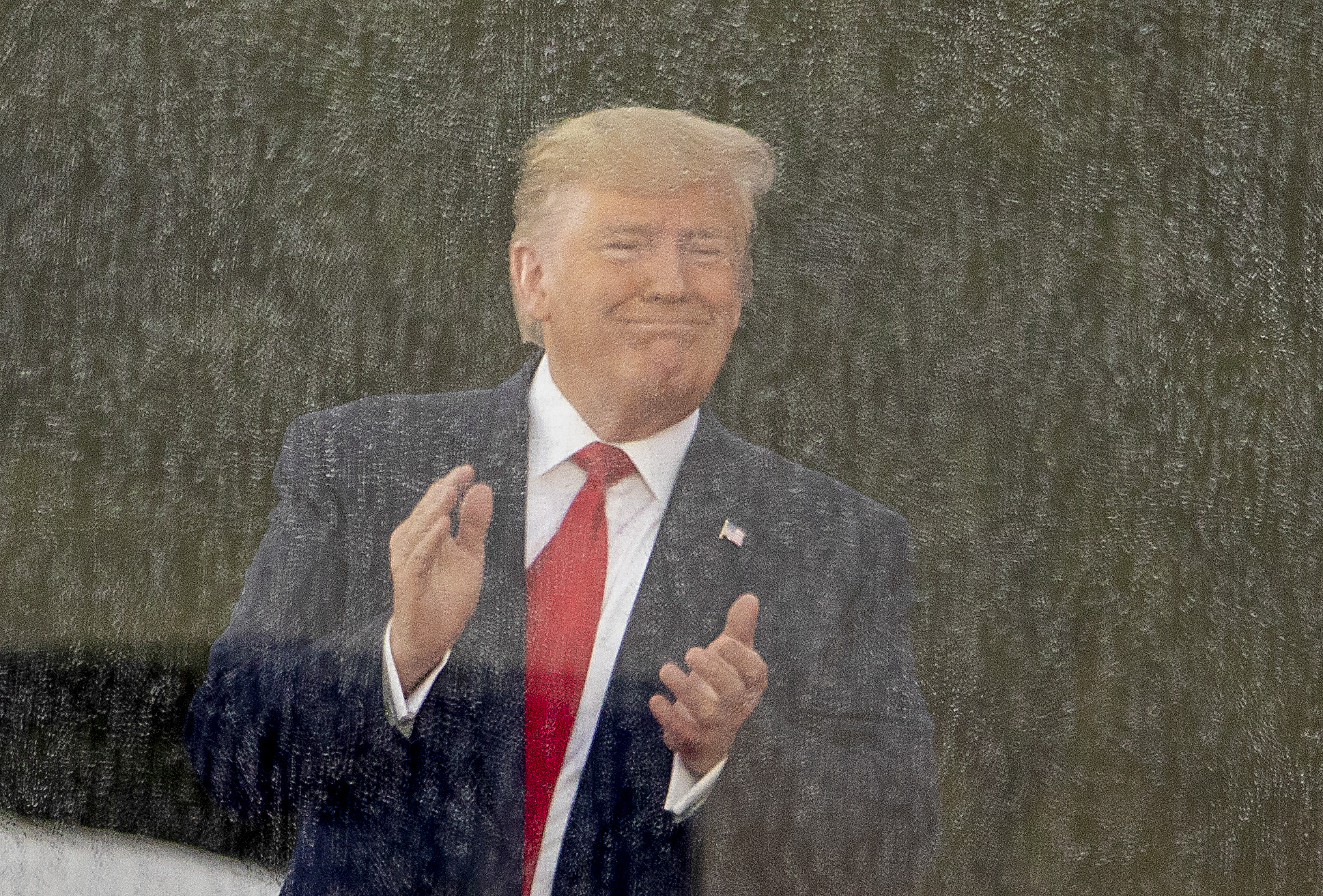 Ahead of President Donald Trump's Independence Day "Salute to America" speech on the National Mall, CNN chief White House correspondent Jim Acosta shared images of the fencing set up to protect VIPs and other ticketed guests from the general public — and Twitter had a lot to say.
"It appears most of the folks down on the National Mall won't be able to get very close to the tanks and military vehicles down by the Lincoln Memorial. That area is behind a lot of fencing and security (accessible to VIP's and other ticketed guests)," Acosta tweeted on Thursday afternoon, alongside several photos of the fenced-off area by the Lincoln Memorial Reflecting Pool.
Prior to the event, the Pentagon announced that it had given 5,000 tickets to attend the VIP sections of the event to military personnel and their families as well as other groups and donors. The Washington Post reported on Wednesday that the Trump administration had been desperately attempting to secure attendees for the president's speech, which took place at 6:30 p.m., as they feared the celebration may not draw a large enough crowd.
The Republican National Committee (RNC) also confirmed, a day prior to the event, that they had been tasked with handing out free tickets for the VIP sections.
Less than an hour after Acosta's tweet went live, Daily Beast reporter Will Sommer also shared images of the VIP fencing. "There are plenty of fences keeping non-ticket holders away from Trump's speech and the Lincoln Memorial," he wrote.
Social media users immediately began ridiculing the fencing by comparing it's appearance to cages and walls.
"Sucks to be on the wrong side of the wall trying to get in, doesn't it? Irony," Twitter user @kharmabites wrote, apparently in reference to the wall that Trump vowed to build during his 2016 campaign on the southern U.S.-Mexico border as a safeguard against illegal border crossings.
"Poetic justice. Trump-supporting 'VIPs' in cages," Twitter user @oneOvoice wrote, apparently in reference to the migrant children seen held in fenced cages at a border facility in Texas.
"Trump loves a cage," Twitter user @dislexicon wrote.
"Oh, for heaven's sake. Trump is always hiding behind walls and chain link fences. It's almost a fetish for him," Twitter user @hiareth wrote.
Sonny Goldreich tweeted: "Trump Mob recreates migrant cages for GOP bigwigs to keep the masses out while they sieg heil to der führer's speech."
"The irony of the elite bloodsuckers being caged," Nancy Rogers tweeted.
"Nothing says "America" like people being kept behind cages so that the privileged few can have a better view," Omar Flores added.
"Trump finally got his wall, but it's around the Lincoln Memorial," Twitter user @yodaquoter wrote.
Meanwhile, others condemned the fencing for separating the elite and general public.
"Nothing symbolizes and celebrates freedom and democracy like chain-link fences separating the ruled from the rulers. Good optics, better sentiment," James Fatheree tweeted.
"Trump walls off public land for his private partisan party of GOP donors - make the RNC and Trump's campaign pay for every god damn penny this Trump charade costs. And note to MAGAts - the barricade is to keep you out too," Twitter user @Buckleup36 wrote.
"So we're paying for a private, privileged-only, display of military hardware? And they're desecrating The Mall to do that?" Twitter user @ianiamerica