Trump's School Reopening Push Could Cost Half a Trillion Dollars, Teacher Union Warns
President Donald Trump made it clear he wants students back in the classroom for school in the fall, but the second largest teachers' union in the country is warning that there could be a hefty price tag associated with the reopening push.
On Monday, the American Federation of Teachers released a report that identified an almost half trillion dollar need to safely implement in-person instruction in public schools. A significant portion of that funding–an estimated $262 billion–would be necessary to ensure students can properly social distance.
Keeping students six feet apart, as has been recommended by the Centers for Disease Control and Prevention (CDC), could require schools to expand classrooms by 47 percent. Financing portable classrooms could cost $115 billion plus an additional $147 billion for salaries and benefits for additional instructors.
Properly cleaning areas, supplying nurses and personal protective equipment could cost an additional $36 billion and AFT allocated $43 billion for additional learning, social and emotional support for children.
In addition to keeping kids separated when they're at school, the CDC recommends creating distance between children on school buses. Another safety measure that adds to the cost of reopening schools, the AFT estimated limiting the number of students on each bus would require quadrupling transportation capacity at an estimated $80 billion.
"Even if there were political will to spend that money, we have already missed the chance to make the broadest progress toward that goal, with no way to find the teachers, the classroom capacity or the buses needed by the time the fall semester starts," the AFT said in the report.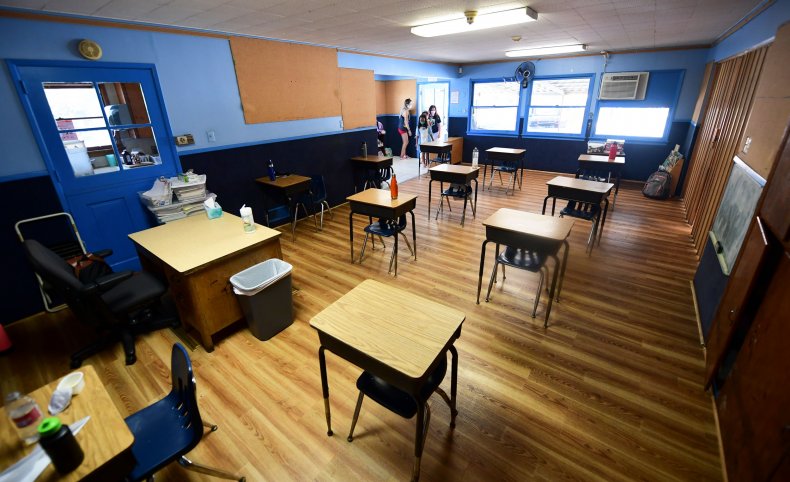 Instead of a widespread reopening, the AFT advocated for a hybrid of in-person and online instruction or online-only classes. An estimate for the "fullest and safest possible reopening" is $116.5 billion, according to the AFT. That money would give schools the ability to physical distance, provide masks, plexiglass, hand-washing stations, cleaning supplies and other resources intended to halt the virus' spread.
Newsweek reached out to the White House for comment but did not receive a response in time for publication.
Trump pushed for schools to reopen and threatened to withhold funding from those that don't open their doors in the fall. Choosing to stay closed was based on politics, he said during a briefing on Wednesday, and money for education will be "substantially bumped up" to facilitate in-person instruction, according to press secretary Kayleigh McEnany.
The CARES Act, which passed Congress in March, allocated about $13 billion for K-12 schools and the HEROES Act would provide more than $58 billion, plus additional funding for higher education. Unlike the unanimous support the CARES Act received, the HEROES Act passed the House of Representatives largely along party lines and high-ranking GOP officials called it "dead on arrival."
Republicans are working on a stimulus package of their own and Treasury Secretary Steve Mnuchin said on Monday it will focus on "kids and jobs and vaccines." House Minority Leader Kevin McCarthy said the forthcoming package will make sure kids can go back to school safely, not just for themselves but for teachers, as well.
Funding that safe school reopening could come in the form of $70 billion, White House Chief of Staff Mark Meadows told Fox News on Sunday. It's aimed at K-12 schools, Republican officials told The Washington Post, and an additional $20 to $30 billion could be allocated for higher education.
"Our nation is at a critical crossroad, and the decisions Congress and the president make in the next two weeks will be felt for generations to come," AFT President Randi Weingarten, said in a statement. "We're facing an unmitigated disaster—and we hope our cries for help are heeded before it's too late."