Trump's SCOTUS Nominee Brett Kavanaugh Once Mouthed Word 'Bitch' Referring to Hillary Clinton, Book Claims
President Donald Trump's Supreme Court nominee is reportedly no fan of Hillary Clinton, allegedly mouthing the word "bitch" as the camera panned to her during former President Bill Clinton's State of the Union address in 1997.
The suggestion that federal appellate judge Brett Kavanaugh, 53, who Trump nominated Monday night, disliked Clinton at the time comes from a passage in a book by David Brock.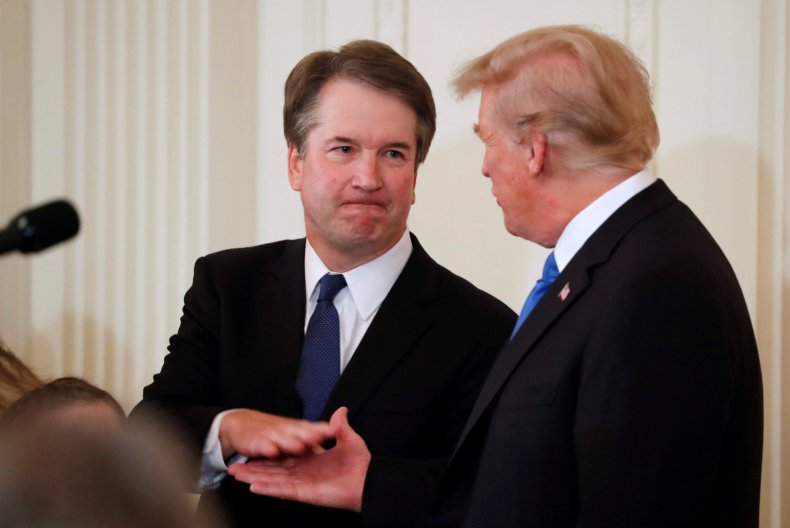 "I saw one of Ken Starr's deputies, Brett Kavanaugh, who was sitting across from me, mouth the word b***h when the camera panned to Hillary," Brock wrote in his 2002 book Blinded by the Right, Law and Crime reported.
The throwaway line referring to Kavanaugh's alleged insult was picked up by Washington Post reporter Robert Costa, who tweeted about it before Kavanaugh's nomination.
"Judge Brett Kavanaugh is at or near top of SCOTUS list, per several people close to President Trump. But oppo research for possible hearings already moving fast. Sources pt'ing to David Brock's book "Blinded by the Right." Kav alleged to have mouthed an expletive re HRC. Pg. 306.," he wrote in a tweet posted at the beginning of the month, prior to the president's announcement.
It is not known if the expletive is among the topics Democrats will discuss with Kavanaugh during his confirmation hearing, but it could be brought up.
At the time of the alleged incident, Kavanaugh worked for Ken Starr and would, along with the rest of Starr's team, eventually work on the investigation into then-President Bill Clinton. A memo sent by Kavanaugh at the time, and shared by Vox, shows he pushed for tough questioning of the Democrat.
"After reflecting this evening, I am strongly opposed to giving the President any 'break'… unless before his questioning on Monday, he either i) resigns or ii) confesses perjury and issues a public apology to you. I have tried hard to bend over backwards and to be fair to him.… In the end, I am convinced that there really are [no reasonable defenses]. The idea of going easy on him at the questioning is thus abhorrent to me," the memo said.
Kavanaugh did not immediately respond to a request for comment.