Trump's Senior Advisor Says Democratic Leaders Want to Secede from the U.S.
On Thursday evening's installment of The Tucker Carlson Show on FOX News, Steven Miller, Senior Advisor to Republican President Donald Trump, said Democratic mayors and governors want to secede from the United States and praised the Customs and Border Protection (CBP) agents who have clashed against racial justice protesters in Portland, Oregon, saying the agents should be "celebrated as heroes."
In his segment with Miller, Carlson criticized Ted Wheeler, Portland's Democratic mayor who joined the downtown protest on Wednesday and was subsequently tear-gassed by federal agents.
Carlson claimed that Wheeler "has been encouraging violence now for months" and said the mayor showed "up at a riot that he helped create with five armed bodyguards" funded by taxpayers.
"Is there anything the federal government can do to strip the taxpayer-funded armed bodyguards from people like Ted Wheeler?" Carlson asked. "People in Portland have to live with this violence. Ted Wheeler protects himself at their expense.... It's too outrageous."
Sidestepping the question, Miller responded, "The Democratic Party for a long time historically has been the party of secession. What you're seeing today is the Democratic Party returning to its roots."
"These are mayors and governors that are saying, 'Federal law, the U.S. Constitution doesn't apply within the confines of our city, and our citizens will be held at the mercy of the mob. And the administration of justice, the federal courthouse will be allowed to fall under siege,'" Miller continued.
Miller later added, "You have 100 brave DHS officers standing up against that lawless mob. They should be celebrated. They should be celebrated as heroes. A number of them have been injured."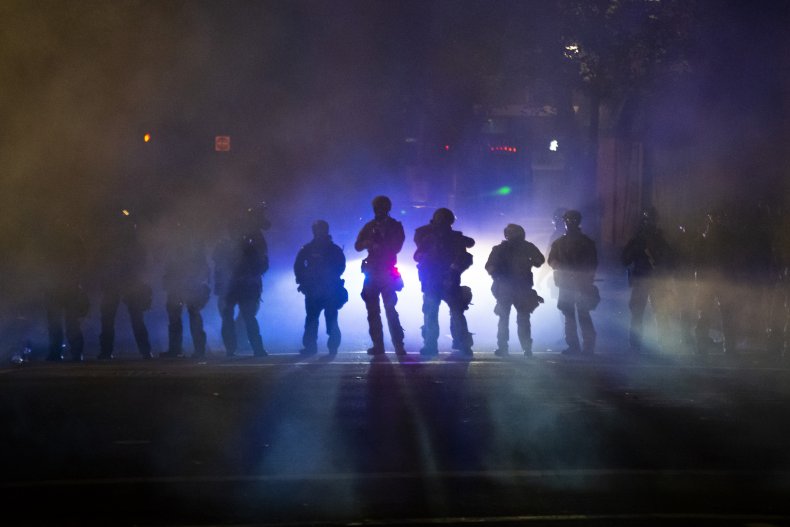 Miller's comments echo those of Republican Texas Representative Louie Gohmert who rebuked the Democratic party for its past support of slavery around the U.S. Civil War of 1860.
While pro-slavery southern states at the time wanted to secede from the United States, the Democratic Party began embracing pro-Black civil rights after the passage of the 1964 Civil Rights Act, while Republicans began appealing to southern states who opposed the legislation integrating Black citizens into civic life.
Wheeler has never advocated seceding from the union, but he has criticized police and federal agents for dispersing protesters with "crowd-control munitions" such as flashbangs and tear gas, a chemical agent banned in war zones by the Geneva Conventions.
As commissioner of the Portland police, Wheeler has urged the police bureau to "take responsibility" for any tactics they've used against protesters and "to determine which tactics are those that can most effectively end this [protest] without anybody being hurt or lives being lost."
The "riot" Carlson referenced has been a 55-night stand-off between protesters, police and, starting in July, federal agents within a two-block downtown area. The area contains the Multnomah County Justice Center, which houses the Portland Police Bureau's headquarters, the Mark O. Hatfield U.S. Courthouse, a federal building, and Chapman Square, a two-block park.
Occasionally protesters will graffiti the buildings, throw fireworks at them, burn cardboard in front of them or throw bottles and projectiles at police and federal agents.
While Carlson didn't elaborate on how Wheeler has been encouraging violence, on Tuesday, Federal Protective Service (FPS) Deputy Director of Operations Richard Cline said that three federal agents had been blinded by laser pointers that focused into the agents' eyes.
The agents have been criticized for seriously injuring a protester by shooting him in he head with a less-lethal projectile, reportedly grabbing protesters off the streets and putting them in unmarked vans for detainment and breaking the hand of a Navy veteran.
After being teargassed by federal agents on Wednesday night, Wheeler reiterated that he doesn't welcome the agents in his city.
"I can tell you with 100 percent honesty, I saw nothing that provoked this response," Wheeler said. "This is not a de-esclation strategy. This is flat-out urban warfare and it's being wrought on the people of this country by the President of the United States and it's got to stop right now. This is a threat to our democracy."