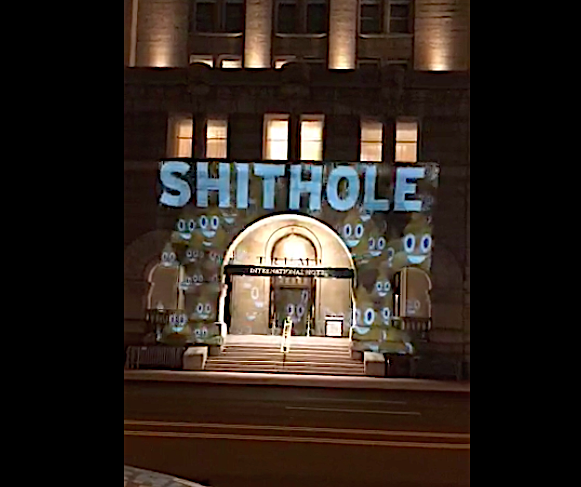 Updated | The Trump International Hotel in downtown Washington, D.C., got a surprise makeover Saturday night—with the expletive President Donald Trump has used to describe certain countries beamed onto its outer walls.
Video posted on Twitter shows the words "This Place Is a Shithole" projected onto the walls of the hotel, alongside poop emojis and an arrow pointing at the establishment's arched entrance.
In a meeting with lawmakers last week on immigration reform, Trump reportedly called Haiti, El Salvador and some African nations "shithole" countries. Trump's words have been described as "racist" by the U.N.'s human rights office.
Other messages beamed onto the building Saturday included "The President of the United States Is a Known Racist and Nazi Sympathiser," alluding to the president's controversial comments after the white nationalist rally in Charlottesville, Virginia, last August.
Video of the stunt was posted on the Twitter account of Robin Bell, who has previously used projectors for political messages. In May, he projected "emoluments welcome" and images of flags where Trump has business projects on the hotel.
Trump is being sued by activists for allegedly violating the "emoluments clause" of the Constitution, which bans presidents from receiving cash gifts by foreign governments.
That same month, Bell projected "#SessionsMustGo" and "I thought the KKK was OK until I learned that they smoked pot" on the Department of Justice building, in reference to Attorney General Jeff Sessions.
He was also responsible for a projection of the words "Pay Trump bribes here" above the doorway of the D.C. hotel.
Bell has been described by The Washington Post as a "hit-and-run editorial writer."
This story has been updated to include additional background information about Bell's other projects. ​