Trump's Southern Border Policy Combines a Crisis With Cruelty. Here's How to Fix It | Opinion
No one pretends that managing a refugee and migration crisis is easy. Not Colombia, with at least 1.5 million people fleeing from Venezuela. Nor Uganda, with over 1.5 million refugees from South Sudan. Nor Germany, with over a million asylum seekers, mostly from Syria.
All over the world, policy makers are trying to balance humanity with efficiency and stability. They need to identify refugees who have a legal right to stay and integrate them as contributors to their new home country; manage the needs of these new arrivals without forgetting the demands of host populations; and return those who do not qualify for humanitarian protection to countries of origin safely and securely and in respect of their human rights.
However, it is disturbing to find a set of policies that are at the same time cruel, ineffective and destabilizing. Yet that is what the U.S. has achieved at the southern border.
The cruelty is evident in the trauma and treatment of those seeking asylum. The ineffectiveness is clear in the backlog that has been created in the legal system. And the instability is rippling through politics north and south of the border.
It is time to say that this crisis can be managed—if the administration and Congress want to step up and do so. The choice is not between migrants and asylum seekers arriving or not. It is between managing their arrival in an orderly, humane and regulated way or having them arrive in a disorderly, inhumane and dangerous fashion.
Who? Where From? Why?
From the mid-1990s to the early 2000s, U.S. Border Patrol encountered more than 1 million people each year who had entered between ports of entry without authorization. The high point was 1.7 million in 2000. The vast majority, over 90 percent, were Mexicans.
More recently, Pew Research estimates that more Mexicans are leaving the U.S. than arriving. Last year, U.S. Border Patrol reported finding just 142,000 Mexican nationals between ports of entry.
The current challenge of migration management at the southern border has its roots in El Salvador, Honduras and Guatemala. Weak governance, rampant organized criminality, economic instability, pervasive corruption and natural disasters compounded by climate change are driving people into the hands of people smugglers. Unprecedented numbers are risking everything to flee for safety.
From fiscal years 2007 to 2011, U.S. Border Patrol reported on average 43,000 individuals arriving from the three countries each year. The number spiked in 2012 to 86,705 and made headlines in 2014, when 237,860 individuals from the Northern Triangle were encountered by U.S. authorities. In 2019, the number has more than doubled again to over 608,000.
The composition of the refugee and migrant population has also changed. For example, the number of children has grown. In 2012, there were fewer than 20,000 unaccompanied children and "family units" (individuals traveling together as parent or legal guardian and a minor child). In 2014, the figure was nearly 70,000 unaccompanied children and roughly the same number of parents and children traveling together. Children and families are the hallmark of a humanitarian crisis.
Until 2019, this trend remained steady, never returning to pre-2012 lows, nor exceeding the 2014 spike, which saw a near doubling in year-over-year arrivals. While 2019 began and ended with monthly arrivals similar to recent years' trends, which averaged around 42,000 individuals per month, the overall monthly arrivals at the southern border soared from 58,317 in January to 144,116 in May, with parents and children making up the bulk of this increase. A total of 473,682 parents and children were encountered by Border Patrol in 2019—more than four times the number that arrived in 2018, itself a record.
However, the number of Central Americans arriving has returned to monthly levels only slightly above recent years' averages, with 62,707 total arrivals reported at the southern border in August and 52,546 in September 2019. The U.S. administration has taken credit for this "decrease," but data suggest the biggest change was an artificial spike last spring, as the administration threatened, but failed to implement, a host of restrictive policies. The people who needed to flee fled, and they're still doing so today.
Although in far lower numbers, the number of people arriving from countries within sub-Saharan Africa, particularly Cameroon and the Democratic Republic of Congo—countries facing chronic violence and insecurity—has risen as well. And there has been a notable rise in Cubans traveling to the southwest border since the spring of this year.
Welcome to the world of "mixed migration." The definition of a refugee was codified in the 1951 U.N. Convention on Refugees as someone who is recognized as having a well-founded fear of being persecuted in their home country for reasons of race, religion, nationality, membership of a particular social group or political opinion. In simple terms, refugee status is designed for people for whom it is not safe to go home. Figures published by the U.N. this summer show almost 26 million people have fled their home country and qualified for refugee status by registering with the U.N. in a neighboring state.
There are also over 3 million asylum seekers. They have also left their home country. They are also exercising their legal right to seek protection. They are using the international legal definition of a refugee to do so. But they have fled to a country, like the U.S., where it is the host state, not the U.N., that is administering the process for adjudicating refugee status, and they are applying for asylum through the U.S.-designed system, not through the U.N.
Under domestic and international law, the U.S. and other countries (most have) that are signatories to international conventions covering refugees are obliged to provide those fleeing violence and persecution with safety. In introducing the Refugee Act in 1980, then–Secretary of Health and Welfare Joseph Califano talked about how the question of refugees raised fundamental questions about what America is as a nation: "By our choice, we reveal to the world—and more importantly to ourselves—whether we live by our ideals or simply carve them in monuments," he said.
There are difficult choices and gray areas—but that does not mean it is impossible. There is a big difference between someone fleeing for their life from a criminal organization controlling large swathes of territory in El Salvador and someone seeking to escape economic hardship. The first case has more rights and protections—and is the subject of refugee policy. The case of someone escaping economic hardship is regulated through immigration policy.
Here is the problem for the U.S. It does not have an efficient or appropriate system to decide who should be allowed to stay for reasons of safety. This is not a new problem. But recent changes—and an affinity for punitive measures and enforcement versus a fair and effective adjudication process—have made the situation much much worse.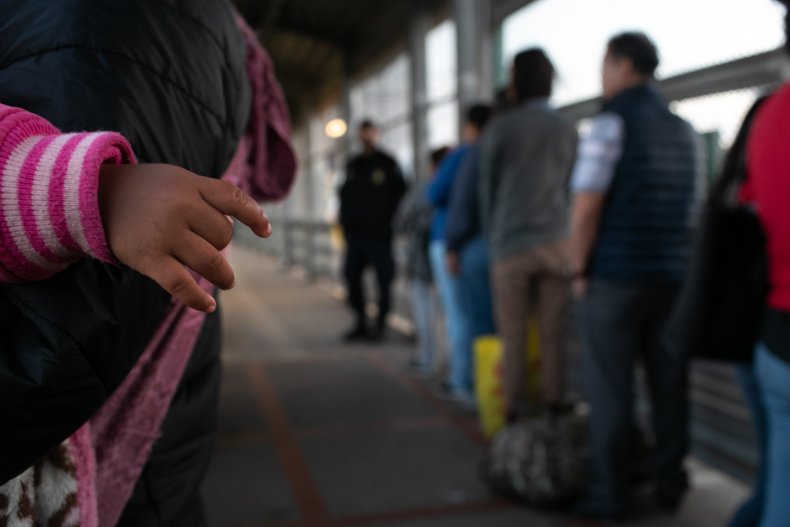 Border Crossing
The U.S. southern border is the busiest in the world. Yet there are only 47 ports of entry across the 2000 mile stretch. By way of comparison, there are 119 along the (longer) northern border with Canada.
The ensuing bottlenecks at southern border ports of entry are exacerbated by a policy known as "metering." This sets daily limits on the number of people who can present themselves to claim asylum—forcing them to wait in Mexico's dangerous border areas, often for months. Here is a classic perverse incentive—and has a perverse effect: desperate people take matters into their own hands and try to cross between checkpoints. This was likely the fate of Oscar Alberto Martinez Ramirez and his 2-year-old daughter Valeria, who drowned in the Rio Grande last July after being forced to wait too long to present at a U.S. port of entry.
The "third country agreements" the U.S. administration has recently signed with Honduras, Guatemala and El Salvador—a trade-off for the continuation of invaluable U.S. foreign aid—along with the "Remain in Mexico" policy—which forces asylum seekers to wait in Mexico for months pending a U.S. immigration court decision—are more examples of perverse policy. Countries that are not safe for their own nationals are expected to provide protection for asylum seekers, whether bottlenecked along the route or returned after being denied at the southern border. This is not an adequate response and puts thousands of civilians in harm's way.
There has been justified outrage about overcrowding, lack of sanitation and insufficient medical attention at U.S. border detention centers. At least seven children have died in the centers or soon after release. But this is only the most visible aspect of how the current system multiplies trauma, magnifies crisis and fails both those who deserve the right to stay and the nation at large.
The central issue is simple: The immigration court system, which handles all immigration cases not just those to do with asylum, can now take four to five years for an asylum case to be addressed (not including appeals). The country's biggest immigration courts are now scheduling hearing dates as far out as December 2024 in New York, with over a dozen other courts scheduling hearing dates well into 2023.
This is separate from the wait for refugee resettlement—where refugees in countries like Jordan are selected for resettlement to the United States and have their cases adjudicated by the U.S. government while they are in Jordan. This process reached its peak in the early 1980s, when over 200,000 were admitted each year. The historic average goal for the past 40 years is around 95,000 (with actual admissions averaging approximately 80,000). The Trump administration has reduced the figure for the fiscal year starting October 1, 2019, to just 18 000.
The number of pending immigration court cases has doubled in three years, creating a backlog of over one million active cases. Less than half are asylum cases. This is the result of policy not accident. The system of "enforcement priorities" pursued under the Obama administration, which removed individuals who had a criminal background or had recently arrived to the U.S. with no legal right to remain, has been abandoned. In its place has come a series of measures in the name of immigration control that have overwhelmed the system.
Last year, the Department of Homeland Security announced that it would seek to "recalendar"—or rather resurface—330,211 immigration court cases that had been previously administratively closed under the Obama administration. These are people who were found not to pose a threat to the country nor be a high priority for deportation by both the immigration judge and the Department of Homeland Security. Now, they are adding to the already clogged immigration court system.
The situation would be even worse were it not for federal court rulings that have, thus far, halted the administration's efforts to cancel the status of hundreds of thousands of Deferred Action for Childhood Arrivals (DACA) and Temporary Protected Status (TPS) recipients. The failure of Congress to legislate to regularize the status of these people, many of them here for over a decade, has created an unstable and unhealthy limbo for them.
The administration has also taken existing due process failures in the U.S. immigration court process and magnified them. The cost has been to asylum seekers and to the integrity of the system. In Arizona and southern California, where the International Rescue Committee runs and supports reception centers for families released from federal custody, families are released from federal custody without information about the legal process, including their obligations to attend immigration court hearings. In our experience, it is not uncommon that even six months after arrival, these families still have not received written notice of their court hearing and are not identifiable in the court's electronic phone system.
This despite the fact that the federal government actually created a program in 2015 to provide services to families seeking asylum while they awaited the outcome of their case. Ninety-nine percent showed up for their immigration court hearings. But the Trump administration canceled this program last year and failed to implement other proven measures to increase appearance rates. The result is that more people fail to appear at hearings, so judges issue in absentia removal orders, which have grown from a low of 19,274 in 2012 to 46,051 in 2018. These people are jammed into the court system, too.
Then, in a further twist of the vicious circle, the administration's response is to expand long-term detention—the most costly option. It now detains 54,000 people, a nearly 50 percent increase over the number held in immigration detention in 2015.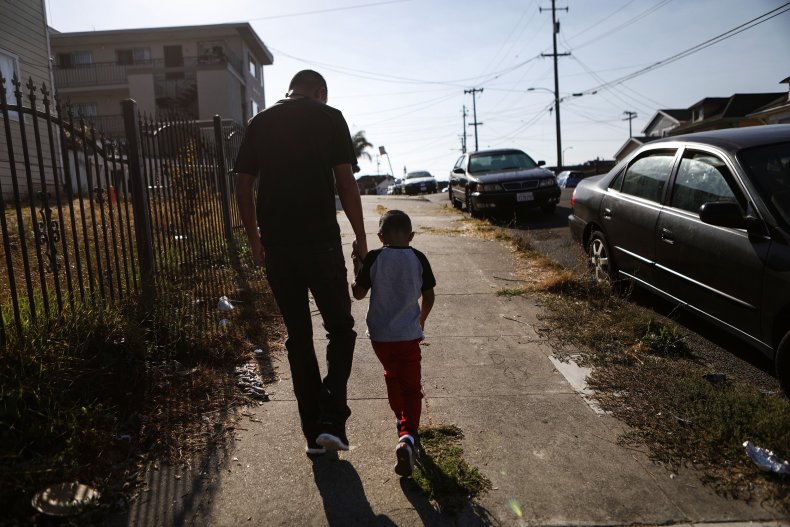 What's the Alternative?
The policy chaos has bred confusion at best and hatred at worst. Asylum seekers are caught in bureaucratic no man's land; legislators ping-pong between asylum policy and immigration policy; the administration spends more and more time in federal court, such as its determination to end the Flores agreement limiting detention time for children; people like the El Paso, Texas, shooter take up arms to fight off the "invasion" of their country; and America loses its moral standing and status as a global leader in showing how to run a sane immigration system.
Aid to Central America has only recently been restored following the whirlwind of "third country" agreements. Far more is needed—to combat the insecurity, poverty, governance and climate issues that are drivers of the displacement the Administration is trying to shove back. It is obvious that a stable Central America makes possible a more sustainable U.S. approach to the management of refugees and migrants, and that such stability in part depends on American partnership. George Schultz, former U.S. secretary of state during the Reagan administration, has argued this case in The Wall Street Journal, urging "long-term solutions over political expediency" that support America's "southern neighbors move toward a peace and prosperity of their own."
The Central America Regional Security Initiative in 2011, backed by the U.S., is a significant effort to combat the effects of organized crime and strengthen the rule of law, in addition to democracy and governance. Programs for violence prevention and response, for young people in particular, as well as transparency, and strengthening of the legal system, have also been added to the development agenda.
However, the needs are more serious than one aid program. It is therefore encouraging that Mexico, along with the three Northern Triangle countries, has put on the table the call for a "Marshall Plan" for the area. Modeled on the plan to renew Europe after World War II, this would address private and public sectors, regional cooperation and national decision-making.
Such measures would take time to have impact. They are in any case no substitute for the effective management of refugees and migrants.
Four areas require immediate attention and reform for this to happen.
First, legal routes to safety for those in fear of their lives are a smart investment. Otherwise these people put themselves in the hands of people smugglers. U.S. policy should increase rather than reduce refugee resettlement from the region.
The 1,500 slots in the new Trump administration cap on organized refugee resettlement from Central America is not near the magnitude needed to effectively manage the situation.
Refugee resettlement at least offers some hope for those seeking refuge who stake their claim from outside the U.S. The initiative in Congress to write into law an annual minimum of 95,000 refugees to be allowed into the U.S. would at least be a start, albeit it one less than half as generous as that pursued during the Reagan administration.
Another legal route, the Central American Minors Program, was abolished by the Trump administration. It was small (helping under 2000 children) and criticized for its long delays, but it was a start. In-country refugee processing, which identifies refugees in their home countries, avoiding dangerous journeys to seek asylum, is an obvious response to both the security crisis in the Northern Triangle and the management of refugees and migrants at the U.S. border.
Second, processing facilities at the U.S. border must have expanded capacity to receive people at official ports of entry through an orderly and humane process. Ports of entry that reflect the actual flow of arrivals are not a "magnet." They are the difference between regularized refugee and migrant processing and unregulated chaos. Processing at the border should be managed humanely, setting in motion a fair process that clearly and routinely notifies people of their rights and obligations and avoids unnecessary and costly detention.
Having space suitable for young children and appropriate emergency health protocols at border facilities—while also ensuring they are held for less than 72 hours, as required by U.S. law—should clearly be an immediate priority in light of recent terrible deaths of children in the care of U.S. officials. Processing at the border should be enhanced to accurately identify those in need of protection, as well as to provide asylum seekers and other immigrants with information about the legal process they will need to follow.
Some academics and lawyers have rightly recommended shifting the responsibility for screening children at the border away from border agents, whose mission is to defend against national security threats, to asylum officers from U.S. Citizenship and Immigration Services, who receive training and have experience working with traumatized people.
Third, once in the immigration court system, fair and timely adjudications are essential to maintaining faith in the system—both for the asylum seeker and the public. Lack of effective communications with asylum seekers, for example a notice of court proceeding, is unacceptable in any society, much less one with a sophisticated legal system like the U.S.
In Germany, where nearly 1 million asylum claims were lodged in 2015, only about 68,000 cases were pending at the end of 2017. While not a perfect system, they achieved these results by ramping up hiring of qualified staff, including lawyers and judges, and instituting faster decision-making, not only for "manifestly unfounded claims" but also for "manifestly well-founded claims."
Other countries, such as Sweden, Switzerland and the Netherlands, also instituted accelerated or simplified procedures for manifestly well-founded claims that quickly granted protection to those who needed it. The credible fear process in the U.S. might be the closest equivalent to a screening mechanism for a potential "accelerated procedure." But at the moment in the U.S., it is only the gateway to a multi-year process, and it has been criticized for denying protection claims.
Addressing the immigration court backlog, according to the congressional testimony of the Executive Office for Immigration Review Director James McHenry in March of this year, requires decreasing the hiring time for new immigration judges and transitioning away from paper files and toward a digital system to help ensure information is submitted an efficient and accountable fashion.
This is not rocket science. But more hiring and technological innovation are not the only answers. The number of cases in the immigration court system must be reduced so that increased personnel can succeed in addressing the immigration court backlog. Lawmakers should take a realistic look at underlying claims of those 1 million people in the immigration court backlog, and determine whether they really need to be there. DACA beneficiaries, TPS holders and others who have lived in the U.S. for years, with no criminal history, should not be in legal limbo or living in the shadows. Given that only 4 percent of newly filed immigration court cases in 2018 were there on criminal-related grounds, these type of cases likely make up a significant and unnecessary part of the current backlog.
Fourth, If the United States is going to return individuals without protection claims, two things must be true: that is has a credible, competent, effective, rights-respecting system for identifying protection claims, and that return policies are safe, dignified and help people reintegrate and rebuild their lives. What must be avoided is a poorly-resourced judicial process that fails to identify asylum qualifications, and returns people to danger and harm's way. The very worst the U.S. could do is return people to certain danger when they sought safety here.
Conclusion
America is a great place to live, as well as a country that has offered safety to generations seeking safety. People will always want to come here for economic opportunity and protection. And there has throughout the nation's history been fraught interplay between policy and politics. Successive generations of Italians, Irish, Catholics and Jews have seen the sharp end of fear of new arrivals and then become successful parts of the American story.
It is time to learn the right lessons from history. There are many. But the most important is that the only reason the situation runs out of control is if politicians drive it to do so. That is the danger now. And it needs to be addressed.
David Miliband is president and CEO of the International Rescue Committee (IRC) and a former U.K. foreign secretary.
The views expressed in this article are the author's own.​​​​