Trump's Spiritual Adviser Paula White Appeals To Christians To Give To The Church Before Paying Mortgages, Electric Bills
President Donald Trump's spiritual adviser and longtime personal pastor appealed to thousands of Florida congregants to pay their churches before paying any personal bills.
Televangelist Paula White told members of the congregation at King Jesus Ministry's Supernatural Ministry School last Friday in Miami that she was able to rise from "trailer trash" to a job in Trump's White House because "God kept opening doors" for her. But according to Mother Jones, White said much of her transformation was owed to tithe-paying churchgoers and TV viewers who put God before their own financial needs. White cautioned congregants not to pay their one-tenth income tithes to their church with "leftovers" from what they didn't have to spend on mortgages, electricity and other mundane bills.
White, an adviser to the White House's Faith and Opportunity Initiative, placed shoes on her hands and pants over her head to provide a visual metaphor for why it is backward and out of "divine order" to pay one's bills before paying one's church.
"So let's just say I get paid $1,000 and I pay my mortgage first or I pay, what's the electric company here? FPL. I pay FPL first instead of bringing the first tenth to the house of God every week, which clearly is instructed throughout the word of God," White said last week, referring to the Florida Power & Light Company.
"Then what I'm saying is, 'FPL I just made you chief. I just made you fundamental. I just made you the basis to support all structure. So FPL, heal my child. Find my children that are lost. FPL, open the door for me to get a promotion. FPL, I serve you. I honor you to redeem off of me the curse that is upon all mankind. Because you have just made FPL the first - because you gave the first $100 to pay your electric bill."
"You see, there is a divine accurate order. People pay tithe but they pay it in leftover," she said.
A "tithe," which means "one-tenth" in Hebrew, is the 10 percent of one's earnings that is set aside for religious people's respective houses of worship. Christians and Jews from many denominations practice the contribution, which is similar to a compulsory tax given to a secular government body.
White told the packed church, which seats about 7,000 predominately Latino members, how Trump first called her in 2002 after seeing her preach on a local Florida TV station. "He said, 'You have the it factor.' I said, 'Sir, we call that the anointing,'" she recalled.
"You can't just bring a gratitude offering. It has to be a First Fruits offering! If it is one week's salary, if it's a month. If it's a day, it's got to be the whole of something. Quickly! Bring it up—do you need an envelope?" she said, pointing members of the congregation toward "Apostles" holding baskets.
"Instead of writing [that check] to the house of God as I'm instructed to, then what I'm saying spiritually is, 'FPL, I have now established a spiritual law that put you first. So, FPL, save my family, FPL, deliver my drug-addicted son. FPL, kill this cancer that doctors say is in my body.'"
"I told you about the trailer to the White House because I'm not here by coincidence," White declared. "God's about to do something!"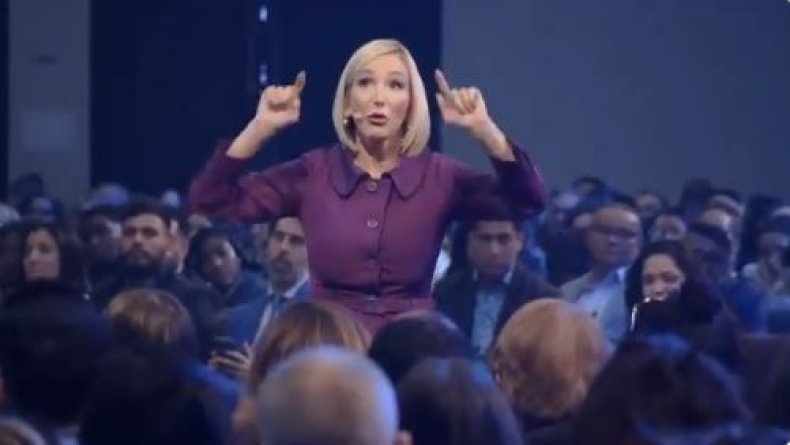 Correction, Feb. 26, 3:06 p.m.: This story has been edited to remove references to White 'warning' congregants and removing a paragraph that said God told White to donate her $8 million salary to mission outreach programs. White has requested Newsweek clarify that the $8 million donation was from Paula White Ministries and not from her personally. Newsweek regrets the errors.