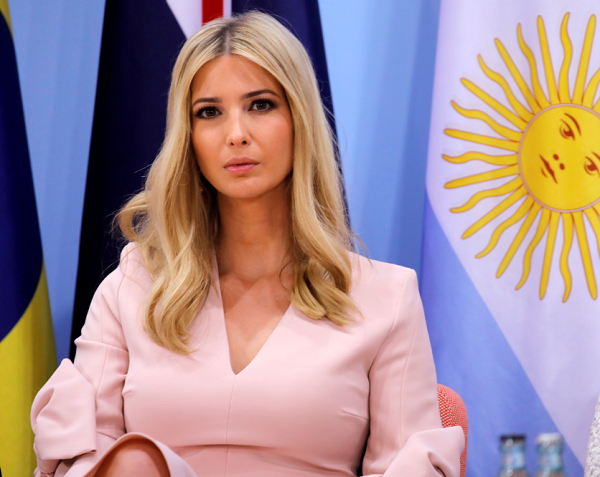 President Donald Trump's tweet last week saying he planned to ban transgender people from serving in the military caught his daughter and son-in-law unaware, in what White House insiders said indicates the waning influence of the couple within the administration.
Politico reported that the shift in Trump's position on the issue was a coup for conservatives who had for months been quietly lobbying the president. The first daughter was reportedly surprised by her father's posts on social media.
She learnt of the policy change when she saw the tweet on her phone despite being a critical voice in steering the president's support for the LGBT community in the past. Ivanka herself tweeted less than a month earlier in support of pride month, provoking a backlash.
Read more: Trump's Team Steps Up Emails Begging Supporters For A Dollar To Fight Fake News And Keep Making America Great Again
As the Pentagon puts the ban on transgender service members on hold pending a review, Ivanka is said to be pursuing more modest goals than might have been expected six months ago. The change disappointed long-term progressive allies who'd hoped Jared and Ivanka might exert more influence on the presidency.
Sarah McBride, national press secretary for the non-profit Human Rights Coalition said "Actions speak louder than words … Either Ivanka is ineffective in her advocacy within the building, or her voice doesn't matter to the president as much as she hopes it does."
Both Ivanka and Kushner have shown their ability to influence White House staffing positions in the last week, if they have shown less clout in policy. According to multiple White House officials they were the driving force behind pushing for a new chief of staff to bring more order to the White House.
Gen. John Kelly, Trump's replacement for Reince Priebus, whose resignation followed on the heels of the elevation of Anthony Scaramucci to the post of communications director, has a reputation as a disciplinarian. Anthony Scaramucci is another ally of Ivanka and her husband.
Mick Mulvaney, director of the Office of Management and Budget, told CNN he expected a far higher degree of professionalism in the White House under Kelly, adding that the president "enjoys working with generals."
Publicly the pair remain closely aligned with the president's agenda. "I know her well enough to know her relationship with her father, which is that she will never, ever, go against the grain," one unnamed friend told Politico.